In this article, you will learn how to integrate Slack with Personio. You will get an overview about all the requirements, and the instructions for the installation of the integration with the Personio employee data API.

This integration was developed by Personio. This means that you can activate and configure it directly in your Personio account.
What functionalities are available with the integration of Slack with Personio?
Channel Updates
The channel updates can be transmitted to various (public) Slack channels based on teams, departments or offices. The channel updates include the following points:
Who is absent today and until when?
Who has a birthday today?
Which employees have their first day in our company today?
Which employees have a work anniversary today?
You can transmit those updates via an automatic Slack message being sent to the selected channel, and select a group of employees that will be receiving them. If you do not use teams in Personio, you can select groups of employees per department. If you do not use departments either, you can differentiate employees by offices and assign them to Slack channels on this basis.
Automated status update
This feature allows you to have your status automatically updated based on your absences. You can define whether the absence type (e.g. paid or sick leave) should be included in the status or not.
The following emojis will be displayed, linked to their respective status:
🌴 : Paid Vacation
🤒 : Sick leave
❌ : all other absence types, apart from home office
🏡:: Home office (The emoji is only displayed if you tick yes for "View the reason for absence in status message" when you set up the status update functionality. In case you don't enable it, the home office absence type doesn't show any emoji)
The automated status update feature is only available if you use a paid Slack account.
How can I set up the integration?
Following, are the detailed steps for enabling the integration:
1. Requirements for a successful integration
You need to have an admin role or have an editing right for the marketplace (Settings > Employee roles > Access rights > Account configuration > Marketplace integration) in Personio.
You also need to have admin or owner rights for your Slack workspace.
2. Enable the Data Access
First, you need to navigate to Settings > API > Access. In the Access tab, you must enable the following attributes:
First Name
Last Name
Email
Hire Date
Termination Date
Office
Department
Team
Note that each employees' email address in Personio has to be the same in Slack, in order to identify each user.
3. Find Slack in the Marketplace
The Slack integration can be implemented directly within Personio. To do this, navigate to Settings > Marketplace and look for the Slack integration solution. For more information on how to find a solution on the Marketplace, have a look here.
You can then click on the Connect Slack button to start the integration.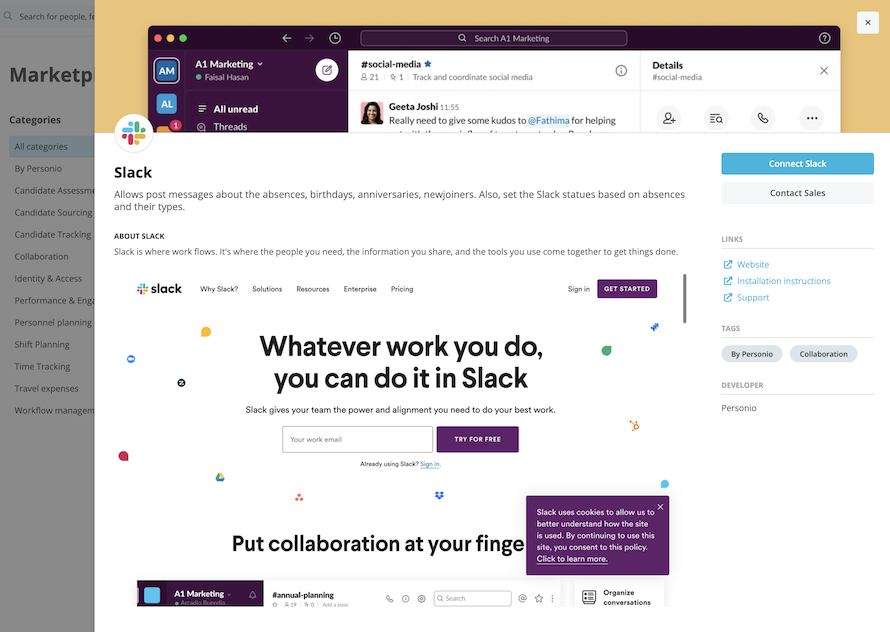 4. Slack authentication
Then, you need to authorise Personio to access your Slack workspace.

Once you connect, you will be taken to Slack where you can click on Allow to proceed with the installation.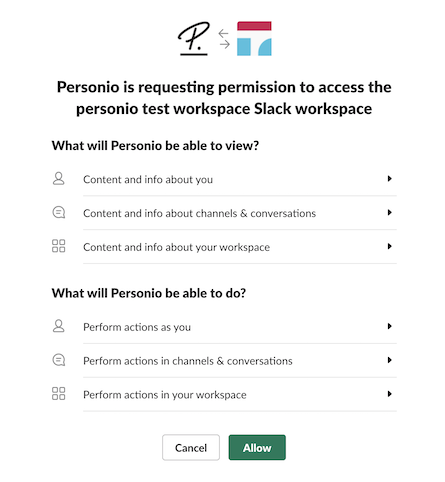 5. Personio Authentication
You then need to authenticate Personio by entering your API credentials. If you need more information on how to get your API credentials, have a look here.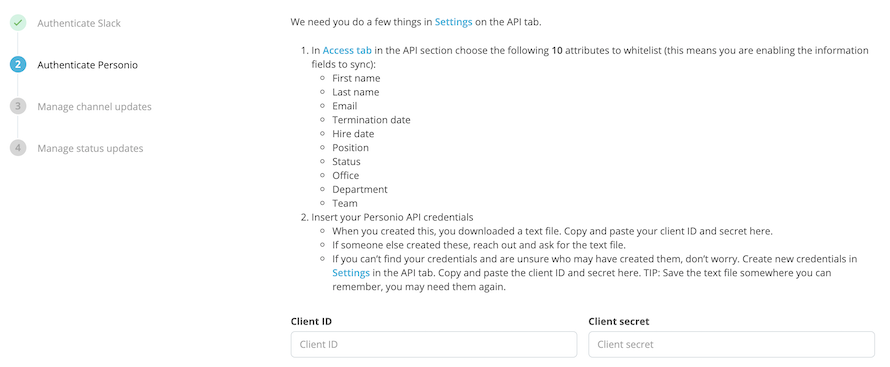 6. Channel updates settings
Once you are done with the authentication, you can proceed with the settings. For the channel updates settings, you can:
Select the language
Select the time of the update
Select the elements to be included in your daily update message. The available options are absences, birthdays, company anniversaries and new colleagues.
Select the channels in which the update will appear. Employees of specific teams, departments and offices can be assigned to the respective Slack channels. To add more channels and more groups, you can click on Add new attribute.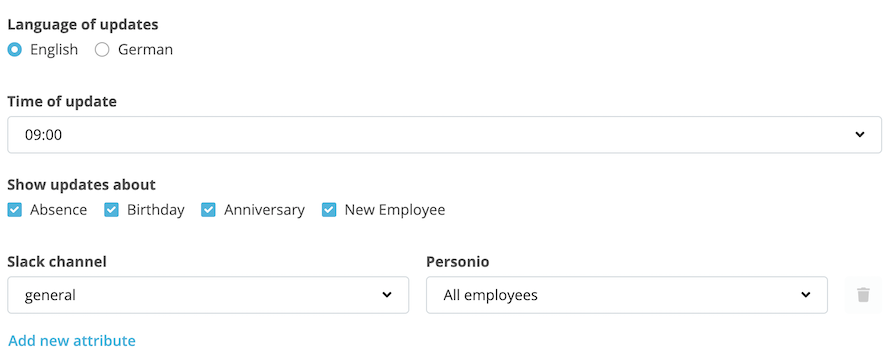 Click on Next to continue.
You can only send the channel daily updates to public channels in Slack.
7. Slack status update
Then, you can manage the status update settings. You can either:
Select whether automatic Slack status updates will be activated.
Select whether the Slack status should be generic or contain the absence type.

Absences requested for the same day are transmitted as soon as they have been requested. This ensures that colleagues are able to view absences that have come up at short notice, such as sick leave.
8. Finish the configuration
By clicking on the Finish button, your Slack integration is activated. You can edit the settings at any time or deactivate the integration.
Who do I contact for support?
If you have any further question regarding the Personio / Slack integration, feel free to contact the Personio support team.
Can't find what you're looking for?
We are happy to help you! Just write us a message with your questions and we will get back to you as soon as possible.
Submit a request
Topics of this article