Uploading Individual Documents
This article describes how you can upload individual documents directly to your employees' Personio accounts.
Uploading Individual Documents
Navigieren Sie auf das entsprechende Mitarbeiterprofil indem die Vorlage hochgeladen werden soll. Öffnen Sie dazu den Reiter Dokumente und klicken Sie auf Dokument hochladen. 

Entscheiden Sie sich zuerst für eine Kategorie, welcher das Dokument zugeordnet werden soll. Tragen Sie im Anschluss den Titel und das Datum des Dokuments ein und wählen eine Datei aus. Geben Sie optional einen Kommentar ein. Navigieren Sie auf den Button Hochladen, um den Vorgang abzuschließen.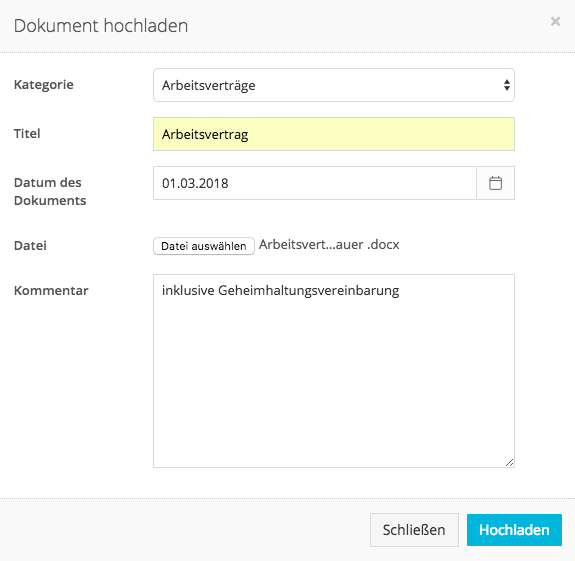 Personio will perform a virus scan on all documents. This may take a few minutes during which an 🔄 icon and the status Virus scan will appear with the document. If the document is secure, it will become available for download once the scan is completed.

If it is rated as not secure or a virus is found, a ⚠️ icon will appear with the file. The only action that you or your employees can perform in that case is to delete the document.
Dokumente bearbeiten
The document is then generated under the relevant category. You have the following options:
Click on the document name to have a preview displayed.
Click on the small blue pencil icon to edit the document category, title, date or comments.
Download the document.
Delete the document.
Additional information is displayed about the size and creation date of the file.
Wie Sie Dokumente gesammelt hochladen, erfahren Sie in diesem Artikel.
Can't find what you're looking for?
We are happy to help you! Just write us a message with your questions and we will get back to you as soon as possible.
Submit a request