This article explains how to set up subsidiary company Career Pages and manage candidate communication via your own subcompany's recruiting email address.
What is Subcompany Branding in Recruiting?
In recruiting, it is important to make candidate communication as transparent and as clear as possible. If you have multiple subcompanies, it may be necessary to ensure a clear distinction between each subcompany's career page and email communication with candidates. In Personio, you have the option to add a separate Personio Career Page with either a .de or .com domain and recruiting email address for each subcompany, ensuring separate subcompany branding. This allows you to exclusively display open positions for your subcompany on a Personio Career Page adapted to the subcompany's corporate design, and to communicate with candidates via that subcompany's recruiting email address directly from Personio.
Configuring Subcompany Career Pages
If you have enabled subcompanies, you can create separate Personio Career Pages for each subcompany, choosing either a .de or .com domain. This lets you adjust each Personio Career Page to the respective subcompany branding and market. Positions can then be published specifically on their respective subcompany page. In addition, the subcompany career pages allow you to receive all data and documents sent by candidates via an application form directly in Personio in a newly created candidate profile.
Creating a subcompany career page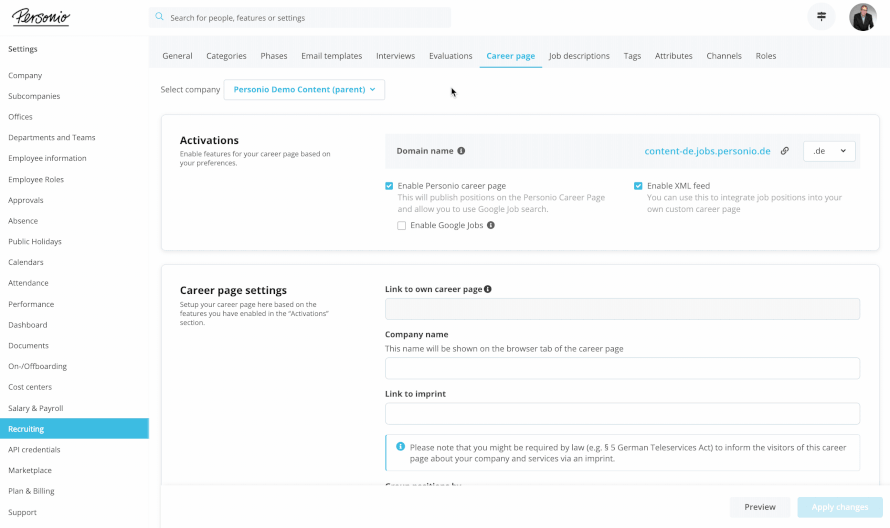 To create a new Personio Career Page for a subcompany, proceed as follows:
Navigate to Settings > Recruiting > Career page. Here, you can select the respective subcompany from the drop-down menu.

Select a unique domain name for your subcompany's career page, e.g. your-sub-company.jobs.personio.de, choose between a .de or .com domain via the drop-down menu and click on Create domain.

Note that this name will be publicly visible in the URL of your new Personio career page. It cannot be changed once it is set.

Confirm your new domain name to create the subcompany career page.
Note that if you have active postings on external job boards associated with the chosen subcompany, you will need to either update these postings with the new subcompany career page URL or enable the function Show positions on parent career page. Find more information on these two options in this article.
Activating and setting up a subcompany career page
After creating a new Personio career page for a subcompany, you can activate it and set it up using the respective subcompany's branding. To activate it, enable the subcompany Personio career page in the Activations section. You can also allow positions to be found via the "Google Job" search and select whether positions posted on the Personio career page of the subcompany should also be visible on the Personio career page of the parent company.

For detailed information on the rest of the setup as well as customization via CSS, follow the instructions in this article.
Integrating a subcompany career page
Personio career pages for subcompanies can be integrated via iframe or link into your subcompany's website. Find more information on how to integrate these pages in this article.
If you want to integrate positions via XML, you can simply use the parent company's XML feed and filter for your subcompany's positions. Read detailed instructions in this article.
Adding positions to a subcompany career page
Once you are finished setting up your subcompany's Personio career page and want to publish a position on it, you will need to make sure to select the correct subcompany in the positions details. Find out more in this article.
Setting up Email Addresses for Subcompanies
If you have set up various subcompanies within your Personio account, you are able to use separate email addresses for communicating with candidates for each subcompany. This ensures seamless communication from the respective subcompany's recruiting email address for incoming and outgoing messages in the message tab of the candidate's profile.
Storing a recruiting email address for a subcompany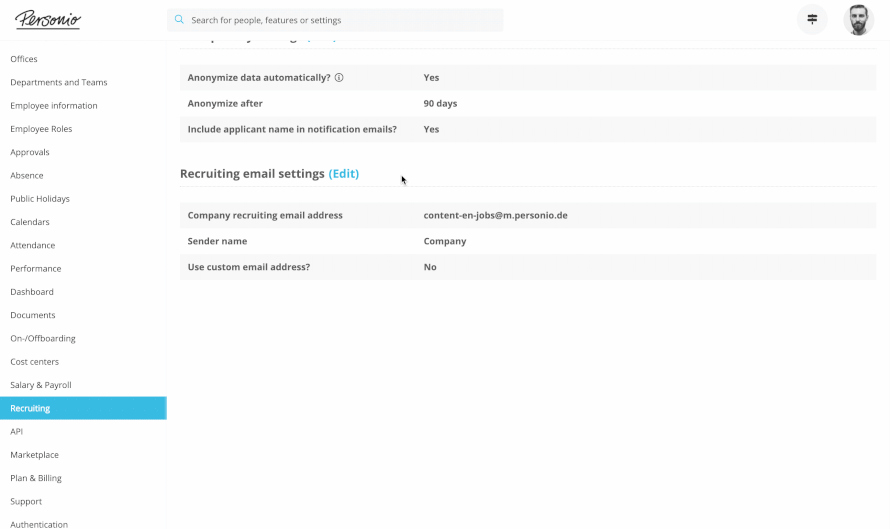 To configure a recruiting email address for a subcompany, follow these steps:
Navigate to Settings > Recruiting > General > Recruiting email settings and click on Edit.
Select Yes for the question Use custom email address?.
Choose the respective subcompany you wish to edit and enter the required email address in Custom email address.

Note that you need to have set up a redirect of the subcompany's custom email address to Personio's Company recruiting email address.

Click on Yes for the question Use for sending emails?, and store the relevant SMTP settings as described in the article "Sending Emails from the Company SMTP Server"
Sending recruiting emails via the subcompany's address from a candidate profile
In order for messages from the Messages tab in the candidate profile to be sent from the email address stored in the SMTP settings for the subcompany, the subcompany must be selected in the position's meta information. Find out how you can store and update this information in this article.
This also applies to rejection emails, which you can trigger by clicking on the Reject button, or to offers of contract that you can send from the Offer tab. The sender's email address is always visible in the Messages section, even after the email has been sent.