Multiposting Positions on External Job Boards
This article explains how you can use our multiposting promote feature to advertise job vacancies simultaneously on multiple external job boards and how you can manage your postings. The posting and payment process takes place directly in Personio to save valuable time and minimize your administrative work.
Tip read this article to find out what you need to do before you can use Personio's promote feature.
Promoting Jobs via the Multiposting Feature
Once you have added an open position in Personio and all prerequisites for the promotion of positions have been met, you can post the position on external job boards to attract candidates. To facilitate easy posting of your vacancies across different job boards, we work with GoHiring, our partner for the promotion of positions. Click here to see an overview of the job boards that are available via Personio. This article explains which information Personio transfers to the external job boards.
Using the multiposting feature, you can either book boards separately or take advantage of the Personio Posting Bundles. These bundles are cost-saving promoting packages that are tailored to your needs. Please see this article for more details.
If you already have contracts in place with external job boards, click here for details on how to store these in Personio, so they can be used with the multiposting feature.
Booking an external Posting
To post a position on external job boards via the multiposting feature, navigate to Recruiting > View details > Promote > My postings. Any postings that you may have already booked are displayed here. Now click on Promote to start the process and to be taken to the list of available job boards. You can follow these steps to proceed with the promotion of your position: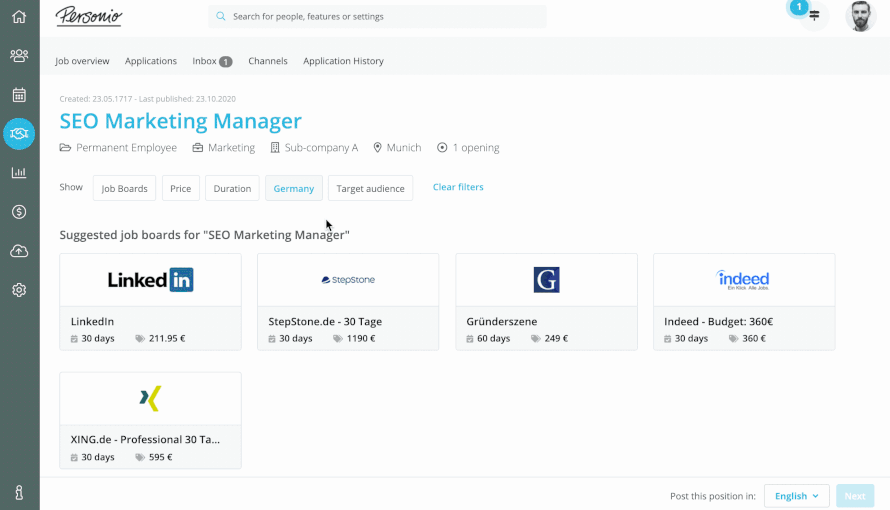 Select all job boards where you would like to promote your position.

The Suggested job boards at the top are proposed based on the information provided in the posting. Underneath, you'll find the Free job boards and other paid Premium job boards. Click here for an overview of all job boards available via Personio.

Use filters to search for specific offers for Job Boards by Price, Duration, Country, and Target audience.

Tip the system always preselects the country stated in the location entered for the position. To advertise the position internationally, select the preferred language at the bottom under Post this position in before finalizing the posting.

Click Next, to preview the posting.
This will take you to a preview of the posting, where you can review which details Personio will transmit to the job board. At the top of the preview, you will see information about how your posting will be displayed in the job board. Depending on the selected ad type, the job board either adopts the design shown in the preview or integrates the details of the posting into its own design.
Checkout.
Click on Proceed to checkout for a final review of your order. In the order overview you will see the selected job boards, runtime, language, and cost. If you are using a Posting Bundle from Personio or have individual frame contracts with job boards in place and stored in Personio, the displayed cost details will also include information on how much of your package has already been used, and the savings benefit you receive from using a Posting Bundle or existing contract. Finalize the booking by clicking on Place order.
Note ensure that your payment information is stored in your account under Settings > SUPPORT > Plan & Billing > Billing information so that publication costs can be settled via Personio. You'll also find all of your invoices here for download.
Management and Renewal of Postings
Once you have posted a job ad via the promote feature, you can go to your position, click View details, and select the Promote tab. Here you will see all job boards where you have promoted the position, and for each the following information:
Status

of the posting
Job board name
Posting runtime
For more detailed information, click on the respective job board. In case the posting is expired, click Renew to book the selected posting again. This takes you directly to the preview.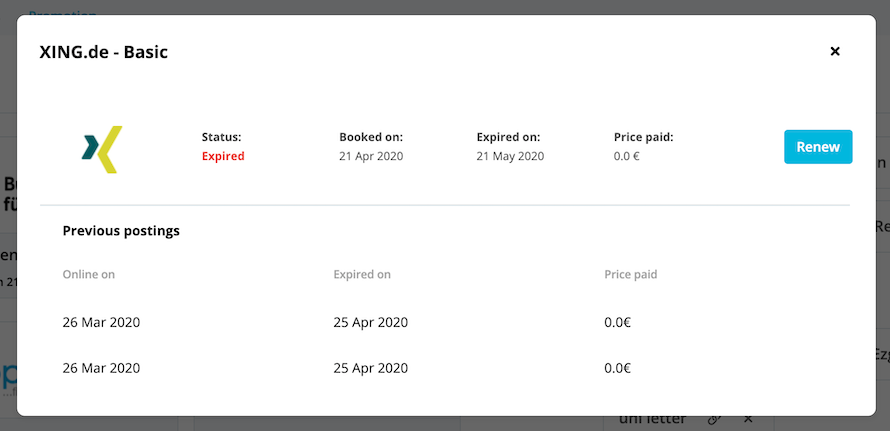 Note that static job boards (e.g. the free job boards) will not communicate the status of the booked posting to Personio. That means you will need to check the status yourself on the respective provider's website.
Change and Cancel Multipostings
Follow the instructions below to change or cancel a multiposting on any premium job board or Xing basic. Editing postings is not supported by any other free job boards.
Tip to change positions on a free job board, you will need to cancel the posting, update and renew it.
| | |
| --- | --- |
| Change | Notes |
| Edit the job description of an active multiposting. | You can do so directly in Personio's job description feature. |
| Edit the About us section or the subheadings of the different sections. | Go to your career page settings under Settings > RECRUITING > Recruiting > Career page. |
| To change the job title or metadata. | You need to submit a request to our promotion partner, GoHiring. |
| To request an early expiry or cancel a posting. | You can do so directly in Personio's Promotion tab under My postings. |
For further information on changing and canceling postings, take a look at our articles Edit a Posting on an External Job Board and Cancel a Posting on an External Job Board.
Topics of this article