Data Protection Settings Options in the Recruiting Section
Personio allows you to protect your applicants' data in accordance with both your requirements and those of the EU GDPR.
Visit our website for basic information on data protection and our white papers "EU GDPR with Personio" and "AWS with Personio".
In light of the EU GDPR, this article offers you a guide to ensuring that your recruiting is data protection compliant. We recommend checking and using the following settings:
Anonymizing Personal Applicant Data 
With Personio, you can fully anonymize applicant data. To do so, enable the automatic anonymization of applicant data in Settings under Recruiting > General > Data protection settings > Automatic applicant anonymization. This will cause all personal data relating to applicants who are in the "Declined" or "Rejected" system phase to be irretrievably removed from Personio after the period you have defined via Anonymization following a certain number of days. Anonymized applicant metadata that is not personally identifiable, such as information on the recruiting channel, is retained for reporting purposes.
You can find further information on anonymizing applicant data here.
If an applicant is not suitable for an advertised position, but may be just right for a future position, you can use Personio to create a talent pool. Please note that you need the applicant's approval for this. You can find further information on setting up a talent pool here.
Displaying Applicant Names in Notification Emails
Depending how your recruiting roles are configured, automated email notifications will be sent by Personio to responsible employees in the applicant process when certain events (such as the receipt of a new applicant message) take place. You can decide via Recruiting > General > Data protection settings > Mention applicant name in notification emails whether or not these emails should contain the names of the applicants concerned.
Email notification with applicant name: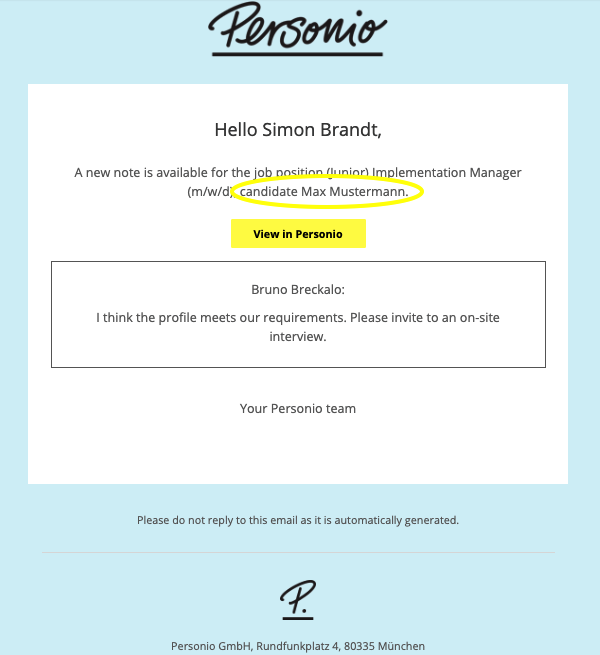 Email notification without applicant name:
Entering Your Legal Notice 
If you use the Personio career page, you need to enter the link to your legal notice into Personio. This will enable visitors to your career page to have access to all of the necessary information about your company and services, in accordance with legal requirements. You can enter the link to the legal notice via Settings > Career page > Link to the legal notice.

Data Privacy Statement for Applicants
You can save your applicant data privacy statement in several languages via Settings > Recruiting > Career page > Translations. Applicants must agree to this data privacy statement if they want to apply for a position using the application form provided by Personio. You can find a template for the data privacy statement here.
In addition to your personal data privacy statement, Personio, as the operator of your career page, automatically adds a data privacy statement for the processing of (personal) data.
Please note that your data privacy statement should also include your deadline for anonymizing personal applicant data.
You can find further information on data protection in Personio here.
Can't find what you're looking for?
We are happy to help you! Just write us a message with your questions and we will get back to you as soon as possible.
Submit a request