Setting up the Integration of Your Company Calendar
In this article, you will learn how to set up the integration of Personio with your company's calendar.
The integration includes two functionalities: In HR management, all absences entered in Personio are automatically transferred to your company calendar. In recruiting, synchronizing meeting rooms and employees' calendars simplifies the scheduling of interviews. These functionalities are directly related and cannot be integrated separately.
Connecting Your Calendar to Personio
The integration of your company calendar in Personio only has to be set up once; it can only be done by an employee with administrator access for your account. Cooperation with the person who administers the company calendar or an IT administrator is also required.
First go to Settings > Calendars > Calendar integration and activate the connection to your company calendar by checking the box.
Confirm that you have read the privacy policy and agree to the terms of use to proceed with connecting your company calendar to Personio. You also need to confirm that you are authorized to perform calendar integration for your company.
When you click on Connect calendar, you are taken to a window where you can select the provider of your company calendar.
Any events in your calendar that are set to Private will by default appear as Unavailable to other users in Personio. However, if you would still like to display the details of private events in Personio, check the option Show private event details on the Personio calendar in Personio. The event details will then be visible to all recruiters when interviews are created.
To find out more about the compliance and security standards of this integration, please feel free to visit our Community, where we have summarized the most important points for you.
Selecting Your Company Calendar
Personio currently supports integration with the following three calendars:
Google Apps
Microsoft Office 365
Microsoft Exchange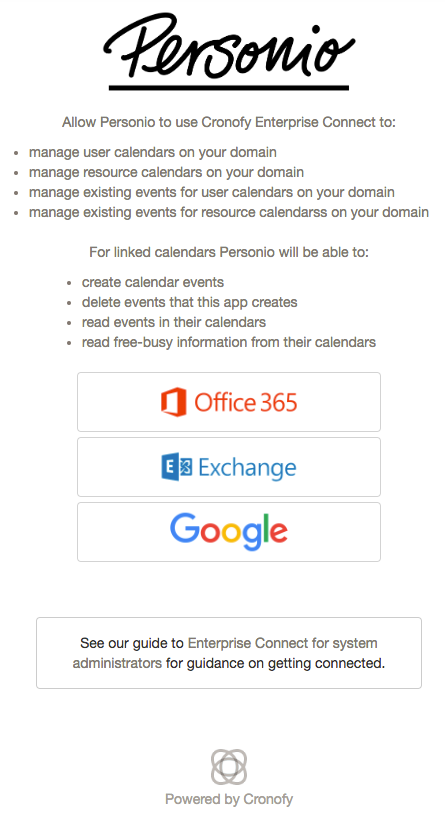 In the next step, select the Google or Microsoft Calendar that your company uses and continue with the setup process.
Connecting Your Google Calendar
If you want to connect a Google Calendar, you will now be redirected to the relevant Cronofy connection page. Next, you need to install the Cronofy app on your GSuite domain. You can download the app here .
After installing Cronofy, you can proceed with the setup process by entering your Google email address and password.
Please note that a Google Admin account is required for this. Once you have entered your login details, you have completed the Google Calendar integration.
For further information on connecting your company calendar to GSuite, please see the Cronofy documentation.
Connecting Your Microsoft Calendar
You have the option to connect your Office 365 or Microsoft Exchange calendar with Personio. To do this, select either of the two Microsoft calendars.
Next, enter your Microsoft email address and password. In addition, insert the email address of the user to whom the Application Impersonation role is assigned. This role assignment is necessary for integration with an Office product. You can assign a service account to do this, for example.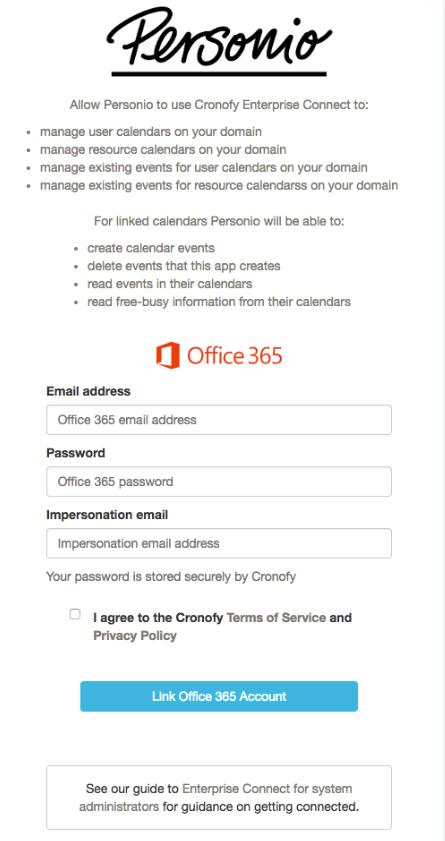 Once you have confirmed that you want to connect your account, the calendar integration is complete.
For further information on connecting your company calendar to a Microsoft Office 365 or Microsoft Exchange calendar, please see the Cronofy documentation.
Synchronizing Existing Data
During the initial synchronization with the calendar provider, all current users and meeting rooms are authenticated. This process may take a few minutes.
Next, go to Settings > Calendars > Calendar integration in your Personio account to see how many of the employees and rooms have been successfully synchronized. From the overview, you can also disconnect the currently connected calendar from your Personio account.
Adding New Employees
When you add new employees to your company domain, they will automatically be authenticated in Personio. If there were any synchronization errors, you will receive an error message. The respective employee can then be synchronized again in Personio in Settings > Calendars > Calendar synchronization.

Prerequisites for Employees to Be Synchronized
The following prerequisites must be met so that employees can be successfully synchronized with the company calendar and Personio:
The user's email address must already exist on the authenticated domain.
Example: The company Personio has authenticated its calendar on its personio.com domain. As a result, all users in Personio with @personio.com addresses are automatically authenticated. However, an external recruitment agent with the email address @hiringhelp.com would not be validated.
The employee must exist in the company calendar or have a company email address. If, for example, a new user is added to Personio before their account has been created in the calendar application, you will receive an error message.
After the employee has been added to the company domain, they must be synchronized in Personio again.
Adding New Rooms
If you use Personio's recruiting feature, you also have the option to add meeting rooms for scheduling interviews. An information icon confirms that meeting rooms have been successfully synchronized.
If you add new rooms under your company's domain, you need to synchronize them with Personio by going to Settings > Calendars > Calendar integration and clicking on Synchronize rooms. This step must be performed manually and is not automated.
You do not need a company calendar administrator or IT admin to add rooms or employees.
For further information on managing meeting rooms in your company calendar, please see the Cronofy documentation.
The instructions for how system administrators can grant calendar access rights can be found in the following article in the Cronofy documentation.
For more FAQs on integrating your company calendar, please visit the Cronofy FAQ page.
Can't find what you're looking for?
We are happy to help you! Just write us a message with your questions and we will get back to you as soon as possible.
Submit a request
Topics of this article