Transferring Applicants Between Phases
This article explains how applicants can be automatically assigned to the initial phase of the application process when their applications are received. We recommend to transfer applicants continually to their respective recruiting phases to ensure that you have an up-to-date overview of all of the applications at all times.

Individual Assignment
To assign the applicant to a specific phase, navigate to the candidate profile you wish to edit and click on the current phase, for example Phone Interview, in the top right of the window. You can then select the wished phase in the drop-down menu.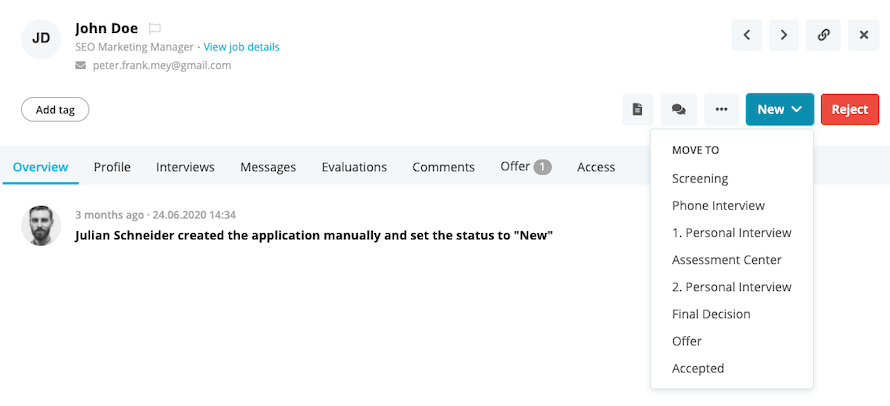 You can quickly see in which phase the applicant is in thanks to the phase button in the applicant profile. The three system phases Accepted, Rejected and Unassigned have a specific color: Accepted has a green button, Rejected a red button and Unassigned is shown in gray.
Bulk editing
Navigate to Recruiting > Applications and select all applicants to be transferred to a specific phase by ticking their checkboxes. Click on Action > Change status. Choose the phase which all selected applicants are to be assigned to.
Click on the Application history tab to have Personio display a history of the application process with all action performed recently, and applicants' current statuses. Use the Overview tab in the various applicant profiles to access information on individual applicants' entire application processes through to the current date.
Rejection
Regardless of the recruiting phases you created, you can always terminate the application process for individual applicants. To change an applicant's status to Rejected, navigate to the relevant applicant profile. Choose Reject and mark whether you are rejecting the applicant or the applicant has declined. Enter the reason for the rejection. If required, send a rejection email to the applicant, or schedule an automatic rejection email for a later time.
The automatic sending of an email is enabled by default. If you do not want to send an email to the applicant, please untick the box Email notification.
Activate data anonymization if you wish to have personal applicant data anonymized immediately rather than at the end of the retention period. The retention period in days can be defined in Settings > Recruiting > General > Anonymization after.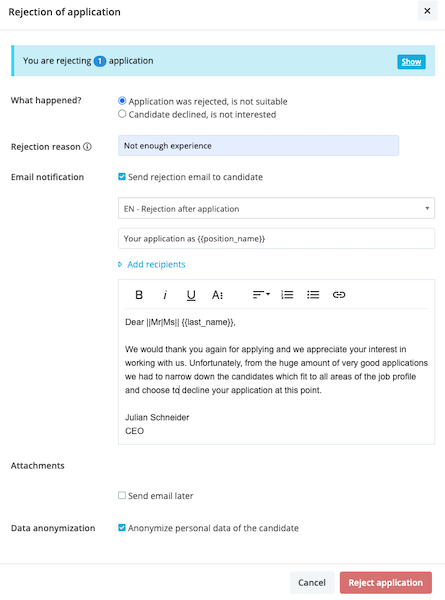 Use the applicant overview in Recruiting > Applications to reject several applicants in a single step.
Can't find what you're looking for?
We are happy to help you! Just write us a message with your questions and we will get back to you as soon as possible.
Submit a request
Topics of this article