Using Tracking Links for External Recruiting Channels
This article explains how you can create external recruiting channels in Personio and use tracking links to analyze the channels candidates use to apply for your job vacancies.
Use this option if you promote positions on external recruiting channels independently of Personio or use an analog channel for candidates (e.g. job ads in a printed newspaper). If you only use the Personio career page and the Promote feature, you don't need tracking links.
What Are Tracking Links in Personio?
A tracking link contains tracking parameters and is used to send candidates directly to a position and its application form on the Personio career page or your own career page, allowing you to track the channel the respective candidate used to access the posting. It is automatically generated based on your career page link and associated with an external recruiting channel that you have to create manually in Settings > Recruiting > Channels.
With the tracking links, you can clearly identify the source channel of incoming applications that don't come from your Personio career page or from the Promote feature.
Those tracking links are used to evaluate the performance of your channels in Recruiting > View position details > Position details > Channel performance and to build the channels report in Reports > System Reports > Channels.
Creating Recruiting Channels
If you advertise a position on a job board outside Personio (without using the Promote feature), you need first to add the relevant channel for the position in Settings > Recruiting > Channels.
Personio automatically generates a tracking parameter for each recruiting channel from the channel ID. This parameter is used to track incoming applications.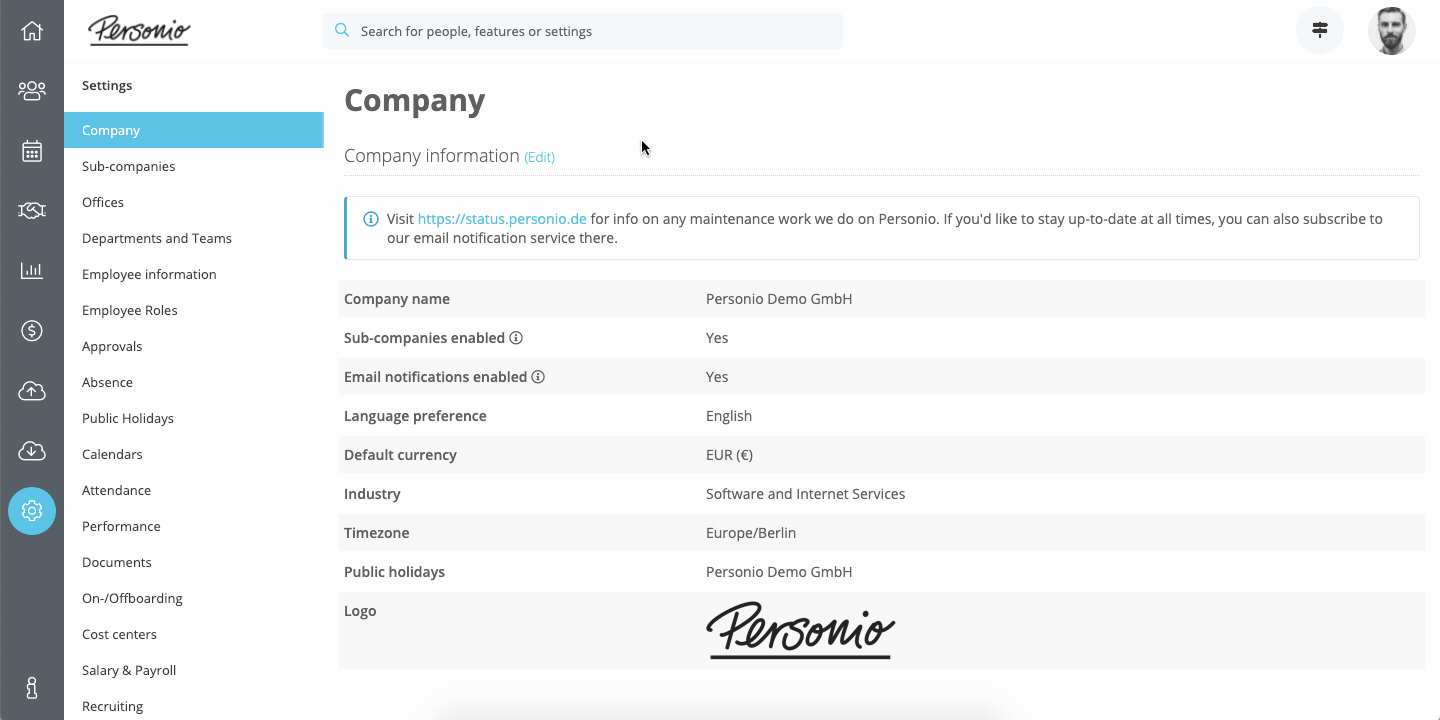 You can also create channels for your non-digital job ads, to keep track, in the candidates' profiles, of applications received at trade fairs, ads published on notice boards, or in print media, for example. To do so, enter the respective channel under Profile > Candidate information in the candidate profile or import candidates. For more information, have a look at this article.
Channels
To obtain an overview of all active channels for your openings, navigate to Recruiting > Channels. This list shows each recruiting channel with active openings.

Using Tracking Links
As an alternative to promoting positions, you can also advertise positions independently of Personio and use tracking links for the respective recruiting channel.
1. Link to your career page
If you are using the Personio career page: If you enabled the Personio career page, all links will be automatically generated.
If you are using your own career page: If you are not using the Personio career page, you will only be able to use tracking links after entering the link to your own career page, directly in the position details. To access the Career page link section, go to Recruiting > View position details > Promotion and click on the pen icon next to the Career page links. There, you can enter the link to the job description and the link to the application form.
2. Create new tracking links
To create new tracking links, follow these steps:
Go to Recruiting > Positions, click on View position details of the position you wish to add tracking links and go to the Promotion tab.
In the Tracking links section, you'll find an overview of all previously created links for the position, and you can add tracking links for additional channels.
To add a tracking link, click on the + icon, select the channel and click on Create to create the link.
Click on the link icon to copy the automatically generated tracking link.
Next, store the link manually on the relevant job board to allow candidates to access your application form and apply directly by clicking on the link.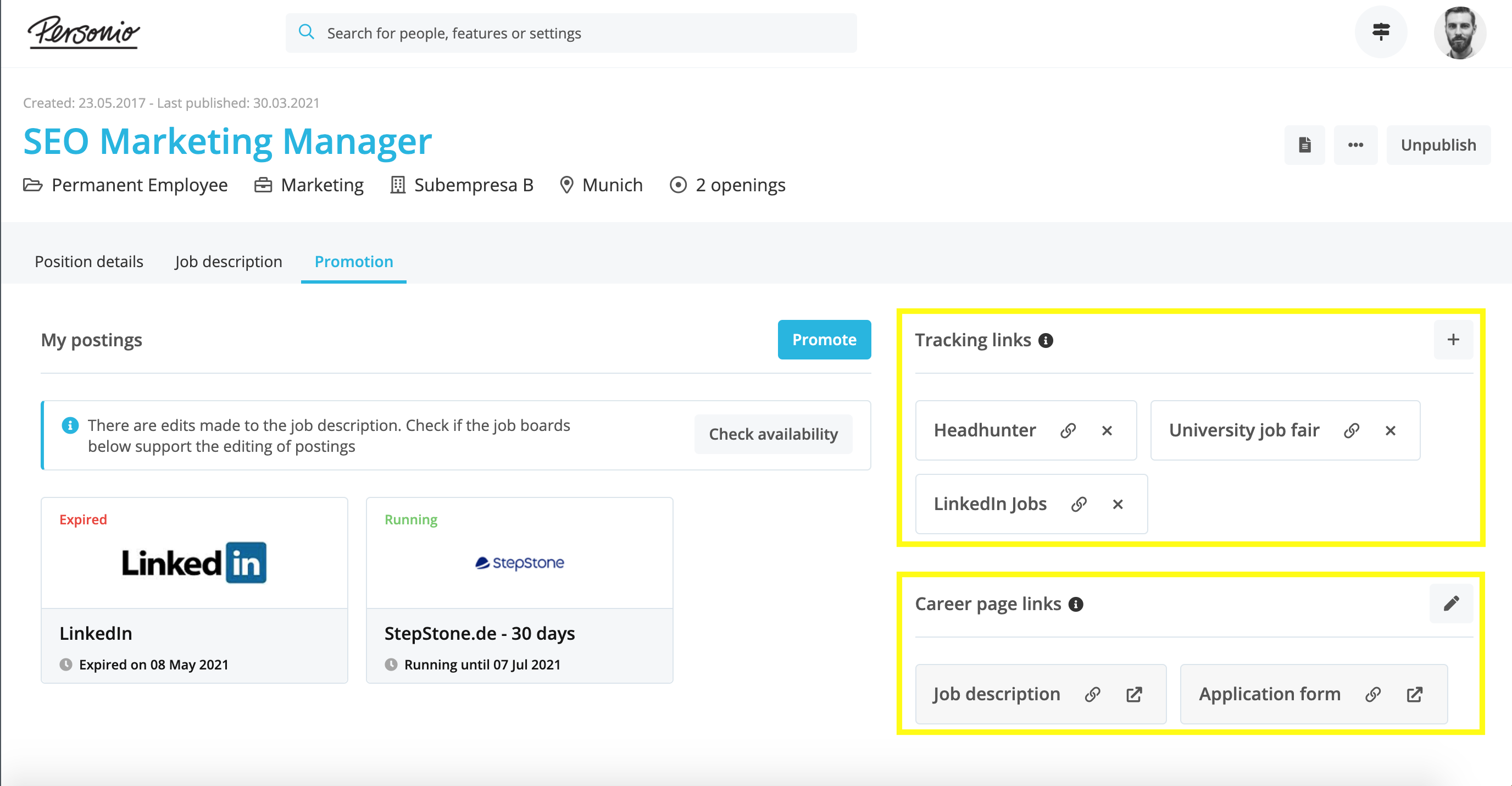 If you delete a tracking link you have created (by clicking on the x icon), you will not see it in the Tracking links section anymore. However, the link will remain active and continue to track candidates generated by the respective channel until you manually remove the link from the channel.
Can't find what you're looking for?
We are happy to help you! Just write us a message with your questions and we will get back to you as soon as possible.
Submit a request
Topics of this article