Creating and Managing Employee Roles
This article explains how you can configure employee roles in Personio. For each role, settings are made regarding access rights, calendar views and other security settings. With the Professional and Enterprise plan, you are additionally able to manage the reminder settings for employee roles. Commonly used employee roles include HR managers, managers and student interns.
System Roles in Personio
In Personio, the roles All employees and Administrator are predefined by default. An understanding of these two roles is essential for configuring additional roles.
It is a requirement that the role All Employees include all of your active employees. All other roles are based on this role and contain at least the configurations made for this role.
You cannot remove access rights from any role if the rights are included in the All Employees role.
The Administrator role (or any role with admin rights) is the counterpart to the All employees role.

Employees with an admin role have certain exclusive privileges that cannot be assigned to any other role. This Helpcenter article explains which privileges these are.
While employees in the administrator role have maximum access rights, they are still able to trigger approval processes for absence requests. The decision as to whether an approval process should be triggered or not must be made individually for each request. The same applies if administrators or employees with the appropriate editing rights enter an absence for another employee.
How to Create Employee Roles
Go to Settings > Employee Roles. You will see a number of predefined sample employee roles that you can adjust as you wish. Click on the plus icon to create additional relevant roles.
The number shown in a gray circle next to the role title represents the number of active employees in this role. If you set an employee's status to Inactive, this employee will no longer be included in the view shown below:
How to Manage Employee Roles
Next, you can easily add employees to a role by selecting the individual roles. To do this, navigate to the Members tab and then click on individual employees to assign them a role. Remember to save your changes before you exit the view. Note that all of your company's active employees are automatically assigned to the role All employees and that you cannot remove members from this role.
In the upper right corner of the screen you have the option to rename roles, duplicate individual roles or delete roles at any later time.
Before you delete an employee role, you must first remove all employees from the role.
Defining Access Rights
Once you have assigned all employees to a role as needed, you need to define the associated access rights. Click here to find out what tried and tested employee roles and access rights can look like.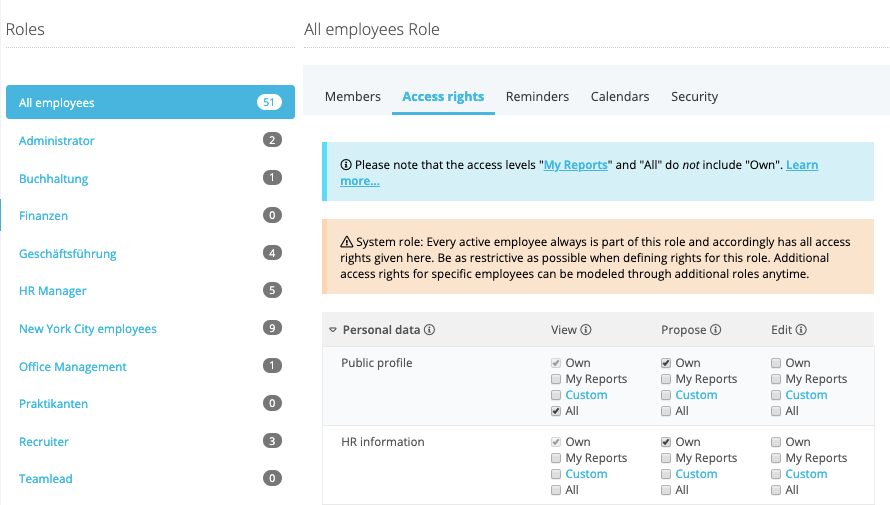 Defining Calendar Rights
Individual access to the global calendar can be defined for each employee role. A distinction is made between the various calendar categories and the scope of associated viewing rights. Click here for further information on how to configure the calendar.
Enabling 2-Factor Authentication
To further increase the security of the data stored in Personio, you can enable 2-factor authentication for each employee role if required. Employees who are assigned to such a role need both a token generated on their mobile device and their email address and password to log in to Personio. Read this article to find out how you can activate 2-factor authentication for employee roles.

Setting Up Reminders
If you are subscribed to the Professional or Enterprise plan, you can simplify your daily work by setting up reminders in Personio. You can define separate reminders for each role, e.g. for the end of employees' probationary periods. See this article to learn how to configure reminders for employee roles.
For more information about configuring access rights, reminders and calendar settings, or if you would like to see some examples of best practices, please refer to the relevant Helpcenter articles.
Can't find what you're looking for?
We are happy to help you! Just write us a message with your questions and we will get back to you as soon as possible.
Submit a request
Topics of this article