Update: Reminder or Task - the choice is yours! Decide whether reminders should expire automatically or not. This article describes how.
In this article, you'll learn how to set unique and recurring reminders in Personio to keep track of important events.
By default, you can set reminders for the following attributes:
Probation period end

Hire date
Last day of work
Contract ends
Termination date

Last salary change

Next absence

Birthday
In addition, reminders can be configured for attributes you have created yourself. Please note that reminders can only be set for attributes that are formatted as attribute type "Date". This article explains how to add new attributes.
How reminders work
When setting up a reminder, there are four factors you can adjust:
Who is to be reminded?
What is the event to be reminded of?
Which group of employees triggers the reminder?
When is the reminder to be triggered (relatively to the event date)?
At the reminder date, Personio displays a corresponding entry in the My tasks section of all employees who are defined as recipients of the corresponding reminder. Additionally, they will receive an email notification (optional). Please note that the display of reminders on the Dashboard is based on the following logic:
Reminders that you receive before an event or on the same day are displayed on the dashboard until one day after that event.
Reminders received after an event automatically disappear from the dashboard one week after the reminder is displayed.
If you want a reminder to stay on the Dashboard until it gets actively confirmed, mark it as Task.
In Personio there are three different ways to create reminders, which are explained in more detail below.
Role reminders
Simplify your HR processes by reminding employee roles of certain events, such as the probation end date of all employees.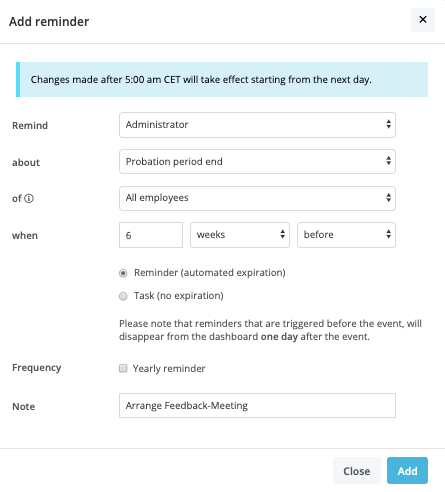 In addition, define due dates for a reminder and determine whether it should be repeated in annual frequency.
Beyond that, specify the grouping to which the reminder should apply. Distinguish between the following employee groups:
| | |
| --- | --- |
| Group | Description |
| All employees | ... refers to all employees for whom you have view rights regarding the selected attribute. |
| Own Team | ... refers to and includes all the employees who share the same (direct or indirect) supervisor. Please check the following article for more details. |
| Direct Team | ... includes only the employees who share the same direct supervisor. |
| Special | A selected group, such as your own department, your own office or employees of a certain cost center, which you choose yourself. |
Furthermore, add an optional description and click Add to apply the settings.
Set up as many role reminders as you like via Settings > Employee Roles > Reminders: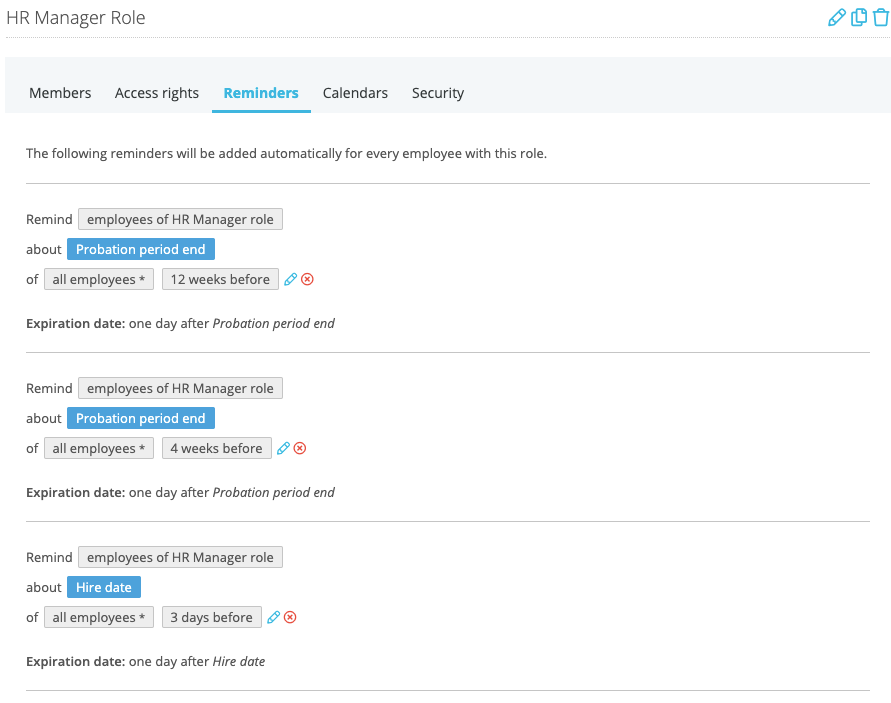 Please find more detailed information in the following article.
Personal reminders
Employees can also set personal reminders via Personal Settings > Reminders:

If you want to add personal reminders and be reminded of an attribute of all employees, the number of employees for whom you have view and/or edit rights to this information is automatically shown in brackets. In this case, it means that the employee has view and/or edit rights to the attribute 
Last day of work
of one employee.
In addition to the personal reminder, all role reminders valid for an employee are displayed in the personal settings: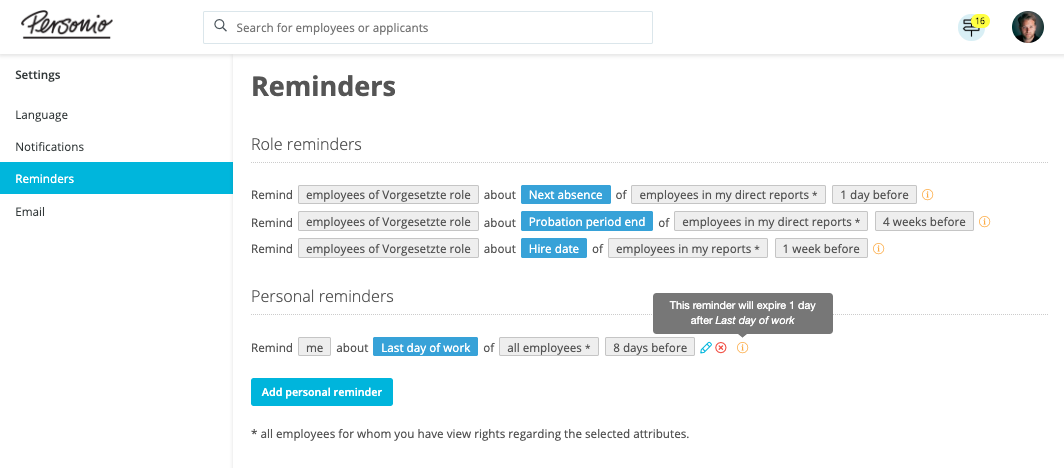 Individual reminders 
Reminders that refer to specific employees can be viewed in their profile under the tab Notes, provided that the notes have been activated under Settings > Employee Roles > Access Rights. Use Create Reminder to set individual and attribute-independent reminders for any date: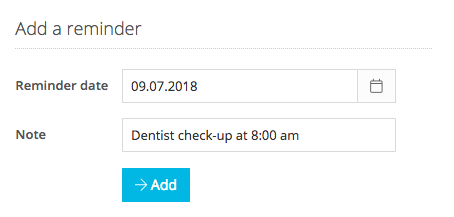 Can't find what you're looking for?
We are happy to help you! Just write us a message with your questions and we will get back to you as soon as possible.
Submit a request