This article explains how you can set up one-off and recurring reminders in Personio to ensure that you'll never forget important events.
You can configure reminders for the following events, which are already set up in the system:
Probation period end
Hire date
Last working day
Contract end date
End of employment
Last salary change
Next absence
Birthday
You can additionally have Personio remind employees of customized attributes. Note that reminders can only be configured for attributes of the attribute type Date. Learn here how to add new attributes.
How Reminders Work
By default, Personio provides reminders in the My tasks area of the dashboard. At the defined time for the reminder, the relevant entry for the event appears in the dashboard of all employees that are set up as reminder recipients. They can optionally also be sent an email notification.
Dashboard reminders are displayed according to the following logic:
Reminders scheduled to be sent before or on the same day as an event remain on the dashboard until one day after the respective event.
Reminders scheduled to be sent after an event are automatically removed from your dashboard after a week from the date they are first shown.
If you don't want a reminder to be automatically removed from the dashboard after the above periods, mark them as task. Tasks are displayed until they are actively confirmed by the respective user.
There are three ways for setting up reminders in Personio, as described in more detail below.
Reminders for Employee Roles
Make your HR processes easier by setting up reminders of certain events, for example the end dates of any employee's probation period, for employee roles.
You can also define when the reminder will be displayed (and sent) as well as set up reminders as annually recurring events.
Define the role and group to which the reminder will apply. The following options are available for differentiating between groups of employees:
| | |
| --- | --- |
| Group | Description |
| All Employees | All active employees in Personio. |
| My reports | All employees whose direct or indirect supervisor is an employee in the relevant role. You can find further information on term Team in Personio here. |
| My direct reports | All employees whose direct supervisor is an employee in the relevant role. |
| Custom | A specific group, such as your own department or office, or the employees associated with a specific cost center selected by you. |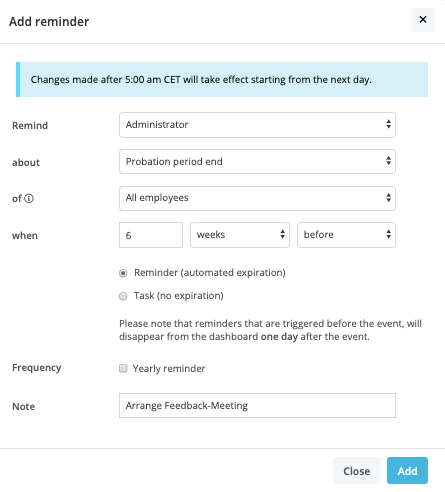 Add an optional description if you wish, then click on Add to apply the settings you have made.
Follow the process shown below to set up any number of role reminders in Settings > Employee roles > Reminders: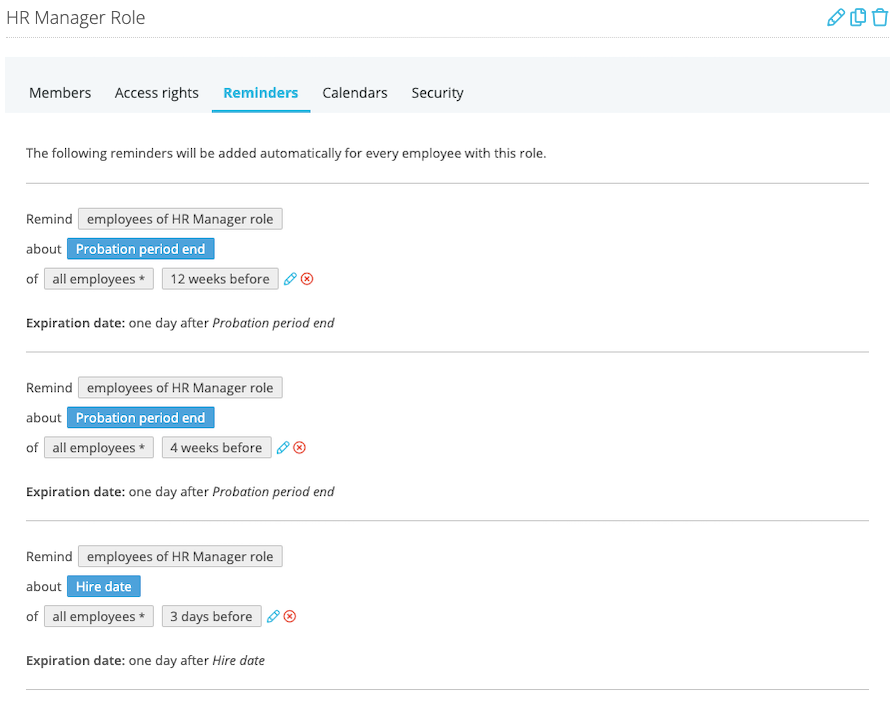 Click here to find out how to set up employee roles.
Personal Reminders
Employees are additionally able to create personal reminders in Personal settings > Reminders:

When you add personal reminders for an attribute that applies to All employees, you'll automatically see the number of employees whose relevant information you are permitted to view or edit shown in brackets. In the example, Personio creates a reminder for the last day of work for eleven employees. The sample employee therefore has viewing and/or editing rights for the Last day of work attribute for eleven employees. Click here to find out how to configure relevant access rights.
The personal settings show not only personal reminders, but also all role reminders that apply to the respective employee: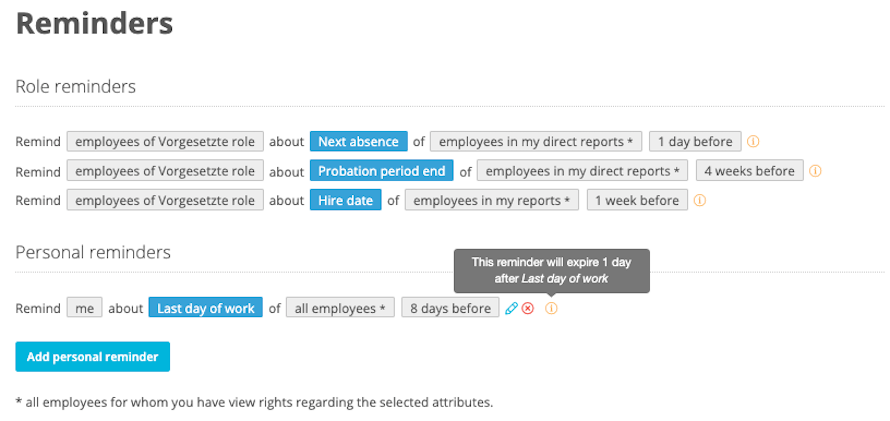 Reminders linked to specific employees
Reminders relating to a specific employee can be accessed via the Notes tab in the employee's profile, or by clicking on the Options button with the three dots. To do this, users need at least viewing rights for the Notes section (see Settings > Employee roles > Access rights) and for the Manage accounts section. Use the Create reminder function to set up individual reminders for any date without referencing an attribute: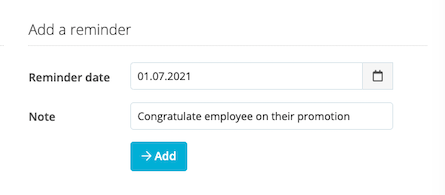 Detailed information about employee roles and access rights is available here.
Can't find what you're looking for?
We are happy to help you! Just write us a message with your questions and we will get back to you as soon as possible.
Submit a request
Topics of this article