Step 7: Importing Absences
After configuring absences and accrual policies, you can import any past and planned absences from your existing system into Personio. Provided all of the accrual policies have been correctly defined and allocated and all absence periods imported without any gaps, the vacation balance for each employee should match the account balance from your old system. Otherwise, you may need to make a manual adjustment.
Personio provides two options for manually adjusting your employees' vacation balances.
Manually Entering Absence Periods
Under the Employee Profile > Absence, you can add absences on the bottom right of the page and enter the relevant period. If substitutes have been enabled for absences, you can also select a substitute here. Furthermore, you can specify whether the first/last day of the period is a half-day, provided this function has been enabled in the settings. This is also the screen that your employees will use in the future to request vacation days or enter sick leave.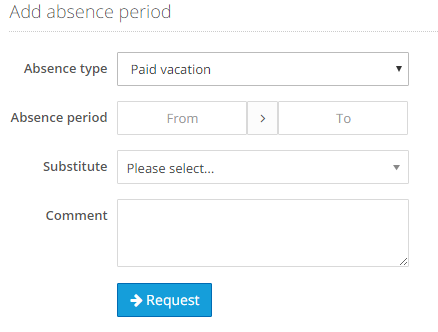 When counting absence days, Personio will automatically ignore days that have been stored in the work schedule as absence days as well as public holidays. For this reason, it is very important that public holiday calendars and work schedules are stored in the system.
Importing Absence Periods
To speed up the setup of your account, you can import absence periods using an Excel template. The template must include the following columns:
The employee's email address; exactly as stored in Personio
The absence type, exactly as stored in Personio (incl. case sensitive)
Start date; in format DD.MM.YYYY
End date; in format DD.MM.YYYY
Half-day first day; if the first day has been taken as a half-day absence (1 for yes, otherwise leave blank)
Half-day last day; if the last day has been taken as a half-day absence (1 for yes, otherwise leave blank)
If you only want to import one day, enter the same date as start date and end date. If it is only a half-day absence, you can use the option Half-day first day for the second half of the day, or the option Half-day last day for the first half.
Make sure that all of the details are complete and correct.

The absence periods can then be imported under Import > Absence periods upload.
Upload from file: Upload the file from the

Import section of your Personio account. Select the file type

Absence periods upload.



Configure columns: In the next step, assign the columns in your Excel file to the corresponding attributes stored in Personio. It is helpful if these either have at least the same or similar names.
Import preview: In the final step, you will see a preview of the import. If you notice any errors, you can simply cancel the import and fix the relevant problems in the Excel spreadsheet.
We are very happy to assist you in importing your data. Data checks are particularly helpful and save time and effort. Please feel free to contact our service team if you are planning an import – we'll be happy to help.
One-time Adjustments to Absence Balances
With accrued absences, it is possible that the account balance will not exactly match the balance from your current system. There can be several reasons for this. For example, the accrued days that are calculated based on the rules created may deviate slightly, or absence periods may be missing.
In order to reflect the exact balance from your old system, you have to make a one-time manual adjustment. Depending on whether any leftover vacation days are forfeited in your company and on what day the accrual policies are allocated (at the start of the year vs. on the hire date), the adjustment has to be made one day before that day. If you have a special case and need assistance, please contact our Service Team here.
Can't find what you're looking for?
We are happy to help you! Just write us a message with your questions and we will get back to you as soon as possible.
Submit a request
Topics of this article