How to set up accrual policies
⚠️ This article focuses on absences tracked in days. For absences tracked in hours, please visit this article.
In this article, you will learn how you can configure different accrual policies for the absence types that allow it.
What are accrual policies in Personio?
Certain absence types, such as paid vacation, are usually subject to a definite number of total leave days accrued during a certain period of time, also called "accruals".
You can choose whether you want to enable accrual policies for each of the absence types you created by navigating to Settings > Work Hours and Absences > Absence > [absence type] > Accrual Settings and ticking "Yes" or "No".
If enabled, you will be able to create as many accrual policies as you need.
Creating and Configuring Accrual Policies
Go to Settings > Work Hours and Absences > Absence and select the absence type for which you wish to create an accrual policy. Personio allows you to create several different accrual policies for each absence type to reflect different leave entitlements.
Click on New Accrual Policy to open a configuration assistant, which will take you through the process in only three steps.
Step 1: Basic Information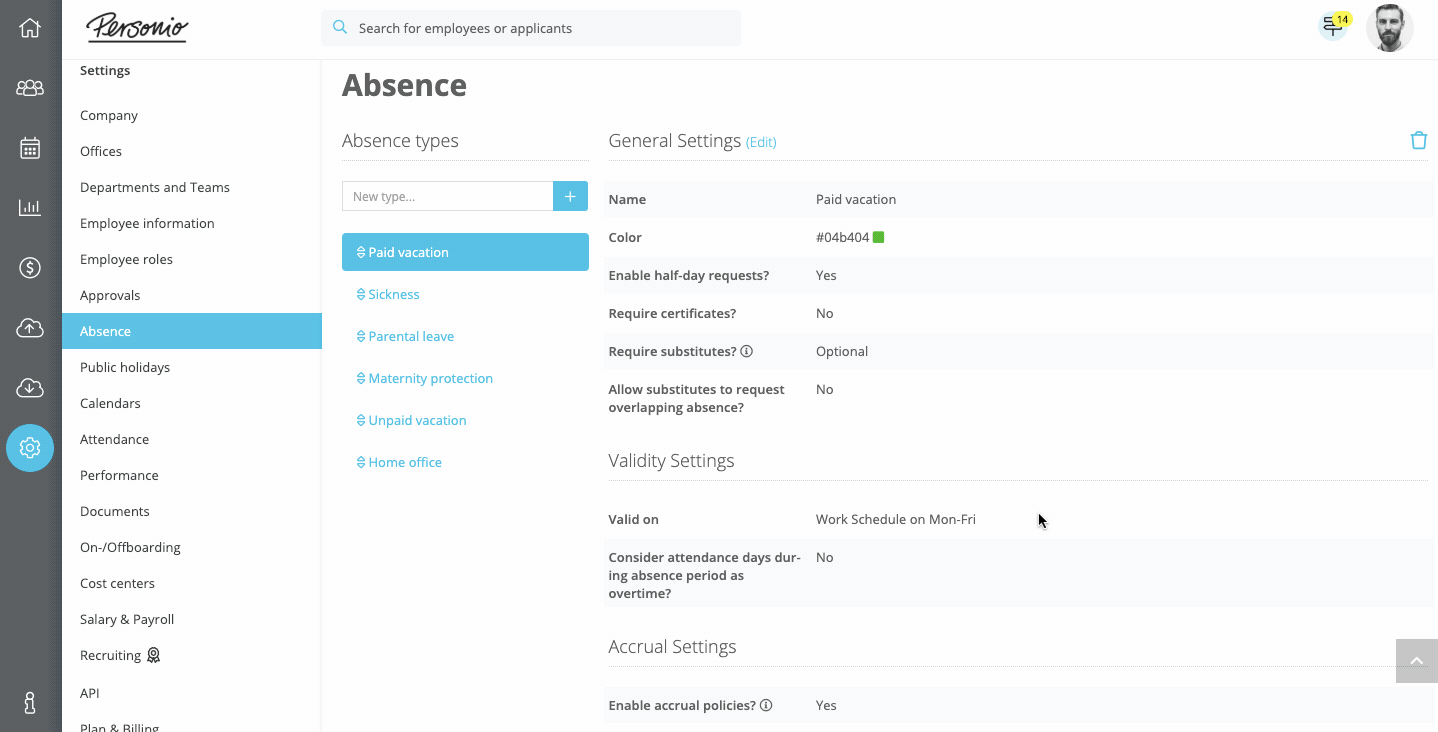 Policy name

Enter a name for your new accrual policy (e.g. 28 days).

Number of days granted

The number of days in the employee's leave entitlement.

If, when configuring paid vacation for part-time employees, you have activated the Prorate vacation option, the working days defined for the selected attendance schedule are automatically transferred to the accrual calculation.

Grant entitlement every

Choose when you would like the accrual policy to restart each year.

Entitlement granted at

Select whether you would like the accrual to be started at the beginning of the calendar year (January 1st) or on the employee's work anniversary.

Enable waiting time?

This option is only displayed if you select Year for the option "Grant entitlement every".

This allows you to prorate leave entitlement calculations for the first six months of employment (= waiting period). For more information on how leave entitlements are calculated during the waiting period, have a look at this article.
Step 2: Prorated Calculation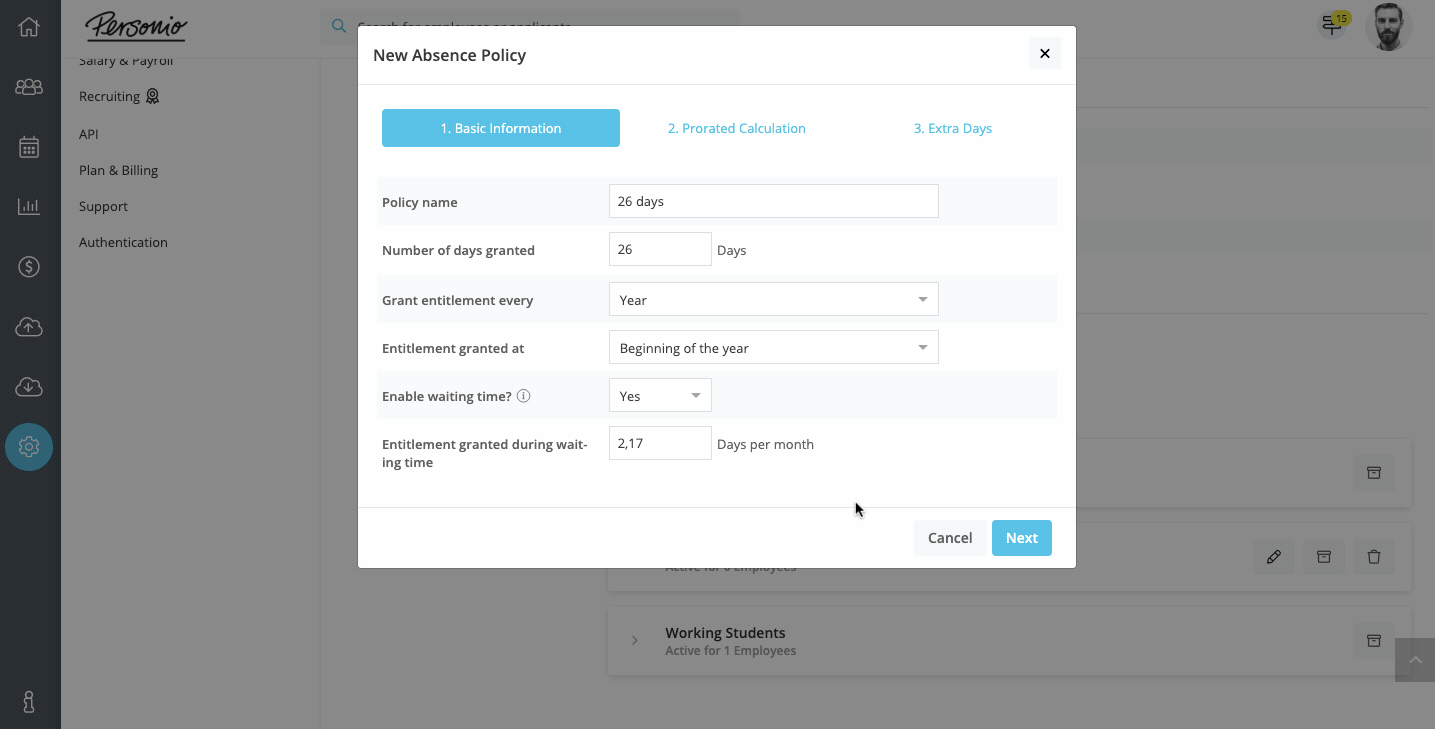 In the second step, you define if the entitlement should be calculated prorately on the employee's hire date, termination date, or contract end date.
| | |
| --- | --- |
| Beginning of employment | Select how entitlements are to be calculated when the employee is first hired. The available options are Daily prorated, Monthly prorated, No proration. A brief explanation of each option is provided below the selection field. |
| End of employment | Select how entitlements are to be calculated when the employee leaves. Choose whether the employee should receive their full entitlement if they leave the company in the first half of the year (i.e. Termination date shouldn't reduce entitlements) or if their entitlement is to be prorated (on a monthly basis). If the employee leaves the company in the second half of the year after more than six months of employment, the system always assign them the full entitlement. |
Step 3: Extra Days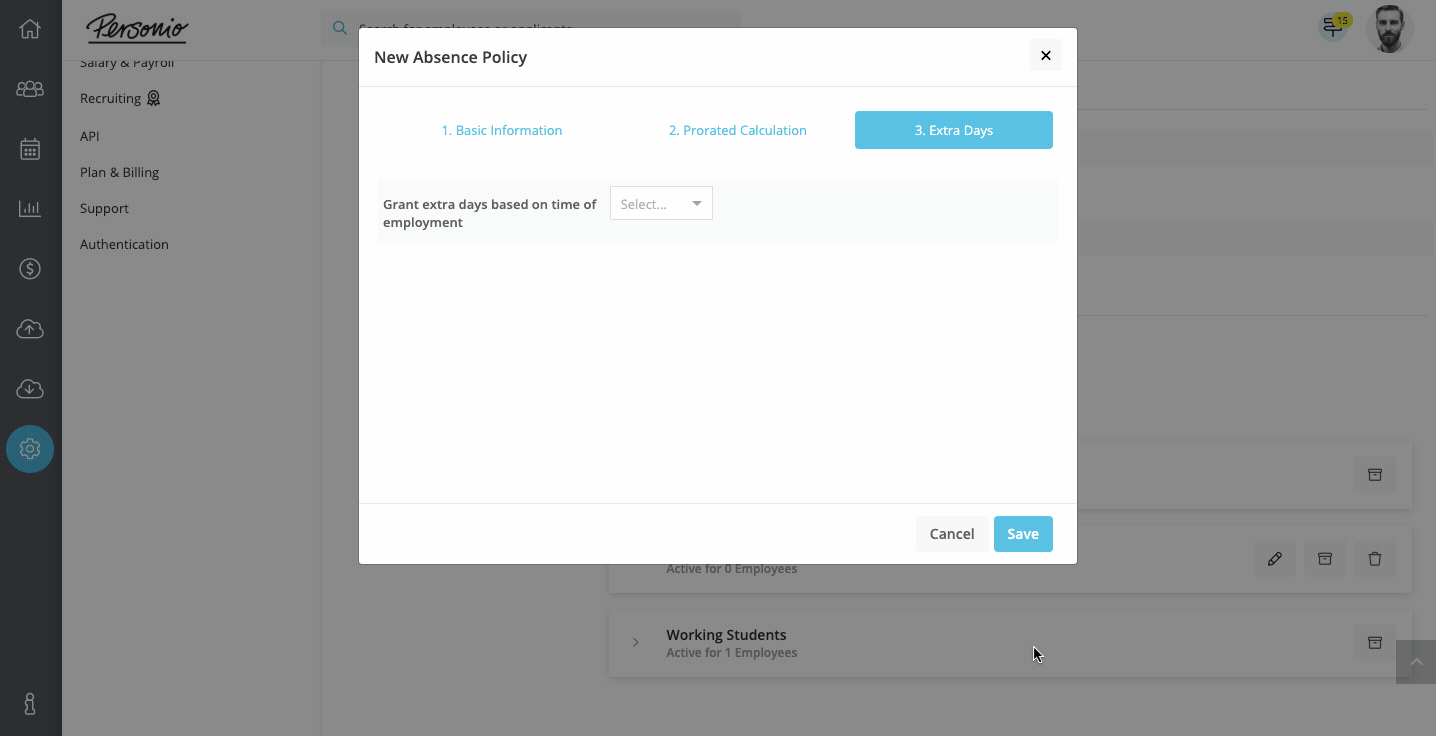 In the final step, you define whether leave entitlements are to be increased depending on the amount of time the employees worked with the company.
Select Yes to enable the function, and then enter the number of extra days per year of employment from the hire date. You have the option to enter several policies by clicking on the + icon.
Extra days of leave accrue on each anniversary of an employee's hire date by default. For example, if you create an extra days policy that stipulates Add 1 extra day(s) 1 year(s) after the hire date, an employee who joined the company on 01.10.2018 would be entitled to one additional day of leave exactly one year later, i.e. from 01.10.2019.
The Grant extra days with the start of next entitlement period checkbox allows you to define the start date of the next entitlement period as the reference date on which the entitlement is to accrue instead of the hire date. In the example shown, the employee would receive an additional leave day from 01.01.2020.
Refer to the article on Best Practices: Accrual Policies for examples of commonly used settings.
Managing your Accrual Policies
1. Policy details
After assigning accrual policies to your employees, you can go to Settings > Work Hours and Absences > Absences, select an absence type and click on the arrow next to a policy name to check the configuration of the policy. Under the name of the policy, you can also check how many employees are currently subject to the policy.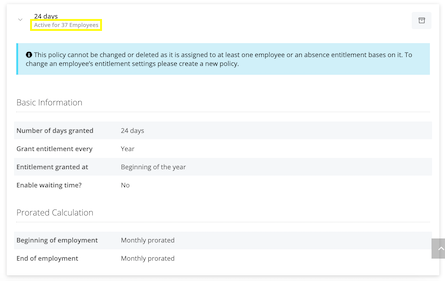 2. Deleting an accrual policy
You can delete an accrual policy that you do not want to use anymore by clicking on the bin icon. However, you can only delete an accrual policy if it is not assigned to any employee. In case you wish to delete the policy, you then need to remove it from all employees for which it is currently assigned. For more information on how to assign or remove a policy, you can have a look at this article.

3. Archiving an accrual policy
If you wish to prevent a policy from being assigned in the future, but you still would like to keep it assigned to some of your employees, you have the possibility to archive it by clicking on the archive button.

Archived accrual policies are no longer shown as an available option and cannot be assigned to employees. You can still find them in Settings > Work Hours and Absences > Absences > [absence type] > Accrual policies > Archive. There, you can also see details on when the accrual was archived, by which employee, and to how many employees the accrual is still assigned.

Please note that archived accrual policies cannot be restored. If you wish to restore an archived accrual policy, you need to recreate it using the New Accrual Policy option.
Topics of this article