Step 1: Importing Employee Data
The first step in the initial setup of your Personio account is to store your employees' master data. Prior to importing any data, you should first think about exactly what employee information you would like to manage in Personio.
Configuring Employee Attributes in Personio
Employee information is displayed within the employee profile, split up over different sections, and in attributes. Attributes that are thematically related are combined in the sections. You will find some predefined sections and attributes in the system, to which you can add as many sections and attributes as you need to document the data that your organization requires.
Please note that sections and attributes must always be set up in the company language set under Settings > Company information. Afterward, you can store translations for attributes in the languages that are available in Personio: German, English, Spanish or French.
Before you begin importing your data into Personio, all additional employee attributes need to be created. To do this, navigate to Settings > Employee information and edit the individual Sections (on the left) and associated Attributes (on the right).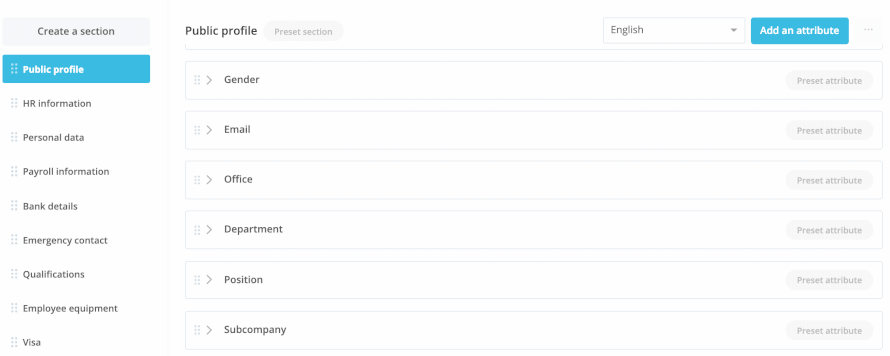 Click on Create section to add further sections if needed and set up your individual custom attributes within the sections. This can be done by clicking on Add attribute.
Name the attribute and select an appropriate Attribute type. The type is important for how attributes are formatted and how they function. The following table explains the different attribute types:
Attribute Type
Explanation
Standard
A simple text field for short pieces of text such as names, email addresses or telephone numbers.
List of options
A list of options allows you to query the attribute value. You can define the values that are possible for the attribute in advance. This is useful with yes/no queries, for example.
Number (integer)
Numbers without decimal places, such as the "Personalnummer".
Number (up to two decimal places)
Numbers with one or two decimal places, such as the child allowance and monetary amounts, or percentages (you determine the number of decimal places when you create the attribute).
Date
This attribute value is a date.
It can be used, for example, for birthday entries.
Link
This attribute is a link. You can use it to store your employees' LinkedIn or Xing profiles.
Multi-line text field

Multi-line text fields are useful for entering comments or messages.

Multiple selection

With the Multiple selection type, you can define attribute values the same way as with the List of options type. However, not just one, but several values will be selectable. That way, you can record which languages an employee is proficient in, for example.
In our Helpcenter article Best Practices: Sections and Attributes, an overview of additional employee sections and attributes that have proven useful is provided, along with helpful examples.
Using our Excel Template to Collect Employee Information
The template EN Employee Data Upload.xlsx is based on your account in the testing phase and contains all the attributes included.
The titles of the attributes and options in the table must be named exactly the same as in your Personio account. Otherwise, the import will not work. Note that in older accounts, the attribute Nationality is called Citizenship.
In the import templates, the column titles of attributes that are in Personio as a List of options appear in italics. The first lines of the templates can be viewed with the restrictions permitted via a dropdown.
First, download the Excel template.
Carefully read the worksheet entitled Guideline for filling out the employee data upload file.
Next, fill in the columns with your employee data. Each row represents one employee who is

uniquely identified by their email address

. Required columns are highlighted in yellow. These must be populated.

In order to import the employee attributes that you have set up yourself, you can also add more columns.
Save the complete Excel file.
Please note that email addresses serve as unique identifiers in the system. An email address must therefore be entered for every employee – and it is particularly important for later imports as well, such as salary data.
If you have also defined any attributes that you created yourself as unique identifiers, you should avoid importing multiple identifiers at the same time. With import files that contain the email address as well as another identifier (e.g. the Personalnummer), Personio will by default use the email address for importing the data.
Explanation of columns (predefined attributes only)
Column name
Required column
Permitted values
Explanation
First name
yes
Text
Last name
yes
Text
Gender
yes
"male" or "female," or "diverse"
Email
yes
Email address
Email address
Status
yes
"active," "inactive" or "onboarding"

active = An employee who is currently employed in your company

inactive = Former employee

onboarding = New employee, prior to the hire date

An additional status is "Leave." This cannot be imported, however. Read here how to schedule a leave period for an employee.

Employment type
yes
"internal," "external"

internal = An actual employee of the company

external = External employees such as freelancers or accountants (who need access to the payroll section)

Hire date
yes
Date
Start of contract / employment start date
Supervisor
Recommended
Email address

Email address of the employee's direct supervisor

Important: The supervisor must also be added to the template as an employee.

Sub-company
Recommended, if available
Text
Names of subcompanies
Office
Recommended
Text
The employee's office/location, e.g. "Munich"
Department
Recommended
Text
The employee's department, e.g. "Management"
Position
Recommended
Text
The employee's title/position, e.g. "Accountant"
Contract end date
Optional
Date

End date of the contract (with limited-term contracts)

End of employment
Optional
Date

Date when the employee officially left/is leaving the company

Cost center
Optional
Text

Name of the employee's cost center

Probation period
Optional
Number
Duration of the employee's probation period in months (blank if there is no probation period)
Weekly hours
Recommended
Number
Number of working hours per week
If you want to fill in additional attributes retroactively using an import, the Excel template will only need to include a unique ID, e.g. the email address, and the relevant attribute(s) that you want to import. The already completed attributes or system attributes will, of course, not have be included again.
Importing Employee Data
You can import your employee data once you have completed all of the preparatory steps.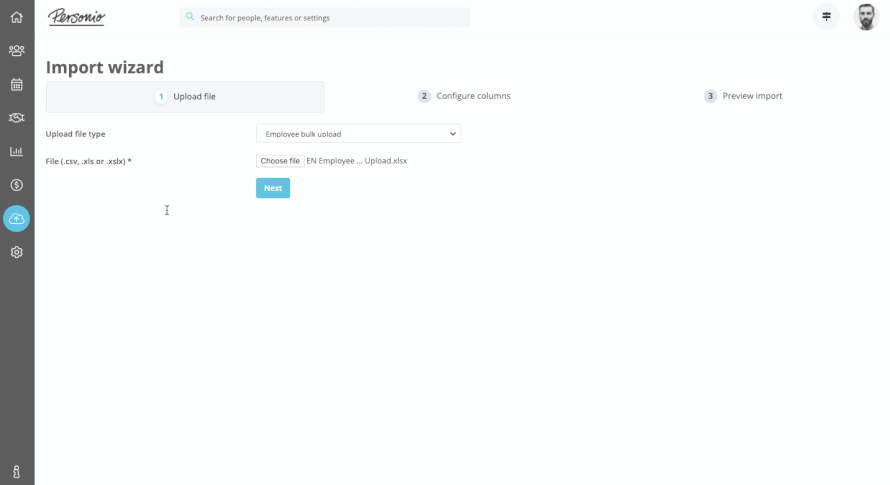 The import process into Personio comprises the following steps:
Upload file: Upload the file to the Import

section

in your Personio account. Select the file type Employee bulk upload.
Configuring columns: In the next step, assign the columns in your Excel file to the corresponding attributes stored in Personio. It is helpful if these are named the same or at least have similar names.
Preview import: You will then see a preview of the import. If you notice any errors, you can simply cancel the import and fix the relevant problems in the Excel spreadsheet.
Revision file: If your import file is formatted incorrectly, a warning box will appear. Click on the button Download revision file to download an .xls file with the columns or fields containing errors highlighted. Correct these and restart the import. For more information on import errors and how to solve them, click here.
We are very happy to assist you in importing your data. Data checks are particularly helpful and save time and effort. Contact our Service Team here if you are planning a more challenging import.
Can't find what you're looking for?
We are happy to help you! Just write us a message with your questions and we will get back to you as soon as possible.
Submit a request
Topics of this article