Step 1: Import Employee Data

The first step in the initial setup of your Personio account is the setup and uploading of basic employee data. To do this, first consider which employee information you want to manage in Personio.
Best practices of additional employee attributes
The Best Practices for Sections und Attributes provides an overview of proven, additional employee sections and attributes, as well as examples.
Configuration of individual employee attributes in Personio
Before you can start importing your data, you must first store all additional employee attributes in Personio. To do this, navigate to Configure account > Employee information and edit your individual sections and attributes. Sections of thematically related attributes are summarized.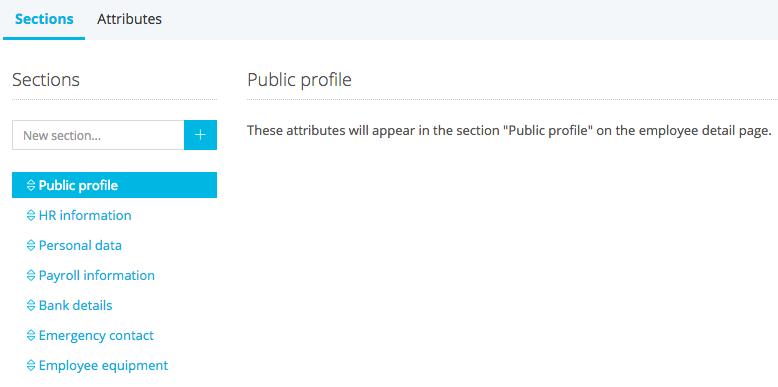 You can now add any number of attributes to the newly added sections. To do this, click the Attributes tab, select the appropriate section to which you want to add a new attribute and edit the attribute name.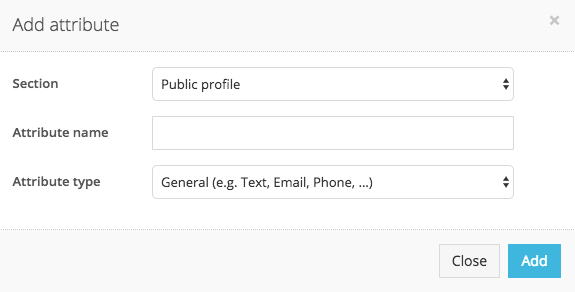 In addition, it is necessary to select the attribute type. This is crucial for formatting the attributes. For an explanation of the different attribute types, please refer to the following table:
Attribute Type
Explanation
General
The attribute is defined by a text.
This is the case, for example, with the Name of emergency contact.
Multi-line textfield
Multi-line input fields are used to record comments or messages.
The length of the text field is not limited.
Number
These attributes are stored as a command number.
Therefore, if you want to manage a phone number, for example, you should save it as a text field.
Date
The attribute expression is a date.
This is the case, for example, when the birthday is given.
Link
The attribute is a link. This attribute type allows you to store a URL
such as the LinkedIn or Xing profile of the employee.
List of Options
A list of options enables you to query the attribute expression.
You can store possible characteristics in advance. This is useful for example with yes / no queries.
Tags
In the case of the multiple selection, attributes are created in the same way as the selection list.
However, several may be selected. For example, you can select languages that are used by employees.
Enter all employee information in our Excel template
First, download the Excel template (see below).
Now fill out the columns with your employee data. A line corresponds to an employee and this employee is clearly identified by the email address. Compulsory columns are marked in red and must be completed. Recommended columns are yellow, optional columns are green. [image]
You can also add as many additional columns as you want to import the employee attributes you created yourself.
Save the full Excel file.
Explanation of the columns 
Column Name
Required Column 
Permissible Values
Description
First name
yes
Text
 
Last name
yes
Text
 
Gender
yes
"male" or "female"
 
Email
yes
E-Mail Address
 
Status
yes
"active", "inactive" or "onboarding"

active = Employee is currently employed by your company

inactive = Former employee

Employment Type
yes
"internal", "external"

internal = Typical employee

external = External employee, for example freelancer or tax consultant

Hire Date
yes
Date
Start of contract / start date of employee
Office
recommended
Text
Location / office of employee
Department
recommended
Text
Employee's department, for example "Management"
Position
recommended
Text
Title / Position of the employee,for example "Accountant"
Supervisor
recommended
E-Mail Address

E-Mail Address of employee's direct supervisor

Important: The supervisor must also be entered as an employee in the Excel Sheet.

Birthday
recommended
Date

Employee's Birthday 

Sub-company
recommended,
if required
Text

 

Length of Probation
optional
Number
Length of employee's probation period in months (empty if not probation period)
Contract ends
optional
Date
End date of contract, if limited
Work Phone
optional
Telephone number
Employee's work phone number
Mobile Phone
optional
Telephone number
Employee's mobile phone number
Cost Center
optional
Text 
Name of the cost center the employee belongs to
Linkedin
optional 
Weblink

Weblink to employee's Linkedin-Profile
Import of employee data
After all preparations have been made, the employee data can be imported. The import process in Personio consists of three steps:
Upload file: In your Personio account, under the Import section, upload the file. Select Employee bulk upload as the File type.

Configure columns: In the next step, the columns of your Excel file must be assigned to the corresponding attributes stored in Personio. For this, it is useful if these are the same or at least similarly named.
[image]
Preview of the import: The last step shows you a preview of the import. In the event that errors occur, you have the option to abort the import and to correct corresponding problems in the Excel table.
We are happy to help you import your data. Just a data check will save you a lot of work. Therefore, please write to support@personio.de if you are planning an import.
Can't find what you're looking for?
We are happy to help you! Just write us a message with your questions and we will get back to you as soon as possible.
Submit a request