Finalize Account Setup: Invite employees to Personio
You are almost finished with all the steps necessary to set up your Personio account! Here is an overview:
Now all that is left to so is give your employees access to Personio so that they can begin to use it too. There are two options to invite your employees to Personio.
Invite employees individually
Individual employees can be invited via email to Personio via the Employee profile > Actions > Manage account. Just click on Create login and send invitation email.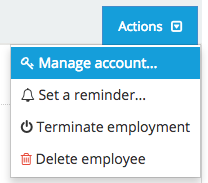 Invite all employees
Alternatively, several employees can be invited to Personio at the same time, by re-importing their e-mail addresses.
Under Employees > Employee List > Actions > Export, you have the option to export a corresponding list with all email addresses. Just save this list and upload it as an employee bulk upload. Proceed as usual, but in step 3 of the import process, select the option to send the invitation e-mails. 
Upload file: In your Personio account, under the Import section, upload the file. Select Employee bulk upload as the File type.

Configure columns: In the next step, the columns of your Excel file must be assigned to the corresponding attributes stored in Personio. For this, it is useful if these are the same or at least similarly named.

Preview of the import: The last step shows you a preview of the import. In the event that errors occur, you have the option to abort the import and to correct corresponding problems in the Excel table.
 [image]
Getting Started with Personio
Your employees will receive an invitation with access to Personio. If they follow the link to the registration, your employees can set an individual password and log in to their individual account.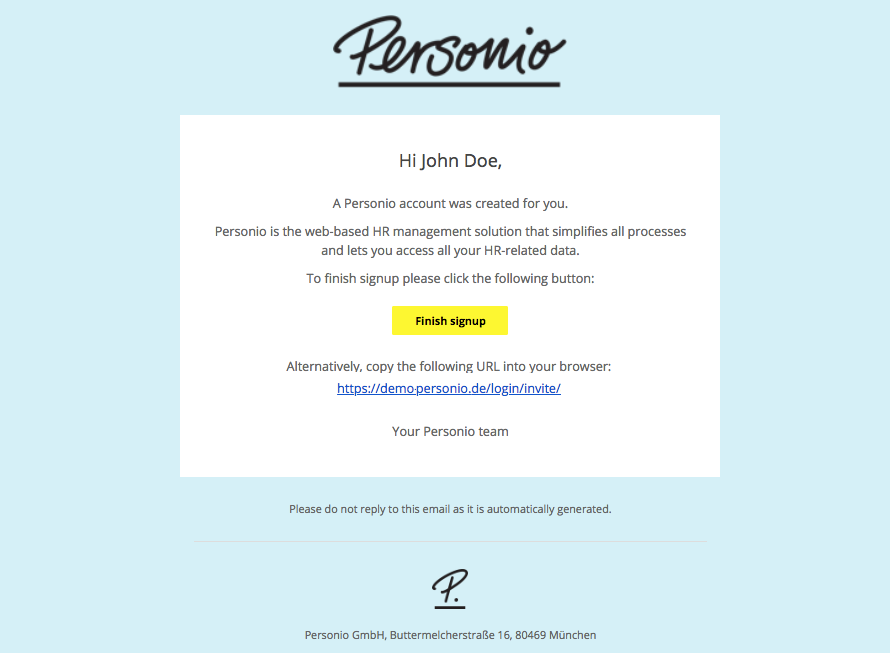 In order to ensure that your employees can quickly familiarize themselves with Personio's features, you are welcome to provide your employees with our Employee Manual. This summarizes the most important functions for your employees and guides them through the first steps.