Step 7: Defining Recruiting Roles
This article explains how you can define recruiting roles to involve individual employees in the recruiting process. Recruiting roles allow you to group employees to allow them access to specific areas of the recruiting section only. You can also set up notifications for each role.
If employees need access to the entire recruiting section, go to the employee management section. Click on Settings > ORGANIZATION AND PEOPLE > Employee roles > Access rights > Recruiting and assign them viewing or editing rights.
Creating Recruiting Roles
Go to Settings > RECRUITING > Recruiting > Roles and define any number of recruiting roles by clicking on the Add new recruiting role input box.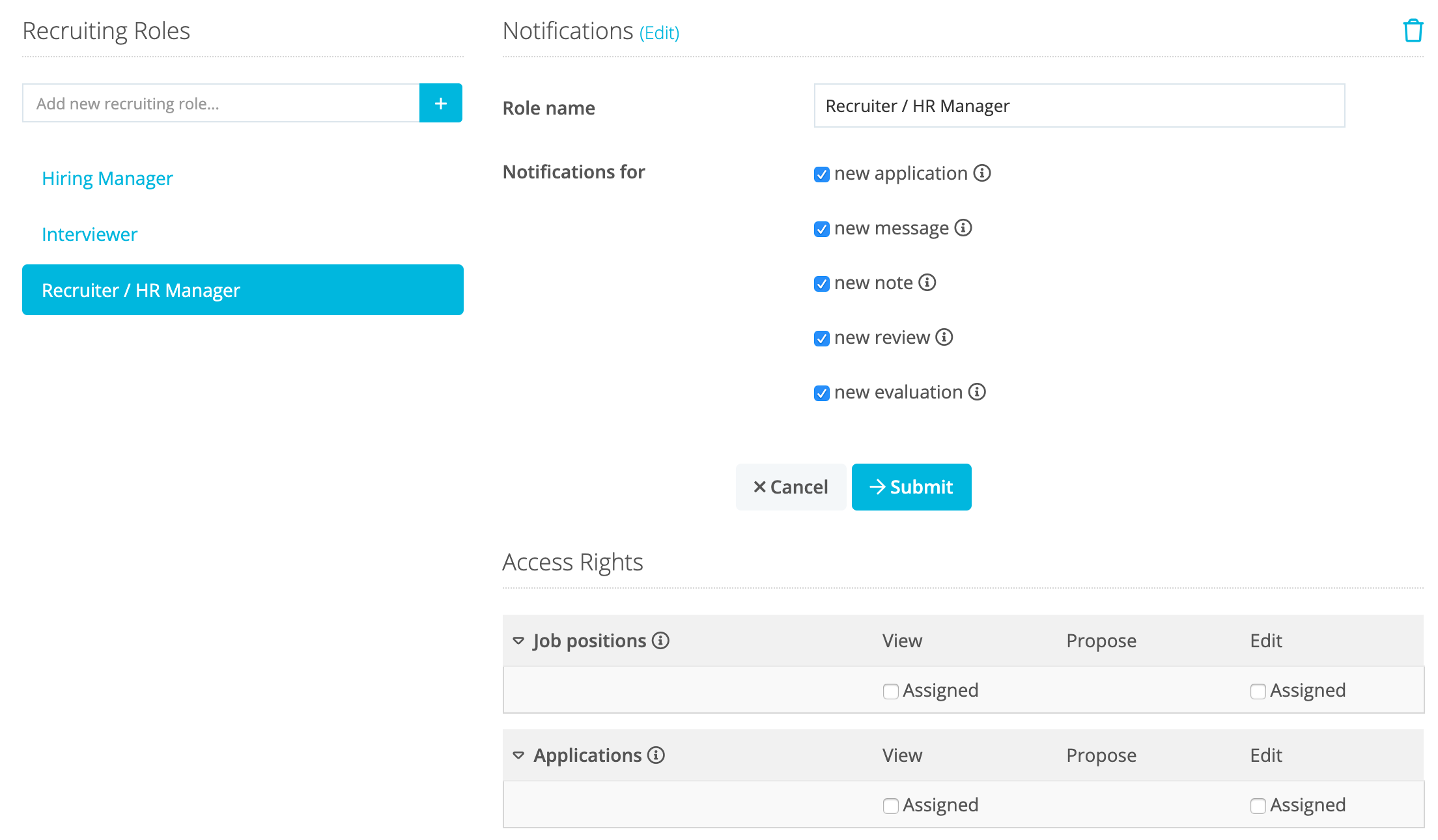 First, go to Notifications for to define the events that employees assigned a particular role will receive email notifications for:
New application:

New applications received for assigned positions.

New message:

New messages received for assigned candidates.

New note:

New notes added to assigned candidates.

New review:

New reviews received in response to requests for feedback initiated by the respective employee.

New evaluation:

New evaluations added for assigned candidates.
Include employees in recruiting roles even if their employee roles already give them access to the entire recruiting section. This ensures that these employees will receive all notifications you have set.
Configure the access rights of your employees to ensure that they will only be able to view or edit those recruiting sections and candidate data in Personio that they are meant to see. For further details, read our article Recruiting Role Access Rights And What They Mean.
As administrator, you are able to log in to Personio as any employee to verify the access rights you have configured for them. To do this, go to the respective employee's profile and click on the Login as this employee icon in the top right of the screen.
Define the required access right restrictions for each employee role:
View:

This access right enables employees to view the data of assigned positions and candidates.

Edit:

This access right enables employees to edit the data of assigned positions and candidates.
Assign the access rights for the Candidate profile and HR information areas separately under Profile. The candidate attributes of the two areas will be displayed together under the Candidate information in the candidate's profile. However, employees will only have access to those attributes for which they have been authorized through their recruiting roles. Go to Settings > RECRUITING > Recruiting > Attributes to specify the attributes that you regard as sensitive data (e.g. salary expectations). That way, you can actively involve employees in the application process without revealing sensitive candidate details to them.
In the Candidate documents line, you specify the document categories that the respective recruiting role may access. For more information on categorizing and assigning access rights for candidate documents, read our article Managing Candidate Documents.
Access to Applications
Personio offers two ways of integrating employees in the recruitment process through the allocation of a recruiting role. You can grant access either to the whole position, or only to individual applications within the opening.
1. Access to Entire Positions
Open a position and go to View details. Under Responsibles, select one or more employees and assign an appropriate recruiting role to each of them. Depending on the access rights they are granted, the employees will be able to access the position in different ways.
All of the responsible persons and their access rights are displayed in the detail view.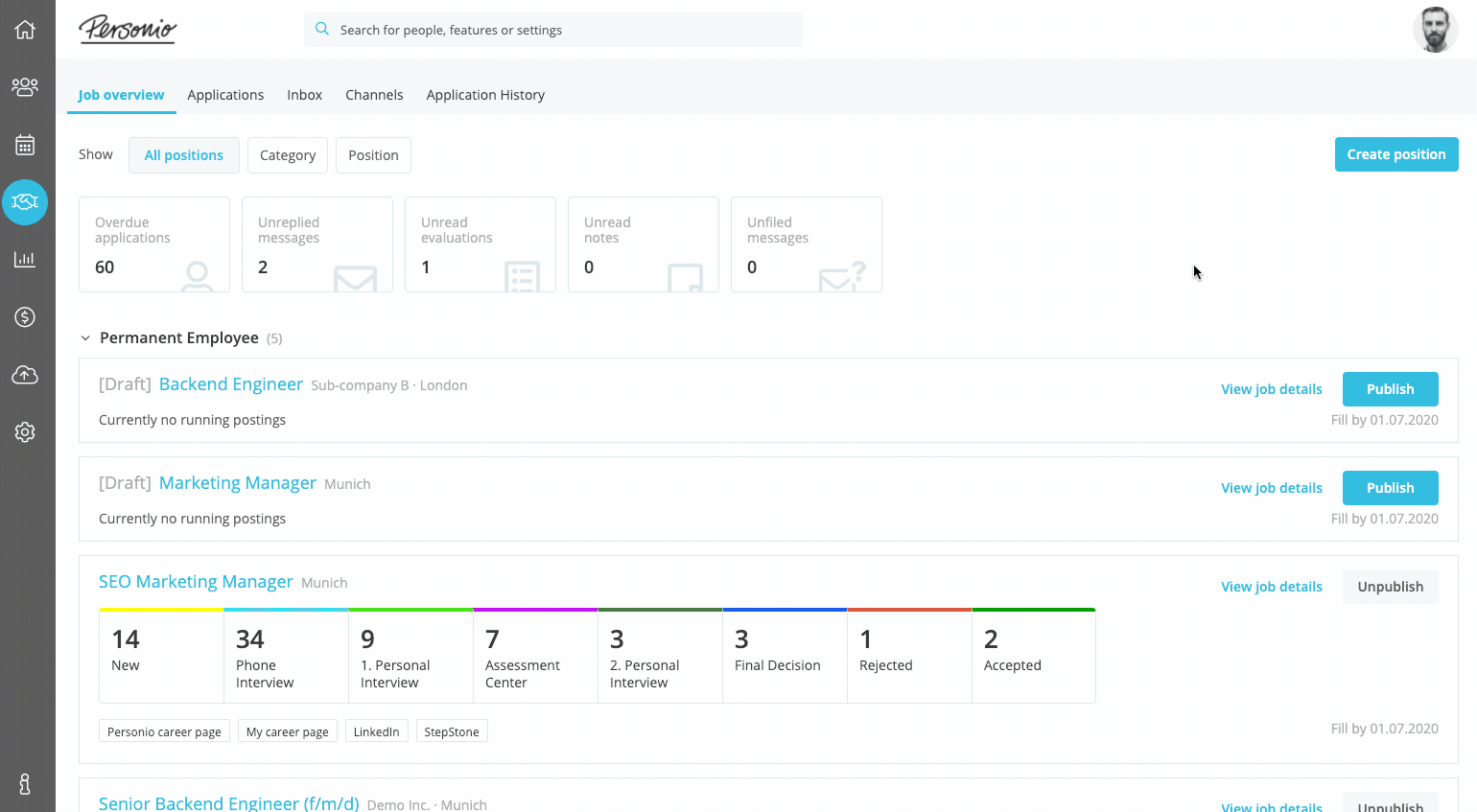 2. Access to Individual Candidate Profiles
If you don't want to define employees as responsible persons for an entire position, you also have the option to assign a recruiting role to grant access rights to selected candidate profiles. To do this, click on the Access tab and select Add employee. Assign a recruiting role to employees and click on Save.
Alternatively, you can also request review directly or include employees as participants in interviews. For more information, read our article Using Recruiting Roles to Grant Employees Access to Applications.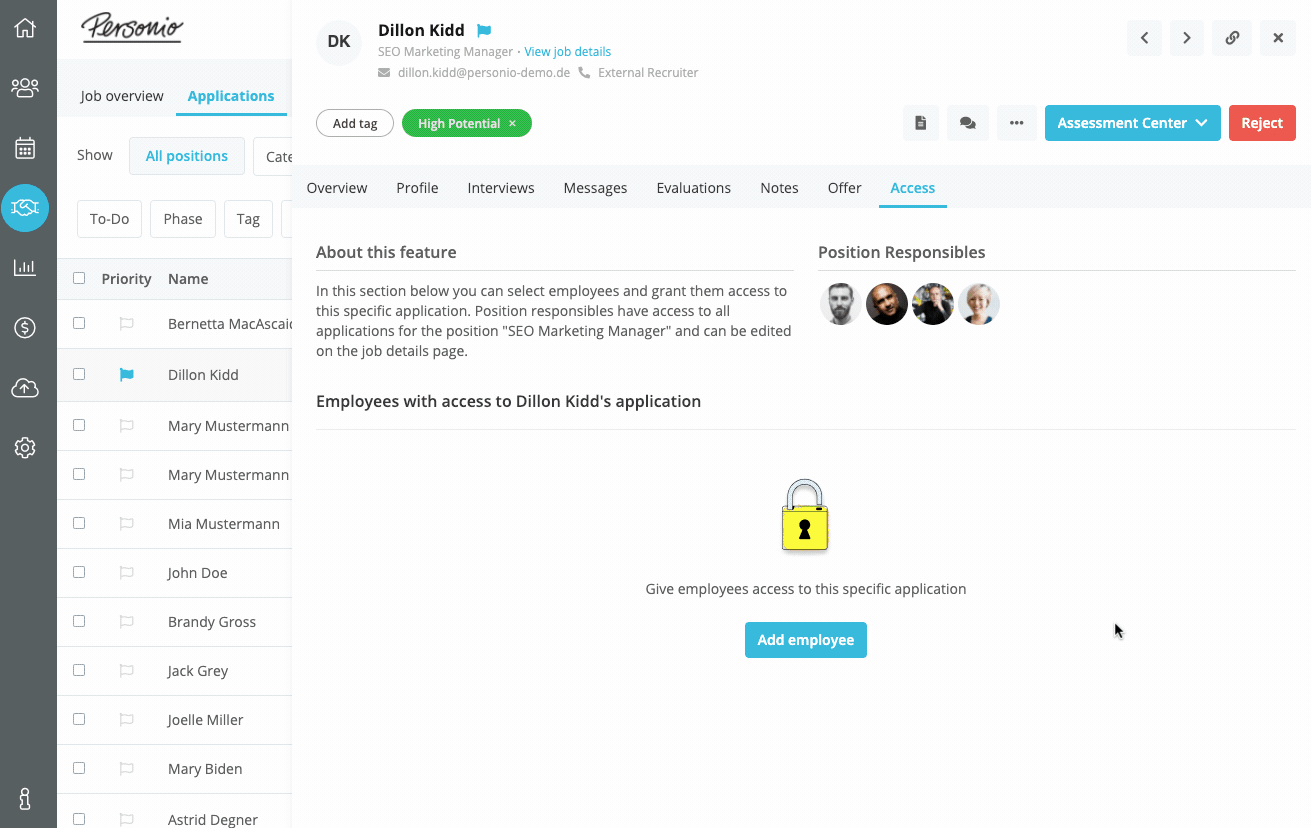 To find best-practice examples for configuring recruiting roles, read our article Best Practice: Recruiting Roles.
Topics of this article