The following article explains the different possibilities and views of the Dashboard. After logging into your Personio account you will always start on this page. It provides you and your employees with an overview of open tasks and current events in your company. Click on the individual tasks and information boxes to navigate directly to the corresponding areas and features in Personio.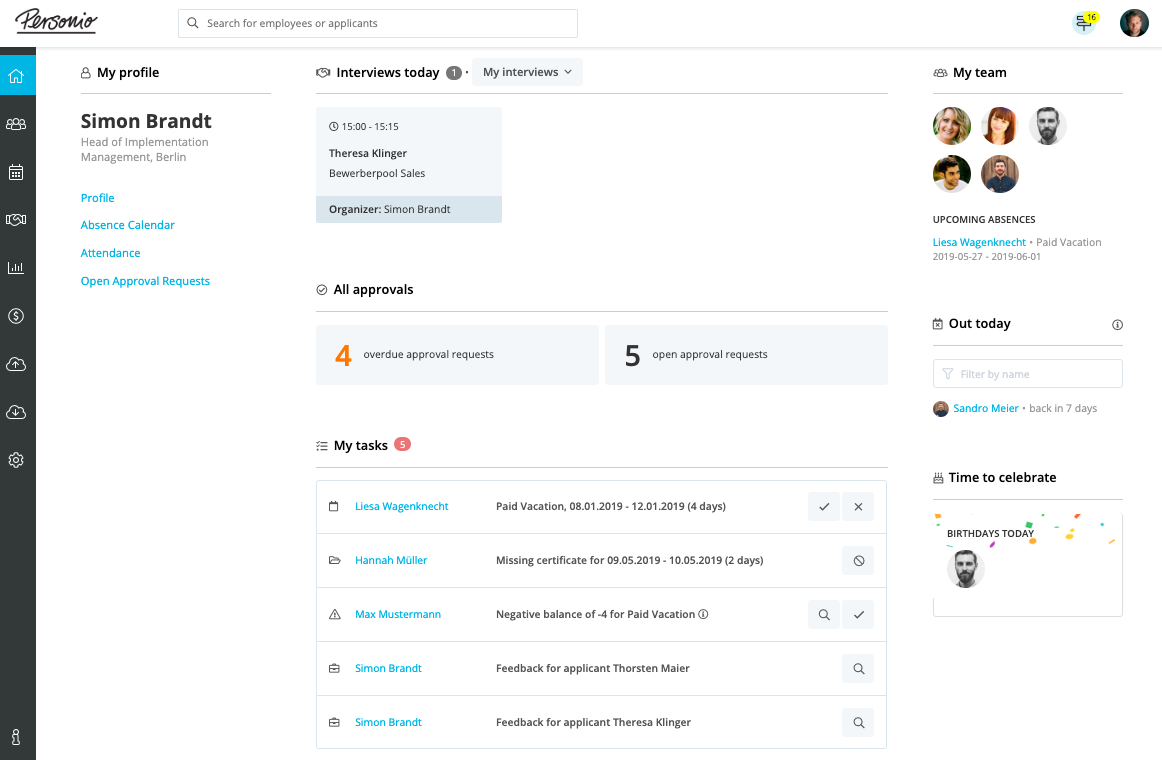 My Profile
The area My profile contains links to the areas in your own employee profile that are used most frequently. Access your profile, your attendances or your absence overview with only one click or check the status of your open approval requests.
All Approvals
This area provides you with a status overview of all the approval requests that are relevant for you (you are either the requester or you need to approve). Administrators can view all open approval requests company-wide so they can contact the corresponding employees (approvers) in case of open or overdue approvals.

Your Company at a Glance
All employees with access to at least one report are able see this overview of the workforce. The following information is available:
Active Employees: Number of employees who meet all of the following conditions:

Status is active
Hire date was not found, or is before today's date
Type of employment is internal

Currently on leave: Number of employees who currently have the status time-out. For this, at least the view right for the personnel information must be given, otherwise the area is hidden.
Joining this month: Number of all new arrivals whose employment date is in the current month.
Interviews Today
This date preview shows you a summary of all interviews taking place today. It displays the beginning and duration of the interview, the name of the applicant, the job opening as well as the organizer of the interview and the interview participants. Click on the interview to go directly to the applicant's profile in the recruiting area.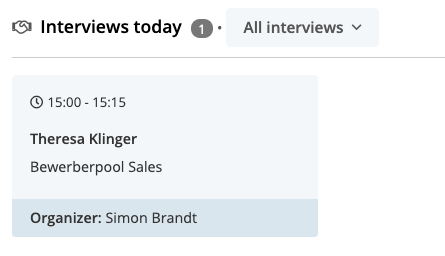 My Tasks
Always keep track of all your upcoming tasks. The tasks displayed on the Dashboard include:
Reminders: Reminders that are triggered via your employee role or your personal settings. Reminders that you receive

 

before an event or on the same day are displayed on the dashboard until one day after that event. Reminders received

 

after

 

an event automatically disappear from the dashboard one week after the reminder is displayed. If you want a reminder to stay on the Dashboard until it gets actively confirmed, mark it as

 

Task.
Approval Requests: Open approval requests, e.g. absence requests to be approved by you.
Contract ends: Reminder of contracts that expire within the next 30 days (including planned days of absence within this period); these reminders are sent to all employees who have the right to edit the Personal Info section.
Certificate approval: Notification for missing certificates and certificates to be confirmed.
Overlapping absences: Notification if at least two absence periods, such as illness during leave, overlap.
Negative absence balance: Notification that an employee has overbooked his or her absence entitlement; this feature helps you to keep an eye on leave balances, especially during the probationary period of your employees.
On-/Offboarding ToDos: Reminder of open tasks of ongoing On- or Offboarding steps that have to be completed by you.
Applicant feedback request: Notification that somebody asked you for feedback on an applicant (only when using the Personio applicant management software).
Reminders concerning an employee's contract end cannot be deactivated. The reason for this behavior is the necessary decision whether an expiring contract should be extended or the employment is to be terminated.
My Team
Get an overview of your direct team members.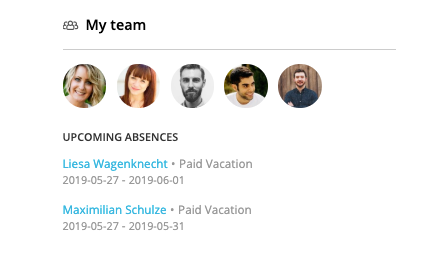 Out Today
Always keep track of the employees and colleagues absent today, as well as the duration of their absence.
Only absences that are activated under Settings > Calendar > Absences are displayed.
Time to Celebrate
Today's birthdays in your company at a glance.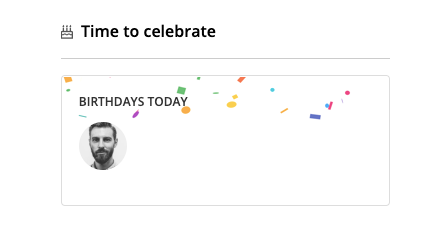 Can't find what you're looking for?
We are happy to help you! Just write us a message with your questions and we will get back to you as soon as possible.
Submit a request