The following article explains the different options and views on your Personio dashboard. Once you have logged into your Personio account, this is the page where you land. The dashboard gives you and your employees an overview of pending tasks and current events in the company. Click on the various tasks and information to directly access the respective sections and functions in Personio.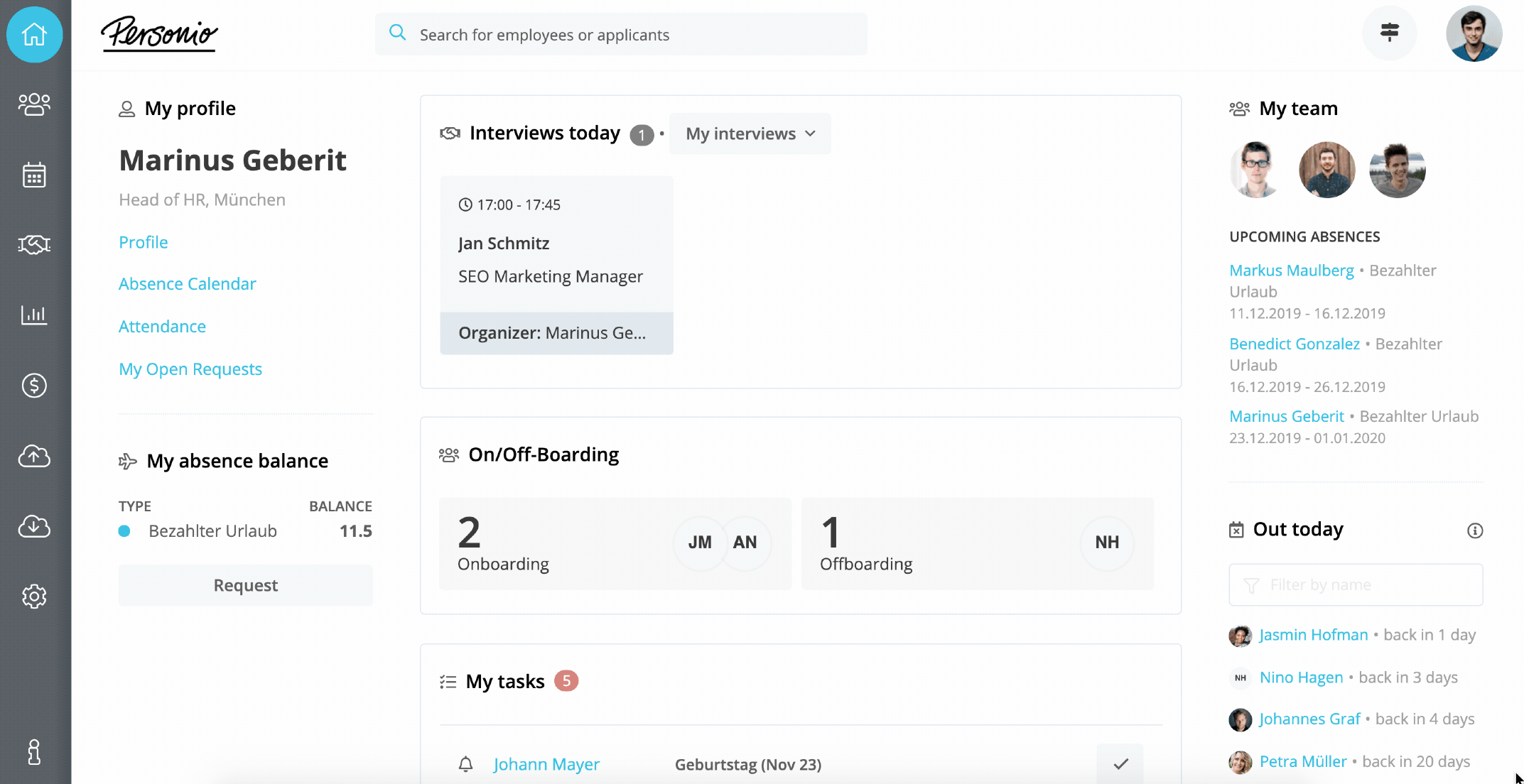 My Profile
The My profile area contains links to the areas within your personal profile which are accessed most frequently. This ensures that you have quick, single-click access to your profile settings, attendances, and absences at any time. Any pending requests for approvals are also directly accessible for easy overview.
Today's Time Tracking
The Today's Time Tracking widget allows you to register your working hours for the day directly from the Dashboard, without having to navigate to the Attendance tab in Personio.
The widget works similarly to the Attendance tab. Simply click on the text field to enter a numeric value for each start and end time, and once submitted, Personio will automatically generate a time entry for that day within the Attendance tab calendar view. You can easily review the newly-created time entry by clicking on the My Attendance button located at the bottom of the widget.

Work time and break time will need to be entered separately, and Personio will then automatically deduct one from the other depending on the predefined break rules.
The widget also shows the total of work time and break time already registered for that day. A warning icon will appear if the newly-created time entry does not comply with the predefined break rules. Similarly, a clock icon will appear if the newly-created time entry generates either overtime or deficit hours.
Unlike the Attendance tab, the widget will not allow you to only enter a starting time and then come back later to enter an ending time — the complete work or break period will need to be entered at once. Projects and/or comments will also need to be added directly through the Attendance tab.
My Absence Balance
See your unused leave entitlements at a glance. Another click on Requests in the Absences tab allows you to enter your absence periods.
On-/Offboarding
Users who have, at a minimum, viewing rights for the Onboarding section, can see on their dashboard how many employees are currently in the onboarding or offboarding process. If you hover your mouse over a particular employee, Personio also shows how much of the process has been completed in percent.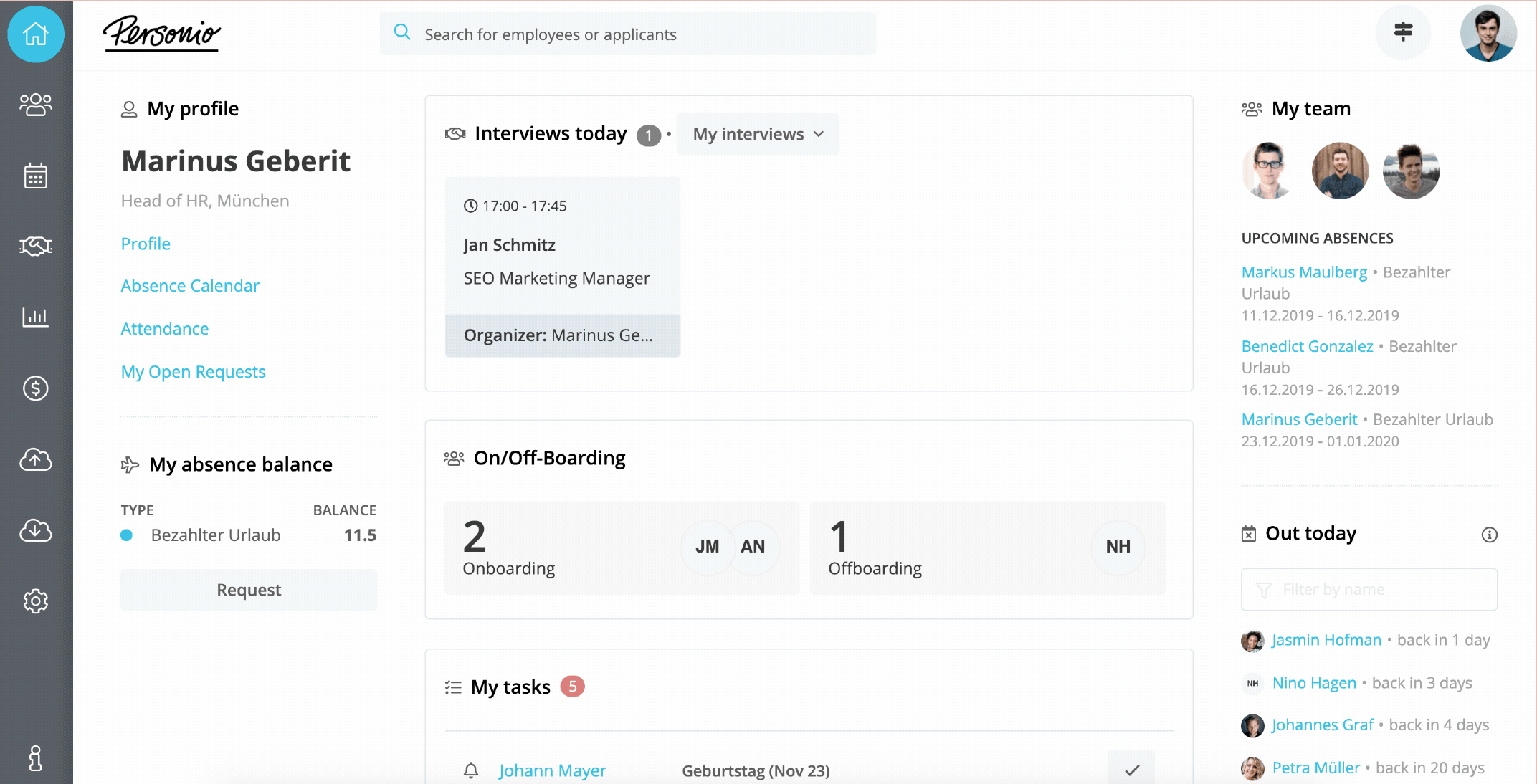 Click on the area to open a list of the employees concerned. In the On-/Offboarding status column, the current progress is again displayed for each employee. You can bulk-edit the list and use the action Complete on-/offboarding process to finalize the respective processes of employees who, for example, may have had pending to-dos for some time and never fully completed their onboarding in their profile.
All Approvals
You can see the status of any pending requests you have submitted or need to approve at any time. These are displayed in three areas:
Overdue approval requests
This section displays all requests where approvals are more than seven days overdue.
Requests awaiting approval
Administrators can have all pending requests for approvals displayed so that they are able to approach the responsible employees (approvers) in case of pending or overdue approvals. As an emergency solution, administrators are able to process requests globally if the responsible approvers are absent.
Attendance requests waiting for your approval
This section shows approvals for attendance requests for which you are responsible. Click on the pending requests for approval to access a list of all attendance periods per employee, which you can then approve or reject in bulk.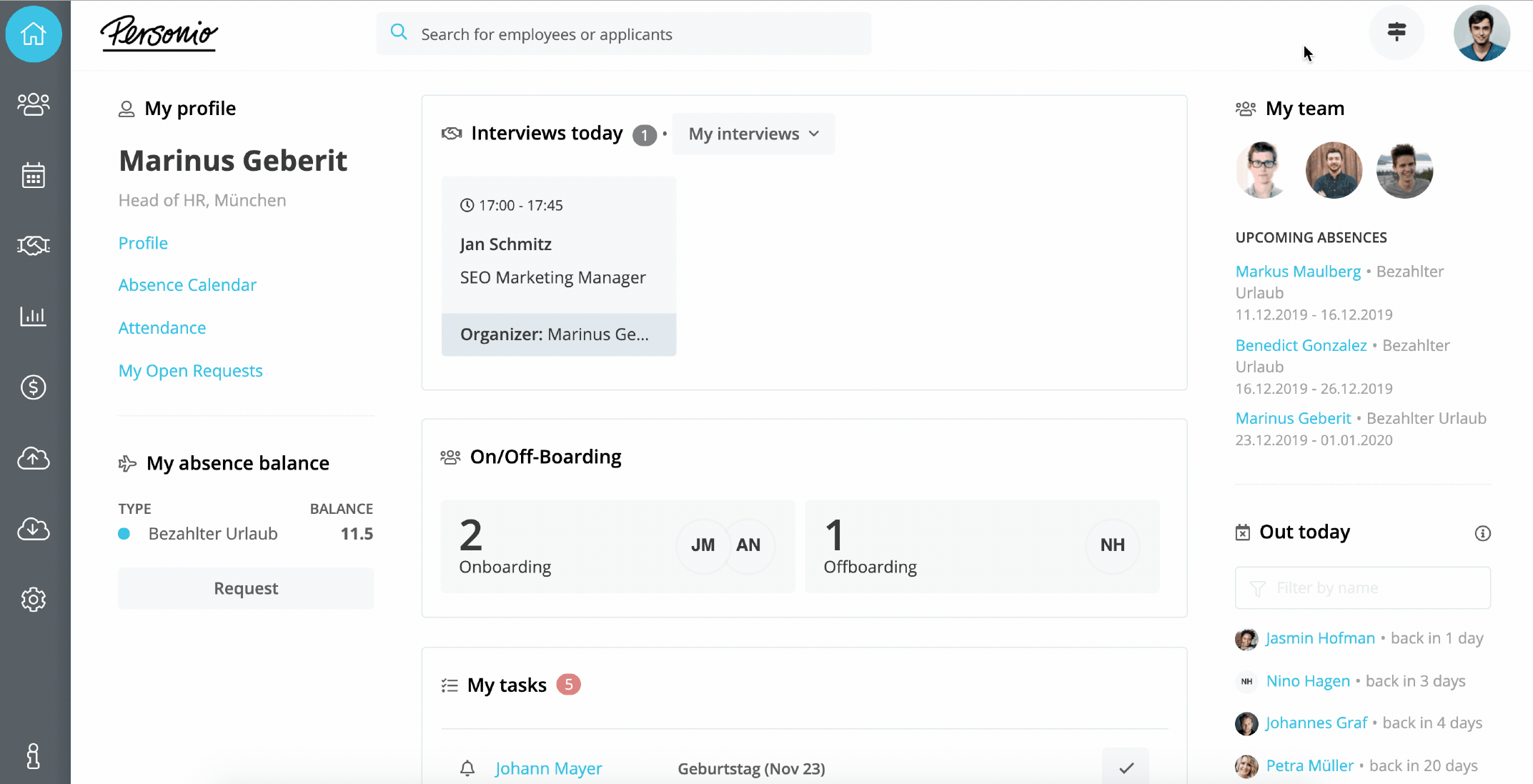 My Tasks
Always keep a full overview of your pending tasks. The tasks shown in the dashboard include:
Reminders

: reminders which have been generated from an employee role or are stored in your personal settings. For reminders scheduled before or on the day of an event, the notification remains on your dashboard until one day after the event. Reminders scheduled to be sent after an event are automatically removed from your dashboard after a week from the date they are first shown. Reminders marked as to-dos do not expire automatically after the periods described above, but remain on the dashboard until they are actively confirmed.
Requests for approval: pending requests awaiting your approval, for example leave requests.
Contract end date: reminders for contracts expiring within the next 30 days (including planned absence days during this period). These reminders are sent to all employees with editing rights for the HR information section.
Approval of absence certificates: reminder for missing absence certificates and certificates still to be confirmed.
Overlapping absence periods: alert that there are at least two overlapping absence periods, for example illness and a paid vacation period.
Negative account balances: alert that an employee has exceeded their entitlement (for example paid vacation entitlement) for an absence type subject to an accrual policy. This is particularly helpful for maintaining an overview of leave accounts while employees are still in their probation period.
On-/Offboarding to-dos: reminders of pending onboarding or offboarding processes you need to complete.
Candidate feedback: alert that you have requested feedback on or an evaluation of an applicant (only available when using the Personio Recruiting software).
Reminders for employee contracts that are about to expire are generated by the system and therefore cannot be deactivated. This is because the company will need to decide whether these contracts should be extended or terminated.
Company Shortcuts
Up to five shortcuts to external pages are displayed here. Click on a shortcut to open the respective link in a new tab.

This section is visible to all employees once they have created at least one company shortcut. See this article to find out how to configure company shortcuts.
Electronic Signatures
Get an overview of all requested e-signatures whose status is Pending or that have already expired, and see the monthly e-signature contingent that is available in your account.

Click on the widget to access the overview page for electronic signatures. The overview page will already have a filter applied. This filter depends on whether you have navigated to the page by clicking on the button for pending or expired requests. Remove the filter to see details of all electronic signatures requested in your account and the associated documents.
This section is shown as soon as an electronic signature has been requested. It is only visible to administrators.
A Quick Overview of Your Employees
All employees with access to the "All" option for at least one section can have an overview of employees displayed. The following information is available:
Active employees: the number of employees who meet all of the following conditions:

Status is Active
The hire date is before the current date or could not be found

Currently on leave: the number of employees whose current status is "on leave". This requires at least viewing rights for HR information; otherwise this section will be greyed out.
Hires: the number of new employees whose hire date is within the current month.
My Team
Get an overview of your immediate team members.
Out today
Always know who is in and out of the office on the current day, and see how long employees and colleagues will be away for.
Only absence types activated in Settings > Calendar > Absences are displayed under the Out today heading.
Birthdays
Current and upcoming birthdays in your company at a glance. Upcoming birthdays will be displayed for a maximum of 5 days into the future. If in the next 5 days, birthdays are current or coming up for more than 5 people, the first 5 are displayed directly, and the remainder by clicking Show more.
Certain sections of the Home area are not displayed, depending on the user's viewing privileges. This applies to the areas My team, Absence and Attendance in My profile.
Interviews today
This calendar preview shows all recruiting interviews scheduled on that day. The preview shows the beginning and duration of the interview, the candidate's name, the position for which the candidate has applied, the organizer, and interview participants. Click on the interview to go directly to the candidate profile in the recruiting section for the vacant position.
Whether the diary preview is visible or not depends on employees' access privileges. Administrators and employees whose assigned employee roles give them at least global viewing rights for the Recruiting section can view all interviews scheduled for the current day. All other employees are only able to access this function if they are entered as interview participants and have been assigned a recruiting role.
Can't find what you're looking for?
We are happy to help you! Just write us a message with your questions and we will get back to you as soon as possible.
Submit a request
Topics of this article