This article explains how to create customized email templates in Personio. Create any number of user-defined email templates, for example, an automatic acknowledgment of incoming emails, an application rejection, and an invitation to a personal interview. Not only will this save time and effort, but it also ensures that the communication with candidates is consistent across the company.
Creating Email Templates
Go to Settings > Recruiting> Email and define as many individual email templates as you like using the Add template input field. Click on Edit to enter the subject line and body of the email. Use placeholders and gender variables to personalize your communication with candidates.
Placeholders: When the template is used, placeholders are automatically populated with the corresponding candidate data. They can be used for the candidate's first and last name and for the name of the advertised position.
Gender variable: If you have added the candidate system attribute for Gender to your Personio Career Page's application form, you can set the software to make gender-specific (grammatical) adjustments in your emails automatically. Note that the male gender variable is listed first by default.
Attach documents to your email template as required, such as directions on how to get to your office. You can attach further documents when emailing candidates.
Click here for helpful examples of email templates.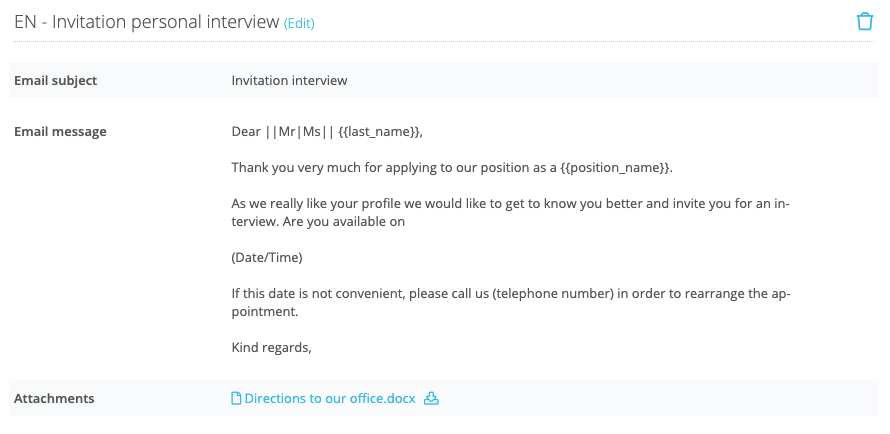 Ensure that you and any other employees who may be sending emails to candidates from within Personio have an appropriate signature. The individual signatures are added automatically to both free-form emails and to messages that have been created from email templates. For further information on this, please click here.
Using templates in the candidate profile
In the recruiting area in the main menu, go to the candidate profile and to Messages, where you can now select an email template. You can also attach documents and schedule the sending of the email for a later date.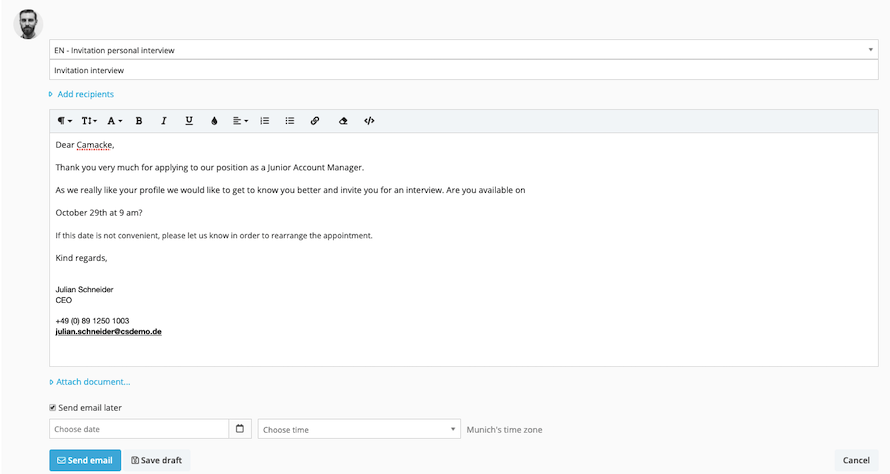 Go to the Applications tab in the Recruiting area to send emails to multiple candidates at the same time.
Can't find what you're looking for?
We are happy to help you! Just write us a message with your questions and we will get back to you as soon as possible.
Submit a request
Topics of this article