If you need to change employee attributes such as, for example, an address, bank details or a tax category on a fixed date in the future, you can schedule these changes to take place on that date.
This function is available to all employees who have editing rights for the relevant section of the employee profile.
How to Schedule an Attribute Change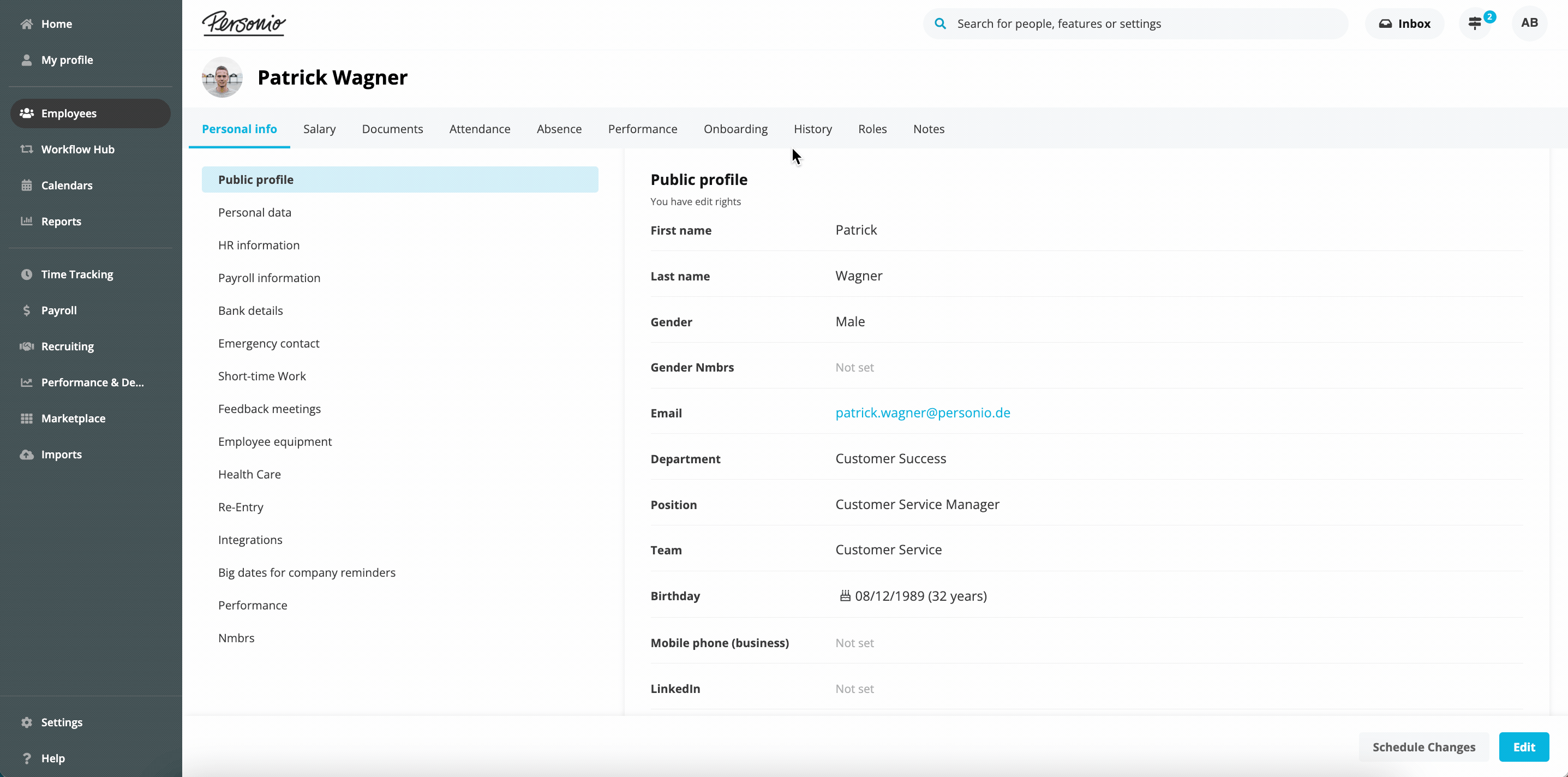 Navigate to the relevant employee's Personal info tab. You can Schedule changes by clicking on the button in the bar at the bottom of the screen.
You can modify any attribute you wish from any section you have edit rights for. Once you're done, click on "Review & set effective date" and a new window will appear. You will have a preview of the old attribute values and the new ones.
In the input mask, select the date the change should take place on, review the changes, then save your entries.
The scheduled value will now be visible under the attributes in question (for employees who have proposal and editing rights for that section) and will be automatically updated on the date you entered. If you would like to delete this value, go to "Edit", click on the information under the attribute and select Delete scheduled change.
The change will also be entered into the employee History on the date you specified.
Which Attributes Can Be Scheduled?
Not all attributes can be scheduled. For example, it is not possible to schedule some of the Predefined attributes. Below, you will find an overview of all the system-created attributes, grouped according to whether or not you can schedule them:
Scheduling Option Available
No Scheduling Option

First name
Last name
Name prefix
Gender
Email
Office
Department
Position
Sub-company
Team
Status
Employment type
Supervisor
Probation period
Weekly hours
Children
Birthday
Street
Number
Address, addition
Postal code
City
Academic degree
Title of nobility
Place of birth
Country of birth
Nationality
Tax identification number
Social security number
Tax class
Taxable church membership
Child allowance
Social insurance group key
Main or secondary job
Type of health insurance
Statutory Health Insurance
Monthly contribution to private health insurance
Monthly contribution to private care insurance
If privately insured: contributions paid by
Special relation to employer
Highest level of educational
Highest professional education
IBAN
Consider in German payroll
Occupation key
Contribution group health insurance
Contribution group pension insurance
Contribution group unemployment insurance
Contribution group care insurance
Pension fund
Hazard pay job(s)
European social security number (ESSN)
Retirement date
Proof of parentage
Flat-rate tax calculation
Cost center

Hire date
Contract end date