You can easily track your employees' progress through the Performance tab located within their employee profiles. The Performance tab will allow you to leave feedback for the employees, to create feedback meetings, to set individual goals for the employees and to add notes about their performance.
In this article, we will cover the latter: how you can add performance notes to the employees' Performance tab.
What Are Performance Notes in Personio?
Performance notes allow supervisors and HR team members to add notes on an employee's development that are not visible to the employee. These notes are also linked to specific dates.
The Performance notes section is only visible to supervisors, HR team members and, in general, any employee with access rights to other employees' Performance tab.
Regular employees will not be able to see the Performance notes section within their own Performance tab.
Please note that editing rights are needed on top on the viewing rights in order to add a Performance note on an employee's Performance tab.
Adding Performance Notes
To create a performance note, supervisors will have to navigate to the employee's Performance tab and to click on Add note within the Performance notes section. Once the performance note has been created, supervisors will simply need to click on Edit in order to adjust the date and type in their comment.
Editing Performance Notes
Supervisors can add as many performance notes as needed. They can also review existing notes at any time. Existing notes become editable when clicked on, and can be easily removed by simply clicking on the small bin icon.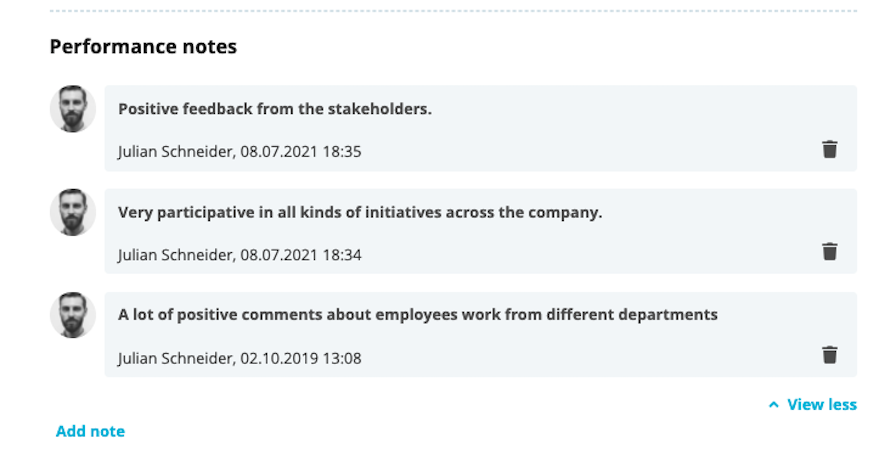 Can't find what you're looking for?
We are happy to help you! Just write us a message with your questions and we will get back to you as soon as possible.
Submit a request
Topics of this article