This article contains information about how you can store existing applicant data by importing it to Personio. Alternatively, applicants can be entered manually into the system (click here for relevant information)
The bulk upload function of existing applicant data allows you to import the data for any number of applicants into Personio. Personio automatically creates applicant profiles after import and assigns them to relevant job openings. The import process comprises two steps:
1. Complete the Excel template
1.1 First, download the Excel template by clicking on the link at the bottom of this page.
1.2 Enter your applicant data in the relevant columns:
Required columns: First Name, Last Name, E-mail, Job position, Status
Recommended columns: Recruiting-Channel, Application Date [Format: DD.MM.YYYY], Flag (= Applicant flags)
Optional columns: Rejection Date [Format: DD.MM.YYYY], Rejection Reason, Notes
You can optionally add other, customized applicant attributes such as salary expectations to the Excel spreadsheet. Please ensure that the relevant applicant attributes have been created in Personio first.
1.3 Save the complete Excel file.
2. Import the Excel file
Import the applicant data once you have completed all preparatory steps.
2.1. Upload file: Upload the file containing the applicant data to the Import area in your Personio account. Select the file type Applicant bulk upload.



2.2. Configure columns: In the next step, assign the columns in your Excel file to the various attributes stored in Personio.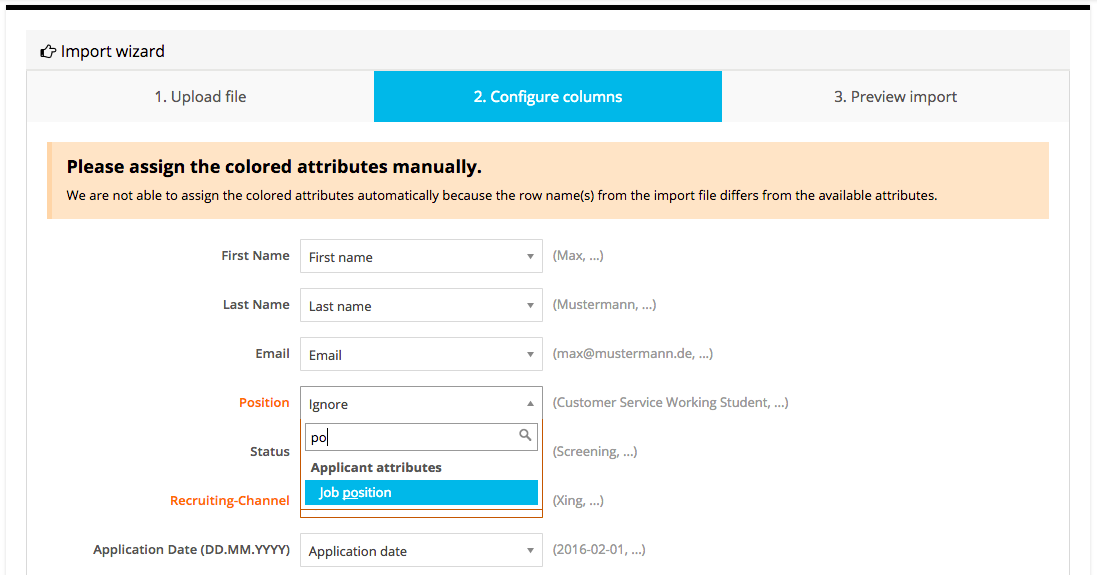 2.3. Preview import: Click on Next to have a preview of the import displayed in Personio. If you notice any errors such as duplicate applicant entries, cancel the import and fix the problems in the Excel spreadsheet. If the preview does not show any error messages, you can start the import.
We are very happy to assist you with importing your data. Data checks are particularly helpful in saving time and effort. Please do not hesitate to contact our Service-Team here whenever you intend to import data.
Can't find what you're looking for?
We are happy to help you! Just write us a message with your questions and we will get back to you as soon as possible.
Submit a request