This article explains how you can publish positions quickly and easily on your Personio career page, advertise them on external job boards and use tracking links for external recruiting channels. These options save you a lot of time and work. You also have access to an overview of all your postings and are able to track where applications come from.
Publish Positions on the Personio Career Page
To post a position on your Personio career page, follow these steps:
Navigate to Recruiting > Positions > View details of the relevant position.
Go to the Description tab and click Edit. Ensure that all position details are filled in correctly and in all languages that you would like to provide. Fields marked with * in the meta information are mandatory for postings via Personio.
Then click on Save to save the changes you have made.
Once you are done, click Publish. The position will then be immediately published on your Personio career page under myaccount.jobs.personio.de.
Tip use the filter function to display only those openings in the Positions tab that are relevant to you, such as those that you have viewing or editing rights for. You also have the option of filtering by category and position to refine your selection.
Note that if you delete the text from the position's description tab, the status of the job position will change to Draft, and it will no longer appear on your Personio career page.
Positions posted on the Personio career page automatically track candidate responses and no further settings are necessary. All applications received via your Personio career page will show as Channel Personio career page in the candidate profile.
The Professional and Enterprise plans include the provision of an XML interface. If this option is enabled in Settings > Recruiting > Recruiting > Career page, published positions can be integrated in your company career page via XML. Learn more about Integrating Positions From Personio Into Your Company Website via XML.
Publish Positions on External Job Portals Using the Multiposting Feature
If you would like to advertise a position on external job boards via Personio (using the multiposting function), follow these steps:
Navigate to

Recruiting > Positions > View details of

the relevant position.

Go to the Promotion tab. The My postings section shows an overview of postings already made on external job portals, and you can also add new postings here.
Click Promote to see an overview of all available job boards. For more information, have a look at Multiposting Positions on External Job Boards.
Select all job boards where you would like to publish your position, then click on Next. Use the preview window to review the contents that Personio transmits to the job board.
Note that depending on the job board, the design of the posting might be adapted.
Click Proceed to checkout to review your order and finalize it by clicking on

Place order

.

Click

here for an overview of all job portals available via Personio.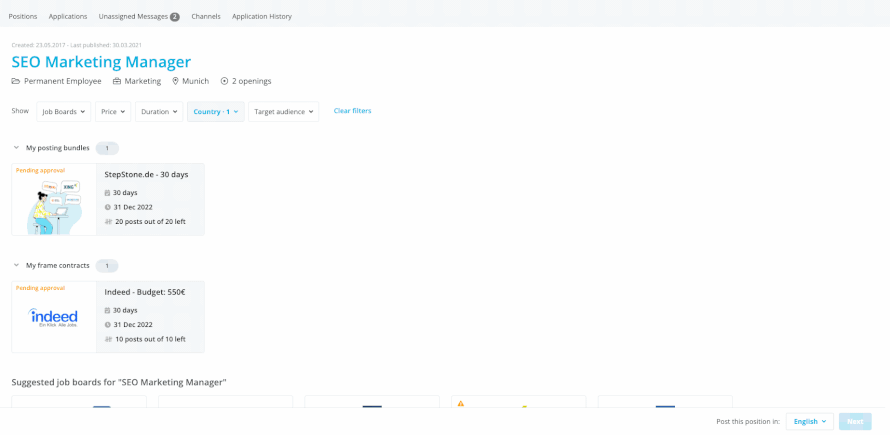 Note ensure that your payment information is stored in your account under Settings > Support > Plan & Billing > Billing information so that publication costs can be settled via Personio. You'll also find all of your invoices here for download.
Tip If you already have individual framework contracts in place with any job board, these can be stored directly in Personio. Personio will then not calculate any further charges for the respective job board. The billing for the postings will then take place between you and the job board. Learn more about Storing Framework Contracts.
Publish Positions on External Job Boards Using the Auto-Posting Feature
Position auto-posting is a feature that you can activate on account-level, not on position-level. Once activated, all positions published on your Personio career page will automatically be published on a selection of free international job boards without any further actions from your side.
To activate position auto-posting for your account, you can either go to Recruiting > Positions > View details > Promotion. In the tile for Auto-Posting, click Activate feature.
Or, go to Settings > Recruiting > Recruiting > Promotion.
In the section Auto-posting, click on Select job boards and choose on which job boards your published positions should be posted.
Note that you will not be able to select the job boards as long as you don't fulfil the above-mentioned requirements.
Then click Save and Apply changes.
To see which job boards have been configured for a position, go to Recruiting > Positions > View details > Promotion. Click on the tile for Auto-posting to see which auto-posting job boards have been activated for your position. See this article for further information on position auto-posting.
Use Tracking Links for External Recruiting Channels
If you advertise a position on an external job board outside of Personio (without using Personio's Promote function), you can store a tracking link for the position you have created in Personio with the respective portal provider. The tracking links direct candidates to the Personio application form and allow you to track the channel the respective candidate used to access the posting. You can then use this information to analyze the Channel performance.
To create a tracking link for a new channel, you first need to create the channel in Settings > Recruiting > Recruiting > Channels.
Then you can create tracking links for specific positions and channels.
Go to Recruiting > Positions > View details > Promotion.
In the Tracking links section, you'll find an overview of all previously created links for the position, and you can add tracking links for additional channels.
To add a tracking link, click on the + icon, select the channel and click on Create to create the link.
Click on the link icon to copy the automatically generated tracking link.
Next, store the link manually on the relevant job board to allow candidates to access your application form and apply directly by clicking on the link.
Tip Refer to our article Using Tracking Links for External Recruiting Channels for further information and detailed instructions on how to set up new recruiting channels and creating and using tracking links.
Channel Performance
You can see which channel is most effective for your job openings by looking at the Position details of each job opening in the Channel performance section and in Applications.
Topics of this article