This article focuses on workflows. You can start to create and monitor all your workflows from the Workflow Hub.
In this article, you will find examples of commonly used onboarding templates and steps, based on employment type.
Tip For more information on how to create the templates and the steps of an onboarding workflow, read our Help Center article on Creating On- and Offboarding Workflows.
Onboarding Templates for Permanent Employees
You can see the typical onboarding steps for the permanent employee template below: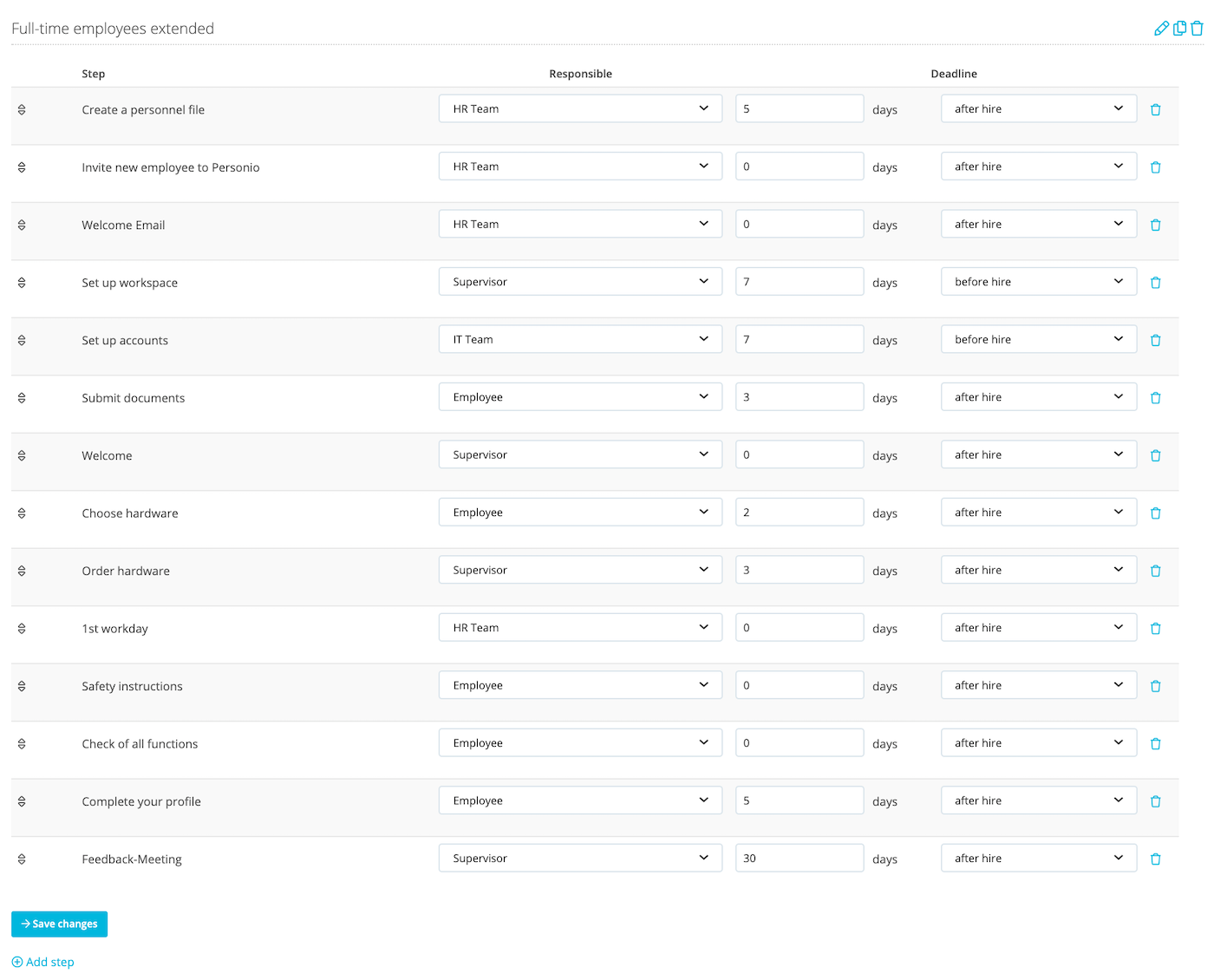 General Step (Responsible Person)
Item Content
Item type
Create employee file (HR team)
Take information from the work contract
Text information
Status
Employee attribute
Hire date
Employee attribute
Contract end date
Employee attribute
Supervisor
Employee attribute
Length of probation
Employee attribute
Weekly hours
Employee attribute
Employee working hour schedule specified?
Checkbox
Employee accrual policy specified?
Checkbox
Upload work contract
Upload document
General step (Responsible Person)
Item Content
Item type
Invite new employee to Personio (HR team)
Create email account for the new employee and enter the details below:
Text information
Email
Employee attribute
Send invitation to Personio via Manage account > Create login and send invitation email
Text information
Invited to Personio?
Checkbox
Email action (Responsible Person)
Item Content
Item type
Welcome email (HR team)
Email action
Email action
John Doe
Sender
All active employees
Recipient
Welcome {{first_name}} {{last_name}}
Subject of the email

Example email:

Good morning,

starting today, we have a new collegue {{first_name}} {{last_name}} as our new {{position}}.

{{profile_picture:medium}}

Please wish ||him|her|| a warm welcome.

We look forward to working together.

Email template
General Step (Responsible Person)
Item Content
Item type
Set up workplace (supervisor)
Assign workplace
Checkbox
Issue keys/entry cards
Checkbox
Set up workspace
Checkbox
General Step (Responsible Person)
Item Content
Item type
Create accounts (IT team)
Email account
Checkbox
Personio account
Checkbox
General Step (Responsible Person)
Item Content
Item type
Welcome letter (supervisor)
Greet the new employee personally.
Text information
General Step (Responsible Person)
Item Content
Item type
Submit documents (employee)
Signed work contract (category: work contract)
Upload document
Confidentiality agreement (category: other documents)
Upload document
General Step (Responsible Person)
Item Content
Item type
Choose hardware (employee)
Please choose a laptop:
Text information
Model 1
Checkbox
Model 2
Checkbox
General Step (Responsible Person)
Item Content
Item type
Order hardware (supervisor)
Hardware ordered?
Checkbox
General Step (Responsible Person)
Item Content
Item type
1st workday (HR team)
Handover document
Document for download
Handover document signed?
Checkbox
Information brochure
Document for download
Information brochure handed over?
Checkbox
General Step (Responsible Person)
Item Content
Item type
Feedback meeting (supervisor)
Make appointment for first feedback meeting
Checkbox
General Step (Responsible Person)
Item Content
Item type
Check all functions (employee)
Please make sure the following programmes and functions are fully working:
Text information
Access to drive
Checkbox
Database
Checkbox
Email account
Text information
Printer + scanner
Checkbox
Try to call a colleague to ensure that the phone is also fully working. Have them call you back and put a call through to a colleague.
Text information
Phone
Checkbox
Send a test request to Personio Conversations using email/Slack/Microsoft Teams to ensure that you can send workplace requests.
Text information
General Step (Responsible Person)
Item Content
Item type
Safety briefing (employee)
Please familiarize yourself with the emergency exits and the location of the fire extinguisher. To do so, download the following overview:
Text information
Evacuation plan
Document for download
Safety briefing understood
Checkbox
General Step (Responsible Person)
Item Content
Item type
Fill in profile (employee)
Please take the time to complete your profile.
Text information
Birthday
Employee attribute
Nationality
Employee attribute
Street and house number
Employee attribute
Postal code
Employee attribute
City
Employee attribute
Private mobile number
Employee attribute
Private landline number
Employee attribute
Skype name
Employee attribute
Tax identification number
Employee attribute
Social security number
Employee attribute
Health insurance type
Employee attribute
Health Insurance
Employee attribute
Full name of emergency contact
Employee attribute
Mobile number of emergency contact
Employee attribute
Landline number of emergency contact
Employee attribute
Onboarding Template for Interns/Working Students
You can see the typical onboarding steps for the Interns/Working Students template below: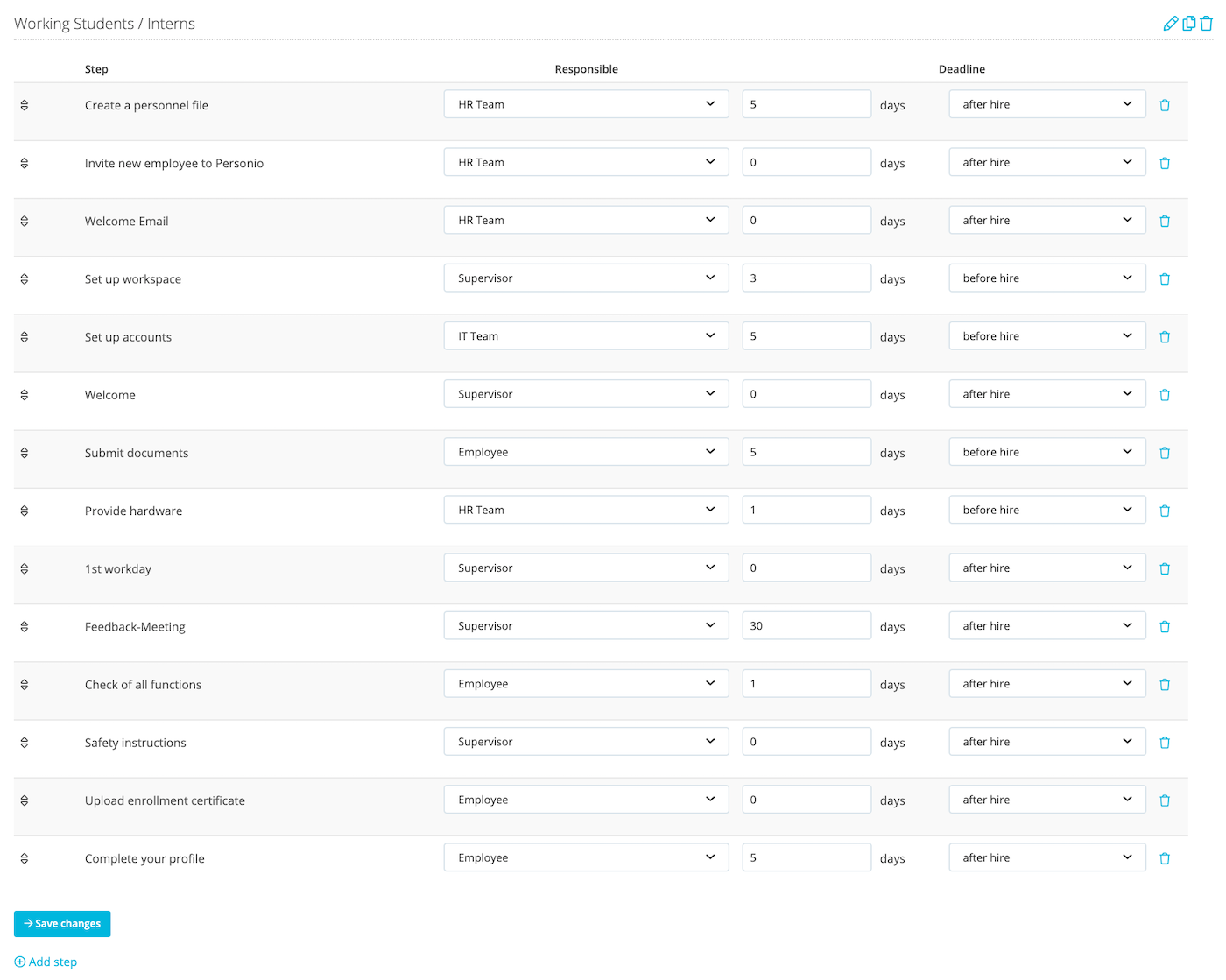 The same steps are applied for the permanent employee template, with the following exceptions:
General step (Responsible Person)
Item Content
Item type
Upload confirmation of enrollment document
Confirmation of enrollment (category: confirmation of enrollment)
Upload document
Email action (Responsible Person)
Item Content
Item type
Time tracking for Students (HR team)
Email action
Email action
John Doe
Sender
New employees
Recipient
Attendance Tracking
Subject of the email
Hello {{first_name}},
as you are now employed here as a student, we ask you to record the hours you work.

Please do the following:
1. Log into your Personio account.
2. Navigate to My profile > Attendance, and enter your hours there. They will be sent to your supervisor for approval and will appear once they have been approved.
Email template