In this article, you will learn how to integrate Greenhouse with Personio. You will get an overview of all the requirements, together with instructions for the installation of the integration.

What are the Functionalities Available With the Integration of Greenhouse With Personio?
The Greenhouse integration allows the automatic set up of new employees in Personio, when candidates reach the status Hired in Greenhouse. The integration enables specific attributes in Personio and Greenhouse to be synchronized, allowing Personio to import the corresponding information in your account.
Note The attributes First name, Last name and Email address need to be populated in Greenhouse for this workflow to work.
How can I set up the Integration of Greenhouse With Personio?
1. Requirements for a successful integration
You need to have an admin role or have an editing right for the marketplace (Settings > People > Employee Roles > Access rights > Account configuration > Marketplace integration) in Personio.
You also need access to the Dev Center

(

Developer Permissions

) in Greenhouse.
2. Generate new API credentials
You need to generate new API credentials for this integration in Personio via Settings > Integrations > API Credentials. For more information on how to do this, read our Help Center article on how to generate and manage API credentials.
When you select Greenhouse in the Integration drop-down menu, the system will automatically preselect the following system attributes that are recommended to be read by the integration:
First name (mandatory)
Last name (mandatory)
Email (mandatory)
Department
Office
Hire date
Position
You can always add or remove attributes manually if you wish to do so. Make sure in this case that the attribute type in Personio (example: Date or List of options) matches the attribute type in Greenhouse.
Notes
▶︎ The attributes Team, Employment type, Cost center, Supervisor, Contract ends, Length of probation, Children and Weekly hours are not supported.
▶︎ No compensation data can be transferred.
3. Find Greenhouse in the Marketplace
The Greenhouse integration can be implemented directly within Personio. To do this, navigate to Marketplace and look for the Greenhouse integration solution. Learn more on how to find an integration in the Personio Marketplace.
Note
If you can't find the integration in the Marketplace, make sure the Tray.io, Inc. checkbox is enabled under Settings > Support > Plan & Billing > Data Processing Agreement.

Personio uses Tray.io as a sub-processor to enable the inclusion of certain integrations. No data will be transmitted to Tray.io without using the mentioned integration.
You can then click on the Connect button to start the integration.
4. Greenhouse authentication
You first need to log into your Greenhouse account and create a Greenhouse API key. Select the Harvest type for your API key and activate the permissions for Custom fields.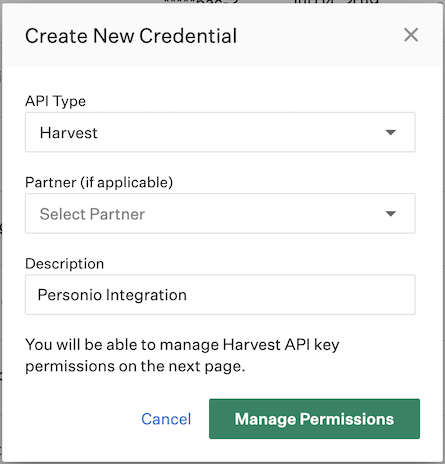 Click on Manage Permissions to receive your API key.
Note Store your Greenhouse API key securely. If you lose it, you will need to create a new one.
5. Personio authentication
You now need to add the client ID and client secret you received when creating your API credentials for Personio (second step). Click on Next to continue.

6. Map attributes
On this page, you can select the attributes to be synchronized between Greenhouse and Personio. Click Next to continue.
Note
If you are mapping attributes of the type List of options or Tags, make sure that the attribute values are identical in Personio and Greenhouse.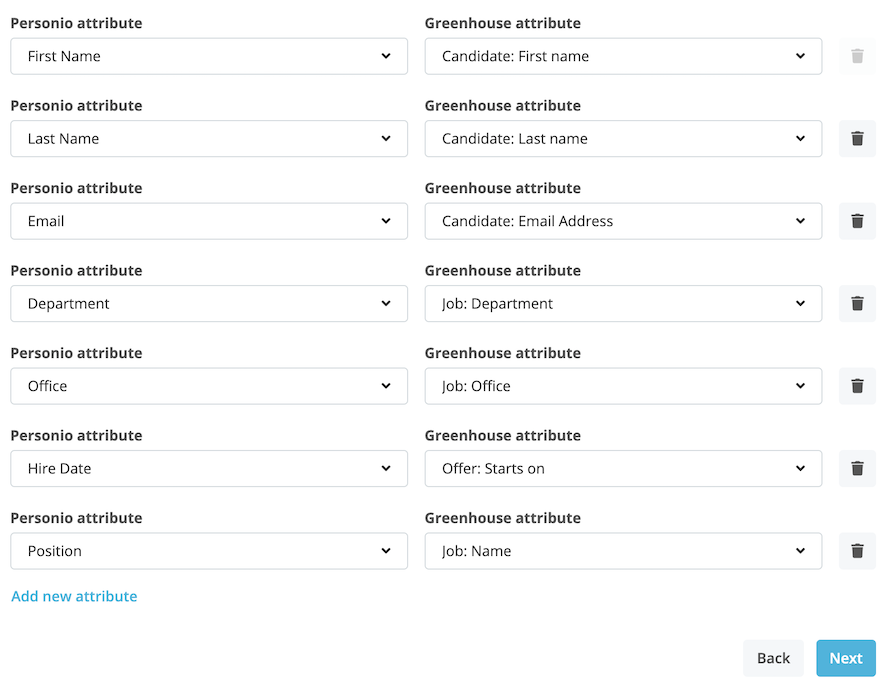 7. Create a webhook
To create a webhook, you first need to go back to your Greenhouse account via this URL. You can then follow the instructions on the Greenhouse page to create your webhook. Note that you should not complete the Greenhouse integration wizard in Personio before creating the webhook.
In the When

selection box, select

Candidate is hired

Paste the URL copied from Personio into the

Endpoint URL

field

Under Secret key, you can enter a random word
Under Disabled?, make sure "Yes" is ticked
Click on Create Web hook

to save your settings.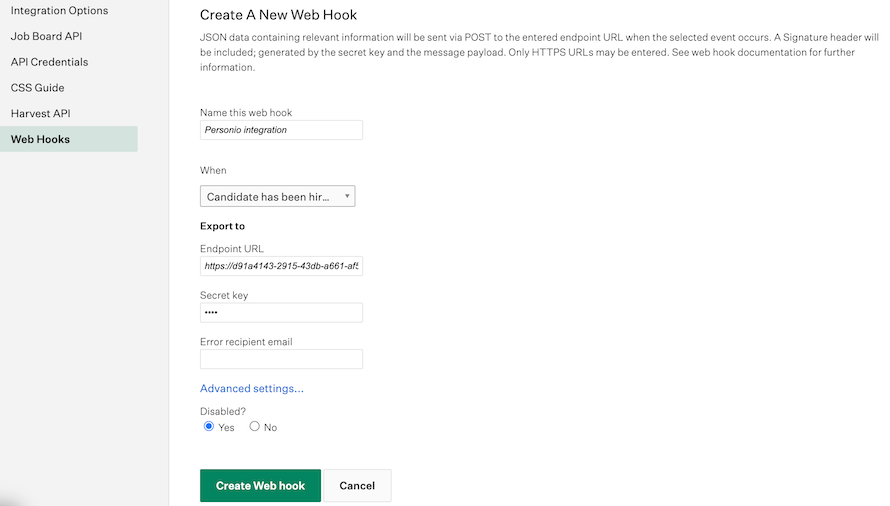 Note If you reactivate the Greenhouse integration, you need to create a new webhook. The previous webhook will not work anymore.
8. Finalize the integration
Once you have created the webhook, go back to the Personio page and click on Finish.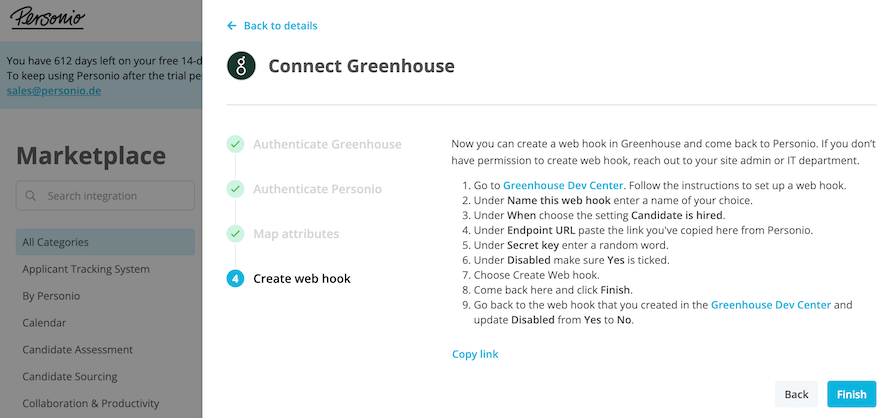 9. Enable the webhook
After finalizing the setup in Personio, make sure to go back to your Greenhouse account and enable the webhook. Follow these steps:
Under Edit Web Hook, click on the pencil icon next to the webhook you want to enable.
Select "No" under Disabled?.
Click on Update Web hook.