In this article, you will learn how to integrate Greenhouse with Personio. You will get an overview about all the requirements, and the instructions for the installation of the integration.
This integration was developed by Personio. This means that you can activate and configure it directly in your Personio account.

What are the functionalities available with the integration of Greenhouse with Personio?
The Greenhouse integration allows the automatic set up of new employees in Personio, when candidates reach the status "Hired" in Greenhouse. The integration enables specific attributes in Personio and Greenhouse to be synchronized, allowing Personio to import the corresponding information in your account.
How can I set up the integration of Greenhouse with Personio?
1. Requirements for a successful integration
You need to have an admin role or have an editing right for the marketplace (Settings > Employee roles > Access rights > Account configuration > Marketplace integration) in Personio.
You also need access to the Dev Center

(

Developer Permissions

) in Greenhouse.
2. Generate new API credentials
You first need to generate new API credentials for this integration in Settings > API credentials. For more information on how to do this, have a look at our help center article on how to generate and manage API credentials. You can choose which personal data the integration can read or write based on the attributes listed in the following points.
3. Enable the Data Access
In Settings > API credentials, click on the credentials you just created and select all attributes that you would like to synchronize with applicant attributes in Greenhouse.
For the employee data, please allow the integration to read the following system attributes:
First name (mandatory)
Last name (mandatory)
Email (mandatory)
Department
Office
Hire date
Position
4. Find Greenhouse in the Marketplace
The Greenhouse integration can be implemented directly within Personio. To do this, navigate to Settings > Marketplace and look for the Greenhouse integration solution. For more information on how to find a solution on the Marketplace, have a look here.
You can then click on the Connect Greenhouse button to start the integration.
5. Greenhouse authentication
You first need to log into your Greenhouse account and create a Greenhouse API key. Select the Harvest type for your API key and activate the permissions for Custom fields.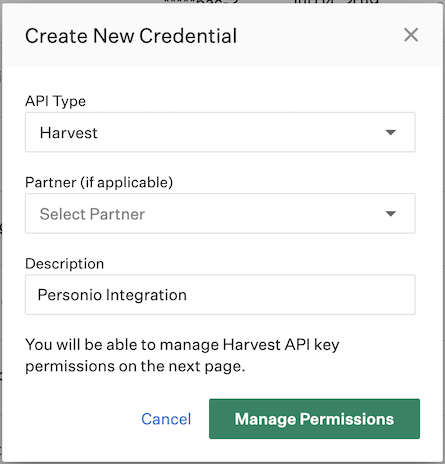 Click on Manage Permissions to receive your API key.
Store your Greenhouse API key securely. If you lose it, you will need to create a new one.
6. Personio authentication
You now need to add the client ID and client secret you received when creating your API credentials for Personio (second step). Click on Next to continue.

7. Map attributes
On this page, you can select the attributes to be synchronized between Greenhouse and Personio. Please note that, even if the name of the attribute is different, the attribute values must be identical in both systems (e.g. the office is called "Munich" in both systems). Click on Next to proceed further.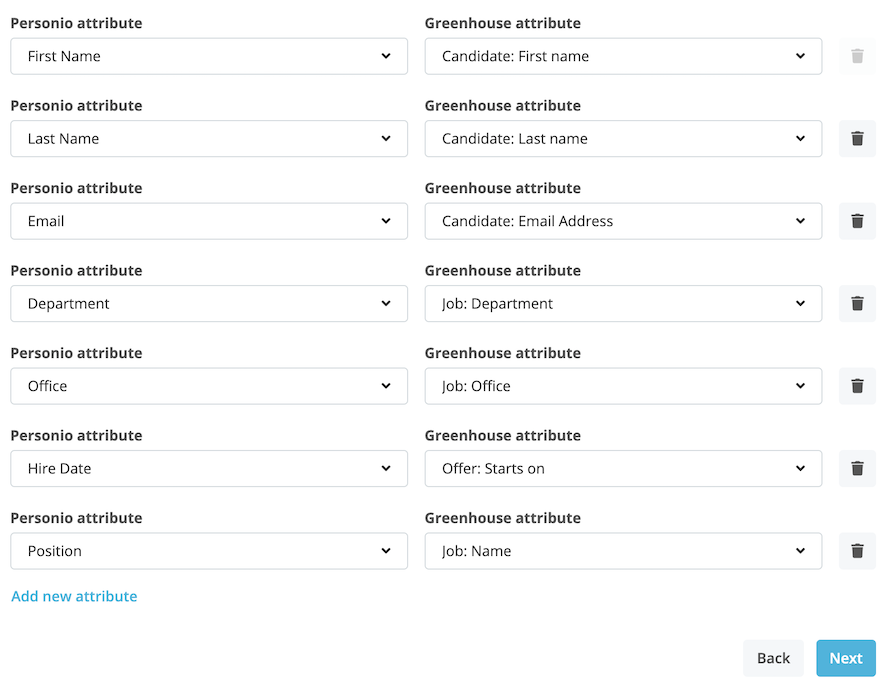 8. Create a webhook
To create a webhook, you first need to go back to your Greenhouse account via this URL. You can then follow the instructions on the Greenhouse page to create your webhook. Note that you should not complete the Greenhouse integration wizard in Personio before creating the webhook.
In the When

selection box, select

Candidate is hired

Paste the URL copied from Personio into the

Endpoint URL

field

Under Secret key, you can enter a random word
Under Disabled, make sure "No" is ticked
Click on Create webhook

to save your settings.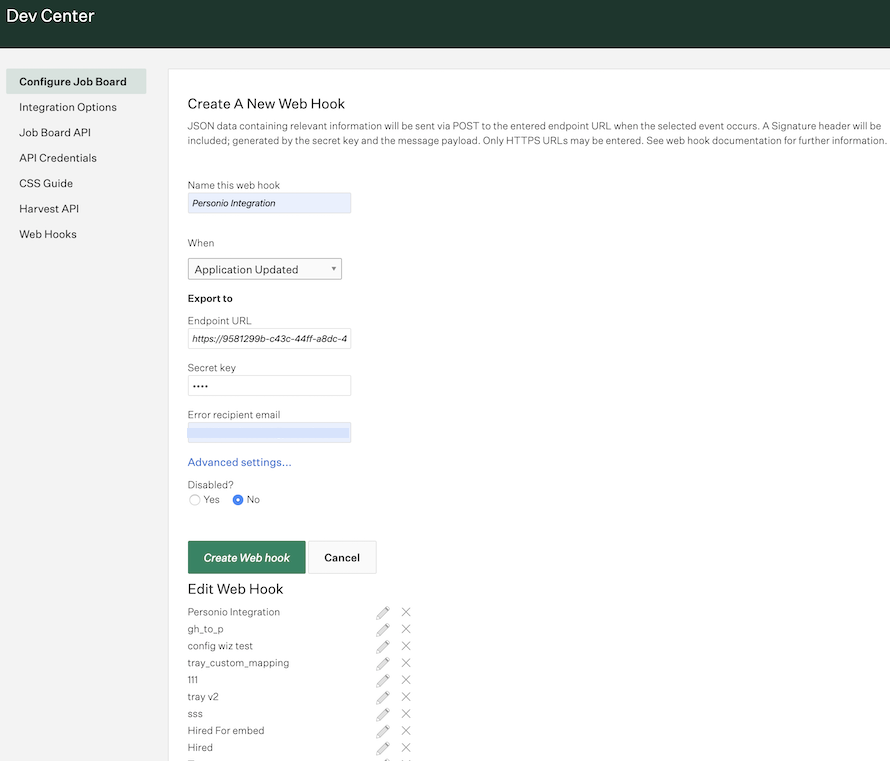 9. Finalize the integration
Once you created the webhook, you can come back to the Personio page and click on Finish to finalize the integration.

Who do I contact for support?
If you have any further question regarding the Personio / Greenhouse integration, feel free to contact the Personio support team.
Can't find what you're looking for?
We are happy to help you! Just write us a message with your questions and we will get back to you as soon as possible.
Submit a request
Topics of this article