In this article, you will find all information concerning the Marketplace and our integrations. For more information on how to activate an integration in the Marketplace, read our article Activate Integrations from the Marketplace.
What is the Personio Marketplace?
In the Personio Marketplace, you can explore services that have an integration opportunity with Personio. You can integrate other software products with Personio to improve and simplify workflows.
To access the Marketplace from your account, navigate to Marketplace in your left sidebar menu.
Note
Employees can only access the Marketplace and enable integrations if they are given Edit rights for Marketplace Integration under Settings > People > Employee Roles > Access rights > Account Configuration.
How do I find an integration in the Marketplace?
On the overview page of the Marketplace, you can see all integrations, segmented into collections such as Popular Integrations and New Integrations, as well as categories, such as Candidate Sourcing and Office Management. You can navigate to the different collections, or filter for a collection or category.
If you are looking for a specific integration, type the name into the search bar on the top-left of the page.
Tip
If you can't find the integration you're looking for, you can request the integration or build your own using our public API.
Where can I find information about an integration?
To find more information on each integration and how to install them, you can click on the integration to open the drawer page. It contains all the relevant information and is organized by different tabs: Overview, Setup & permissions, About [integration] and Pricing.
The information bar on the right includes the following:
the required Personio Plan
a link to the partner's website
a link to the installation instructions in our Help Center
a link to where you can get support (only for integrations developed by our partners)
the developer details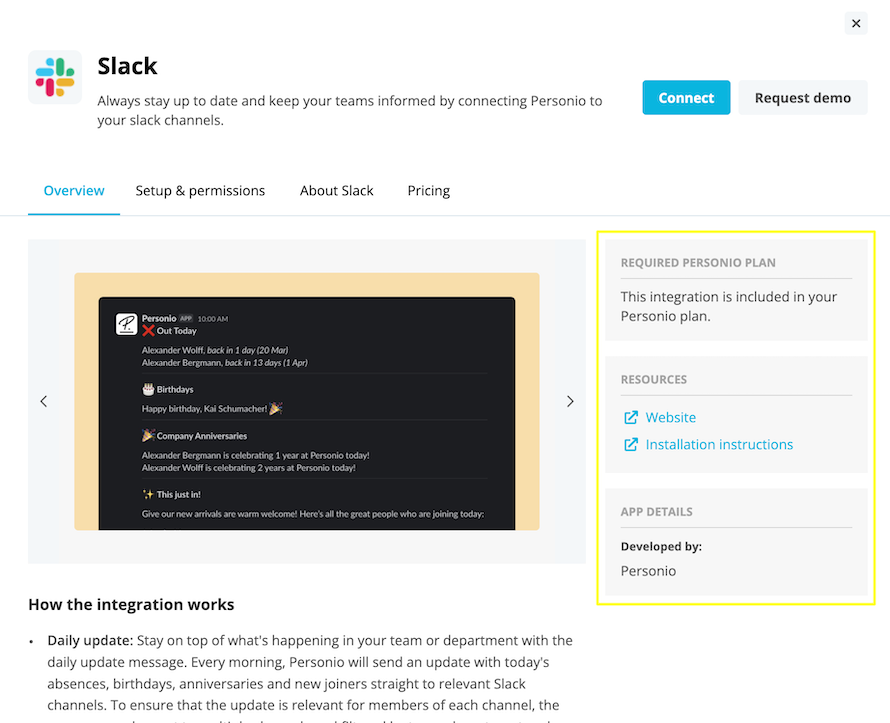 How do I activate an integration in the Marketplace?
To start the activation of an integration in the Marketplace, click on Connect. You can also click on Request demo to request a demo before connecting the integration.
How you continue the activation depends on who developed the integration. Integrations developed by Personio can be activated directly in the Marketplace. For integrations developed by partners, the setup needs to be finished in the partner's service environment. For an overview on how to proceed in each case, read our article Activate Integrations from the Marketplace.
Where can I get support for an integration?
If an integration has been developed by Personio (for example Slack or Zapier), Personio is your support contact. Go to the Find Answers section in Personio via Help > Find answers, search for the integration, and click Get support from the team on the relevant page.
In the case of an integration developed by one of our partners, click on Support in the details drawer of the integration to contact the partner directly. Personio cannot provide support for solutions that were developed by our partners.