First Steps Towards a Product Partnership With Personio
This article contains a detailed overview of the process of becoming a product partner with an automated interface, including all the relevant information you may need.
The Personio Product Partnership Process
You can use our API endpoints to develop an automated Personio interface in order to make the lives of our shared customers easier when it comes to HR.
Once you have developed and tested the interface, we will do a technical quality check. Upon successful completion of this quality check and full submission of all supporting materials, we will list you at https://marketplace.personio.de, in our monthly product newsletter as well as in the Help Center, and also recommend you to interested customers through our sales department.
The Steps Toward a Product Partnership
The following steps must be done before you can become a Personio product partner: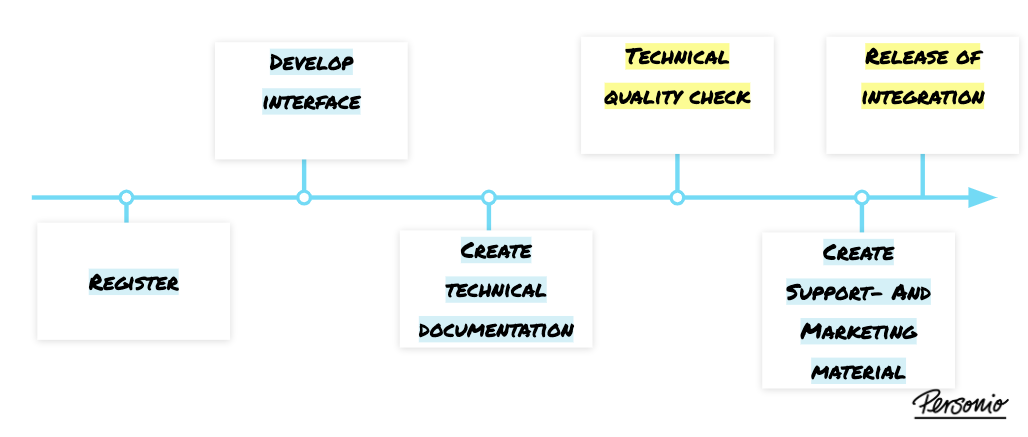 Announcing the integration
1. Filling Out the Registration Form and Getting an Extended Test Account
Once you have registered via the form below, we'll provide you with a test account with the [software]-integration logic. Please complete the registration form for potential product partners for this purpose. Test accounts are initially provided for a 3-month period by default.
2. Developing and Testing the Interface
Use the technical documentation listed below to develop your interface. It is important that you both comply with the specifications for the individual endpoints and test the interface extensively to ensure that all customer needs are met.
Technical Information for Available Interfaces
Personio has a REST-API with four endpoints that can be used by product partners:
employee API
attendance API
absence API
recruiting API
Please note that no salary data (except Fixed salary 100% and Hourly salary) is currently automatically available via the API endpoints and no GET retrieval can be carried out using the recruiting endpoint.
If you retrieve data via the employee master data endpoint, all the data (based on the employee filter) will be transferred. We do not currently offer any webhooks.
See the following links for further information on the individual API endpoints:
Please check the FAQs at the end of this article as well. They include a list of the interface functions that are important to our customers.
3. Finalizing Interface Documentation for the Technical Quality Check
We will require detailed documentation about the interface so that we can perform a technical quality check and provide our internal colleagues with sufficient information about the interface. Please use the interface documentation template for this and send us the completed document as a PDF file.
We will contact you once we have reviewed the submitted documents for a live demonstration of the functioning interface.
4. The Technical Quality Check
To ensure high-quality product integration and interfaces for our customers, the successful completion of the technical quality check is a prerequisite for us to list you as an official Personio product partner.
To do so, please contact us once you have completed the development of the interface. Our colleagues from the Partner Management Team will then contact you regarding team coordination.
During the technical quality check, we will check the interface functionalities, including:
an autonomous activation process for customers
the interface's configuration options
automated filter options
a live example of data transmission
Please send us the technical documentation from Step 3 with your suggested appointment times.
5. Creating Marketing and Support Material
We require the following information from all of our product partners so that we can offer our customers comprehensive information about you.
Please fill in the Template for Marketing Material, so we can list you as a Product Partner at

https://www.marketplace.personio.de

. Please note that we will require both a German and an English version. You also have the option of submitting a Spanish and a French version if your product is also available in those countries.
You can also use the Helpcenter article template to show customers who have decided to use your interface how to activate and configure it.
To allow our sales staff to supply information about your product to interested customers, we will require information about the pricing structure as well as a contact person for interested customers and also for our sales staff, who may have further questions. Finally, please fill in our Sales process template.
Submitting Your Documentation
Use this form to submit all your preparatory documents so that we can prepare the product partnership announcement:
Frequently Asked Questions on Personio Product Partnerships
How can I get information on changes to the API structure or newly available attributes?
Sign up for Personio's
Product newsletter
to receive all the relevant information about the API and all other Personio functions.
What functions and/or settings are important when developing an interface and need to be taken into account?
Please check the individual API endpoints' specifications. One basic functionality is that the transfer of employee data can only start after the Employee hire date and will stop on the Termination date. Another basic function is that the customer can use the user-defined field Include in transfer to xy? (Yes/No) to exclude employees from the data transfer.
I have specific detailed questions that are not answered in the technical documentation. Who can I contact about this?
Can't find what you're looking for?
We are happy to help you! Just write us a message with your questions and we will get back to you as soon as possible.
Submit a request
Topics of this article