⚠️ This article focuses on absences tracked in days. For absences tracked in hours, please visit this article.
Would you like to request paid vacation, remote work or sick leave through your personal Personio account? Read on to find out how.
Your Absence Calendars
First, log into your Personio account. This is best done via the Google Chrome browser – this way you can enter and adjust your absences from home, if necessary.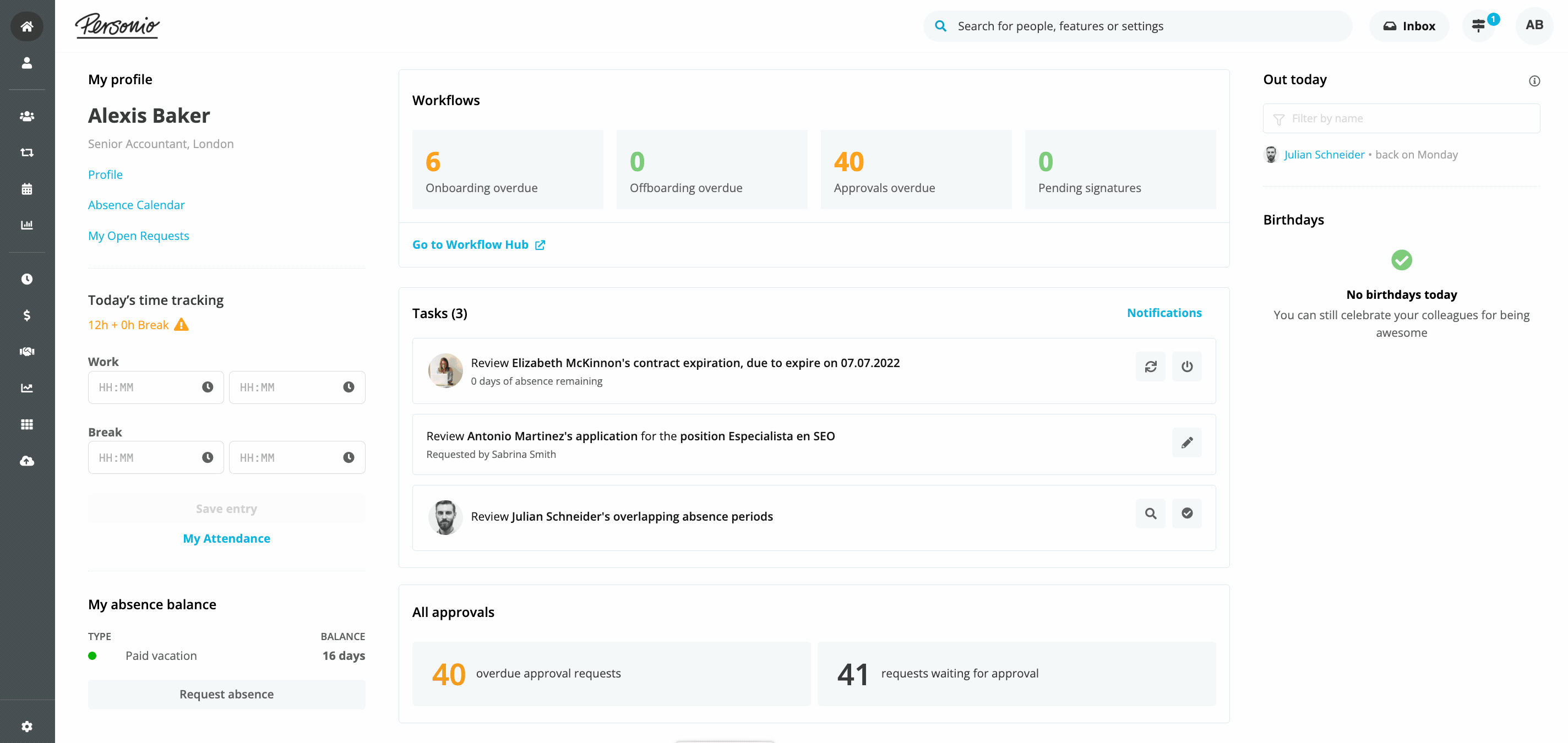 To request any type of absence, click on the Absences section in the Dashboard. This action takes you to the Absences tab in your personal employee profile. On the left, you will see your absence calendar, and in the Absence types section on the right Personio displays an overview of all the absence types available to you.
Click on an absence type to access further details. For certain absence types such as paid vacation, Personio then displays how many days of paid leave you still have in the current year. For other types of absences such as sick leave or remote work, for which there is no limit, you'll only see the days you have already taken in the current year.
Requesting an Absence
If you wish to request an absence, click on the required date in the calendar. This opens a window where you can make the following settings:
Absence type
Select the absence type you wish to request from the drop-down menu, e.g. paid vacation, remote work or sick leave.

Depending on the selected absence type and configuration, the window may update, and you may need to define a substitute.
Period

Enter the precise period for which you are requesting an absence.

Depending on your work schedule, Personio will automatically deduct public holidays and weekdays on which you aren't scheduled to work on a prorated basis.

Duration
If this field is shown, select whether you wish to register your absence for a full day and/or a half day (each).
Substitute
If necessary, select a colleague who will act as your substitute during your absence. Your colleague will need to agree to acting as a substitute before Personio passes on your absence request as a to-do to your supervisor for confirmation.
Comments
You have the option of adding a comment to your request.
To finalize your request, click on Request absence.
Alternatively, you can submit your absence request directly through the Personio app. At the moment, only daily absences are available in the app.
Requesting vacation time (employees)
Requesting sick time (employees)
Approval Process
As soon as you add an absence period, Personio triggers an approval process. Your requested absence is shown with a striped line and marked Pending in your absence calendar.
Once your request has been confirmed by all responsible employees, you are notified by email, and the requested absence is shown in a single, solid color in the calendar.
If your request for leave is rejected during the approval process, the respective entry in the absence calendar is deleted. You are also notified by email in this case.