This article explains how to set up the re-entry of employees in Personio by creating a new employee profile. This method ensures that the correct hire date will be displayed in reporting and in the Employee history.
German customers, who are using the DATEV integration with Lohn und Gehalt, can send multiple employment periods to DATEV. Find more information on this option here.
Creating a New Employee Profile
You can create a new employee profile by either navigating to the Employee list and clicking on Add employees in the top right or, alternatively, by importing the new employee data.
Save all the necessary employee information (e.g. position, supervisor, etc.) and follow exactly the same procedure as when you are adding a completely new employee.
Personio will have automatically changed the status of the "old" employee profile to Inactive when the employee's first period of employment came to an end. If necessary, remove the email address from the Inactive employee profile. An employee email address can only be used by one employee at a time in Personio. You can replace it with a fictitious email address (e.g. 123Firstname.Lastname@Company.com) that serves as a placeholder in the inactive employee profile, as the system will not accept the Email attribute unless it contains a value.
Creating a New Section and Attributes
Save all the relevant information from the previous employment period to the new employee profile. To do so, we recommend that you create new Attributes (and if necessary a new Section). Click here to learn exactly how to do this.
Please note that when you create new Attributes and/or a new Section, you will need to set up the access rights as you see fit.
Possible Attributes:
original start date
original separation date
link to "old" employee profile
original HR number
notes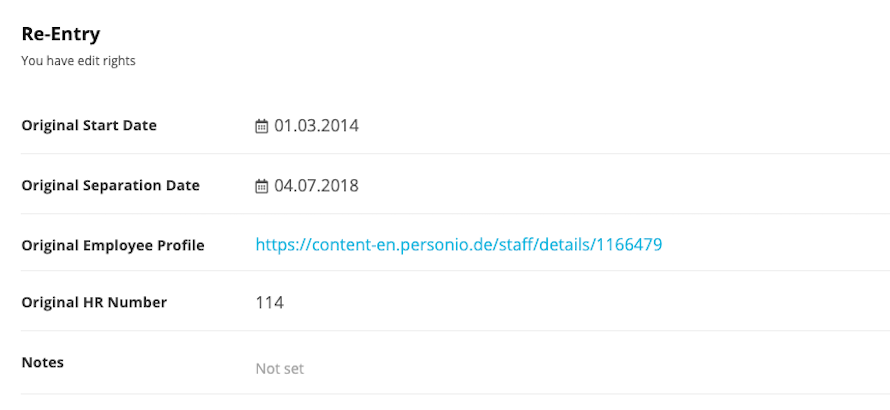 If you want to save documents from the "old" employee profile to the new one, you will need to download them manually and then upload them to the new profile. Before doing so, decide whether the current supervisor should have access to all the old documents.
In addition, decide with the employee concerned whether to transfer the payroll data from the old to the new profile, if it is identical.
Alternatively, rather than following the procedure described here, you could instead reactivate the "old" employee profile and change the hire date to that of the employee's return. However, we advise against this, as it can affect and distort reports, the employee history, access rights and employee roles.