Approval Processes – How They Work
The setup of approval processes in Personio is crucial to facilitating compliance
with internal company guidelines. This article describes how to approach this and
what things to keep in mind.
You can define approval processes for:
Absences (e.g. to approve paid annual leave)
Attendance (e.g. to approve the attendance hours of students)
Employee data (e.g. to approve changes to important employee information
that are made by the employees themselves)
Basics
So that an approval process can be initiated, the Propose right under Settings >
Employee roles > Access rights must be active for the respective section. The
following is a screen capture of assigned proposal rights:

If no approval process was set up when the proposal right was assigned, the access
converts to an editing right.
Learn here how to configure approval processes under Settings > Approvals.
Approval Steps
Navigate to Add approval step to set up a multi-step approval process. The screen
capture below shows a two-step process to which additional approving parties can
easily be added.

Only after the first approver has been confirmed will the additional approvers
receive the request: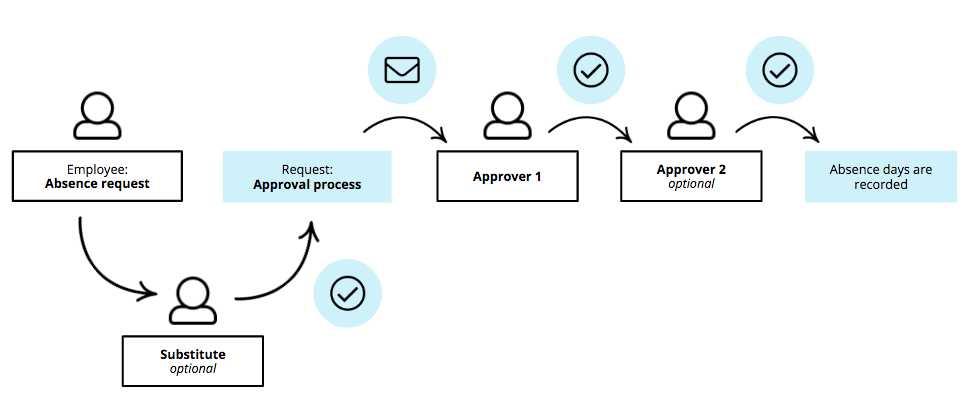 It is also possible to set up a substitute rule for each absence type (under Settings >
Absence).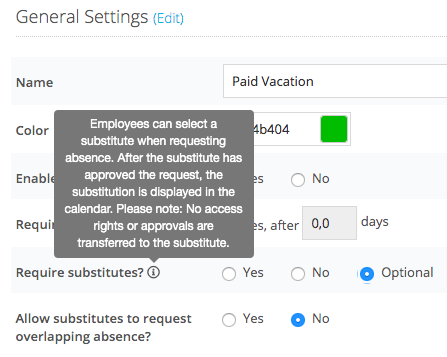 Only once the substitute has confirmed the substitute request can the approval
process be initiated.
Notifications
After the approval process has been set up, the responsible approvers will be sent
email notifications, depending on their personal preference.
Details on how notifications can be configured are available here.
In any case, a to-do will appear on the dashboard of the approver to whom the
request is addressed. Under Status of approvals, employees can view the requests
that are still open and that they still need to attend to.

Note: If the requested approver is absent, e.g. on vacation or sick, the administrator
can view and process the open requests that are on their dashboard.
Confirming/Rejecting Approval Requests
Employees who have been asked for approval can process the request directly on
their dashboard. Click on the tick symbol on the green background to approve, or
on the x on the red background to reject.

Depending on the approver's access rights, it is also possible to deal with an
approval request directly in the requesting employee's profile, e.g. under Absences.
Read all there is to know about approval processes for medical certificates here.
Can't find what you're looking for?
We are happy to help you! Just write us a message with your questions and we will get back to you as soon as possible.
Submit a request