In this article, we explain why you may not be receiving system emails from Personio. You will find some steps to perform to ensure you receive all Personio emails.
Some email providers, for example, Gmail or Outlook, block certain inbound emails to protect you from unwanted or malicious messages (phishing emails or spam). However, in some cases, emails may be erroneously blocked. This issue may also affect Personio's system emails, preventing the delivery of notifications from Personio or password-reset emails.
To make sure that all Personio emails appear in your inbox, we recommend taking the following steps:
Add to contacts
To be sure your email provider will correctly assign Personio messages to your inbox folder, add the email address 'info@m.personio.de' to your contacts. Email addresses stored in your contacts are usually routed to the correct folder without any problems.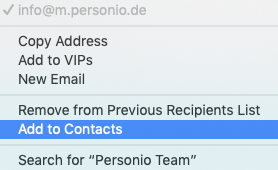 Flag as "No spam"
Please check whether Personio messages are currently being incorrectly assigned to your spam folder. If this is the case, then you have the option of flagging Personio emails as "No spam." The corresponding sender address will then no longer be blocked in the future.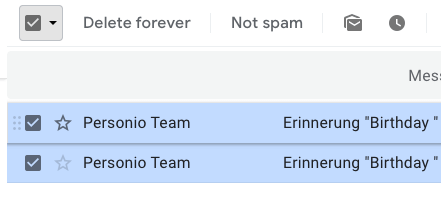 Unblock the relevant email domains
If you have followed all of the steps described above and are still not receiving any Personio emails, we suggest that you unblock the email domains "m.personio.de" and "mailjet.com" via Settings > Filters and blocked addresses. Mailjet is the external, EU-based email provider that we use to send all of our system alerts.



Allowlist Personio IP addresses
You can also ensure that the IP addresses of Personio have been allowlisted on your side. We recommend asking the person responsible for your email domain to add Personio's two IP addresses. These are 185.189.236.69 and 185.189.236.70.
If you have followed all these steps and are still having problems receiving Personio emails, we would ask you to consult your email provider or internal IT department to see if any internal settings could be preventing the receipt of Personio emails.