Best Practice: Evaluation Forms
This article introduces a few evaluation forms that have proven useful. In order to implement your application process in Personio as effectively as possible, it makes sense to create the evaluation forms at the same time as the phases and interview types. This will allow you to adapt your multistage candidate process to the corresponding feedback in the best possible way.
Learn here how to configure evaluation templates in Personio.
Please note that every evaluation form includes the Key takeaways section, which summarizes the most important points in the questionnaire.
Phone Interview
During the phone interview/screening, check the candidate's professional qualifications and go over their personal profile.
In-Person Interview 
Evaluate the candidate's key qualifications during the in-person interview.
Use separate evaluation forms to find out about the specific knowledge they have about the relevant specialist fields.
Peer Interview
If the candidate impresses on both a professional and a personal level, the next step is to check to make sure they will be a good fit for the team with a Peer interview. This gives team members the chance to get to know the candidate.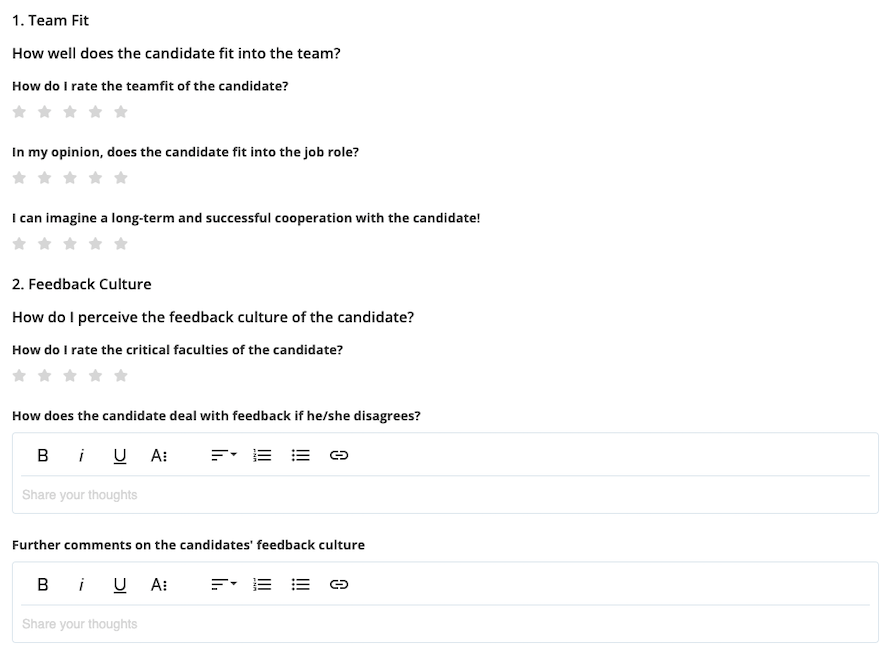 To view information on calculating evaluation form results, click here.
Topics of this article