Best Practices Performance Management
The following article is an overview of well-established best practices for your performance management.
Best Practice Performance Feedback
Using the performance feedback section, your employees can write self-reflections about their performance. You can create specific form templates to guide them through this exercise.
For more information on how to create form templates, have a look here.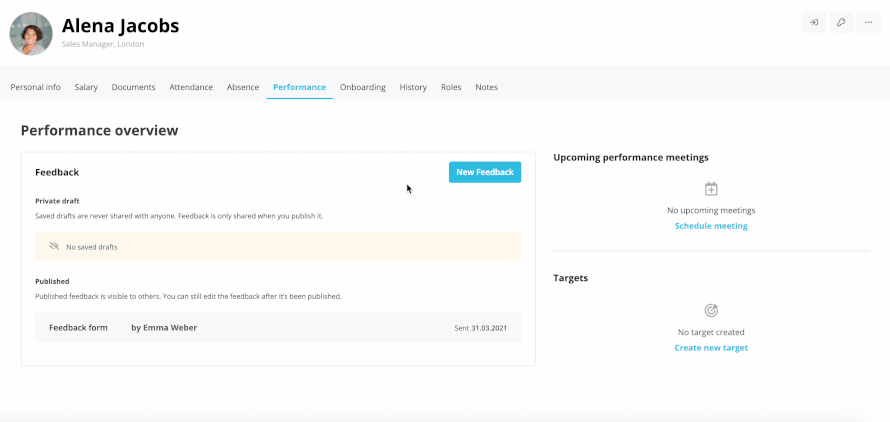 To be able to write their own feedback, your employees must have edit rights under the Performance data section.
Best Practices Form Templates
After navigating to Settings > Performance > Form template, you can create templates to use to track your employee's performance.
The following is a list of templates you can create for the different types of feedback you would like to collect.
Form Template name

Example of questions or general themes

Self-Reflection

Are you satisfied with your tasks and responsibilities?
Are you satisfied with your working environment?
Do you have any requests, suggestions or ideas for change?

End of probation period discussion

Updates on the last six months
Supervisor feedback (behavior and performance)
Personal development goals

Review meeting

General feedback
Development potential
Personal development goals

Goal setting discussion

What were some goal achievements of the past period?
What are improvement opportunities?
What are the employee's suggestions and concerns?
How will the discussed results be put into practice?
Best Practices Goal Agreements
You can define goals by navigating to the Performance tab of the employee's profile and then clicking on Add new goal within the Goal section.
You can define any number of KPIs for each agreed goal. The following three KPI types are available:
Binary: goal achieved or not achieved
Qualitative: not directly measurable
Quantitative: directly measurable
You can also determine whether KPIs should be considered in the bonus calculation and how they are weighted. The following example shows established KPIs and their goals:
| | | |
| --- | --- | --- |
| KPI | Goal | KPI Type |
| Establish knowledge transfer within the department | Hold 4 units per month with minimum 3 participants | |
| 150k in additional sales | | |
| Trade fair visit | Visit a relevant trade fair | |
| Customer satisfaction | | |
The following is the overview of the goals as mentioned above, once set up in the employee's profile:

For more information on how to set up KPIs and linking them to the bonus calculation in the salary, have a look here.
Can't find what you're looking for?
We are happy to help you! Just write us a message with your questions and we will get back to you as soon as possible.
Submit a request
Topics of this article