Configuring Onboarding and Offboarding Processes
This article explains how you can create and configure onboarding steps and templates to optimally map your onboarding processes in Personio.
Das zugehörige Webinar "Richten Sie benutzerdefinierte On- und Offboarding-Prozesse ein" finden Sie hier.
Please note that onboarding processes are configured in the same manner as offboarding processes.
Creating Onboarding Steps
Start by creating any number of onboarding steps. You only need to create these once and can then reuse them in different onboarding templates. Decide whether to create a General Step or an Email action. Enter a name for the onboarding step in the relevant field and click on the Plus button.

A General step may comprise several items. Navigate to Add item and select one of the following options: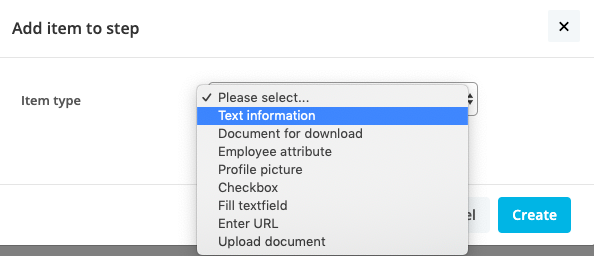 The following table provides an overview of all available items:
| | |
| --- | --- |
| Item type | Description |
| Text information | Displays some text that you can define which can serve as an explanation of how the remaining form needs to be filled out. URLs will automatically be converted to links. |
| Document for download | Specify a document that will be available for download by the employee. |
| Employee attribute | Link to a specific attribute of the employee that helps to fill out employee information during the onboarding process. |
| Profile picture | Offer the option to upload a profile picture for this employee. |
| Checkbox | Display a checkbox that the employee can check (or has to check). |
| Fill text field | Display a text field where a line of text or several lines of text can be entered. |
| Enter URL | Display a text field in which a valid URL needs to be entered. |
| Upload document | Upload a document and link it with a certain section of the document management module. |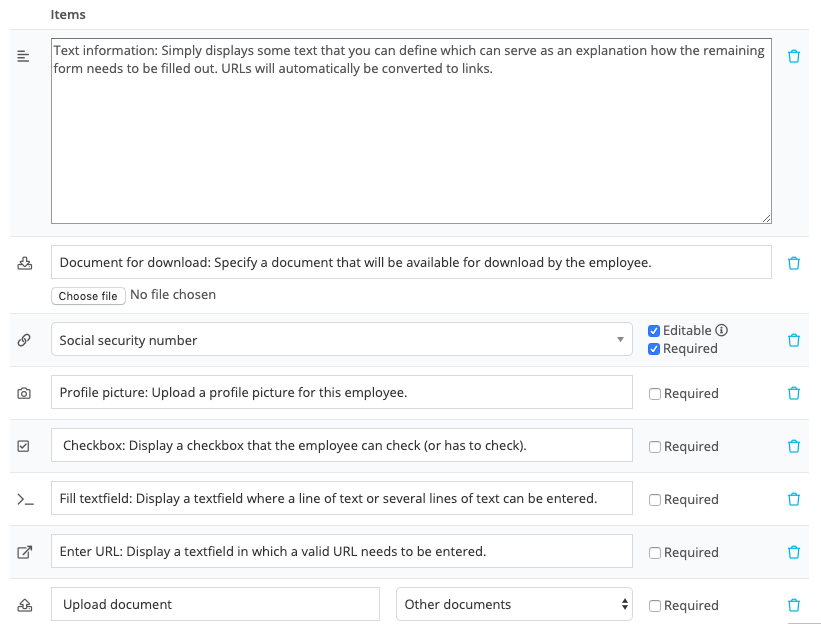 You have the option to grant employees editing rights for the Employee attribute item type. You can additionally define certain items as Required, i.e. employees can only mark the relevant step as Completed once the item task has been performed.
For an Email action, you can define the following: Auto send email, Sender, Recipient(s), Email subject, Email template.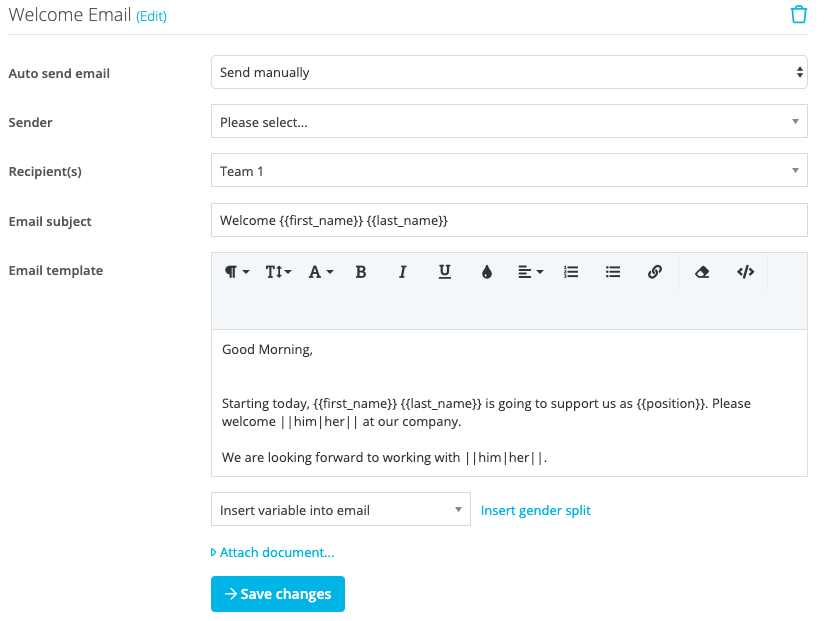 Creating Groups
The composition of groups can be defined in the Groups tab. Go to the Create new team field and click on the Plus button.Next, select the team members from among your employees and click on Save changes.Teams are created to define who is responsible for which onboarding step.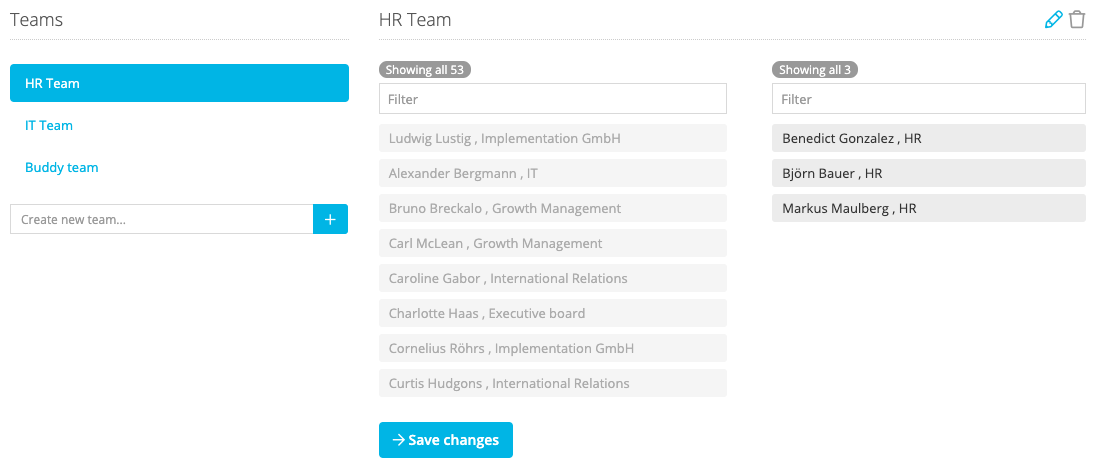 Creating Onboarding Templates
Enter the name for the new template in the box New template and click on the Plus button to save. Then add any number of previously created onboarding steps to the template to reflect the relevant onboarding process. Select a person responsible for each step and a deadline for completion.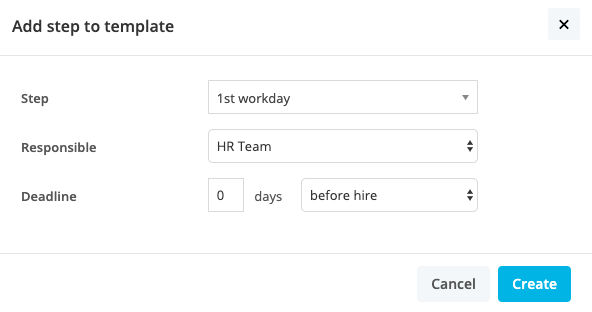 Repeat this process until your onboarding template includes all the steps you wish to include.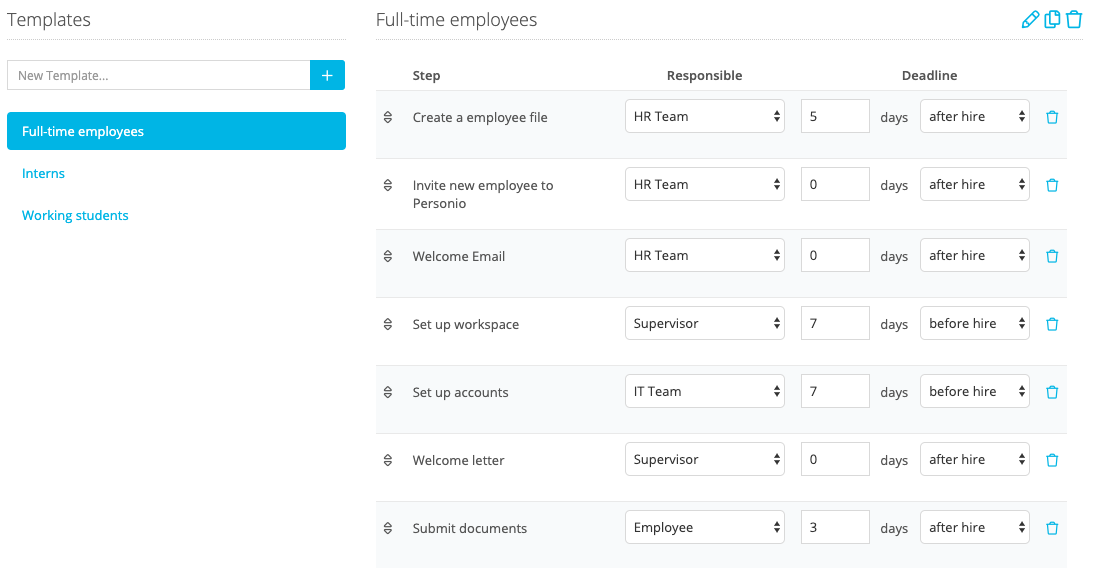 You have the option to duplicate existing onboarding templates, rename and then edit them in line with your specific requirements.
Seven days before a deadline expires, Personio sends a first notification email to all employees responsible to complete the respective onboarding step, and creates a relevant to-do in their Personio home section. Another email reminder is sent by Personio two days before the deadline expires. If any onboarding to-dos become overdue, the responsible employees receive daily email reminders.
Read the Helpcenter articles Best Practices: Onboarding Templates and Steps and Best Practices: Offboarding Templates and Steps for an overview of the most commonly used onboarding and offboarding templates and steps.
Can't find what you're looking for?
We are happy to help you! Just write us a message with your questions and we will get back to you as soon as possible.
Submit a request