In this article, you will learn how to integrate 360Learning with Personio. You will get an overview of the requirements, together with instructions, for setting up the integration with the Personio employee data API.
What is 360Learning?
360Learning enables companies to upskill from within by turning their experts into champions for employee, customer, and partner growth. With their LMS for collaborative learning, Learning & Development teams can accelerate upskilling with the help of internal experts instead of slow top-down training. 360Learning is the easiest way to onboard and upskill employees, train customer-facing teams, and enable customers and partners–all from one place.
360Learning powers the future of work at 1,700 organizations. Founded in 2013, 360Learning has raised $240 million with 300+ team members across New York, Paris, and London.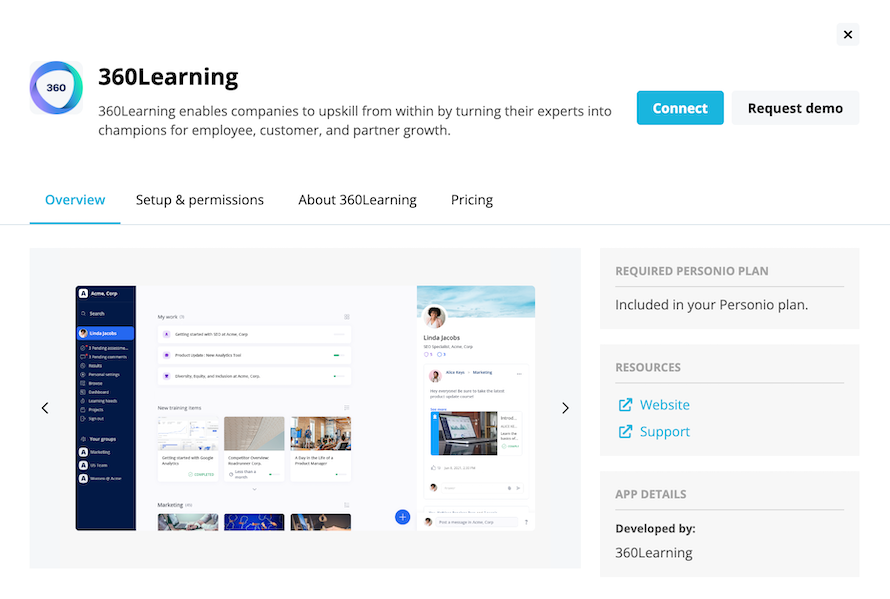 What can I do with the integration between Personio and 360Learning?
Keep Personio people data in sync with 360Learning with automatic daily user synchronization, eliminating the need for double data entry and mitigating possible human error. Streamline your workflow with maximal flexibility to meet your existing HR infrastructure, without requiring any custom development or IT setup.
With support for users, labels, custom fields, and more, you choose what to sync and 360Learning will do the rest.
How can I set up the integration?
Start the activation in the Personio Marketplace
Go to the Marketplace and search for 360Learning.
Click on the integration to open the drawer with further details.
Select Connect to start the activation process.
Click Generate new API credentials. The system will automatically enable the following API permissions:

▶︎ Employee data: Read only
▶︎ Absence data: No access
▶︎ Attendance data: No access
▶︎ Documents: No access
Copy the client ID and client secret and click on Go to 360Learning Website to finish the setup in the partner's service environment.
Get in touch with 360Learning
To finish the setup, email your 360Learning Client Success partner or Solution Architect with the following information:
Integration Name: Personio
Personio Domain: Your Personio application URL
Personio API Keys: The client ID and client secret
360Learning Group ID: Include only the IDs for the groups that you will sync with Personio. Learn how to Find the ID of a group.
360Learning Connector Admin Email: The email address of the user who will act as the administrator for your integration. In 360Learning, this user needs to be either a platform administrator or the platform owner. Learn more about Permissions & roles in 360Learning.
(OPTIONAL) Custom Fields: If you want to sync additional fields, include the Personio API Field Name and how you would like the field name to appear in 360Learning.
After that, your Solution Architect will reach out to complete the configuration and setup testing with you. Once testing is complete, they will activate the integration in your live platform.
What Data is Transferred?
The integration between 360Learning and Personio enables you to integrate the employee master data from Personio directly into 360Learning and thus always keep it up to date.
360Learning only collects data from Personio and will not send data to Personio. Any changes to the employee data in 360Learning will not be transferred to Personio.
Attributes synced with 360Learning
Employee ID
First name
Last name
Email
Status
Position
Supervisor
Tip
You can sync additional custom fields such as office and department.
What are the Costs?
Teams as small as ten can get started with 360Learning's Team plan, a monthly, self-service plan. Organizations of 100 to 500,000 can eliminate the need to manage and integrate multiple solutions with the Enterprise plan.
Who Do I Contact at 360Learning?
If you are interested in 360Learning, you can request a demo here.
If you already are a 360Learning customer, contact a 360Learning Account Manager for more information here.