This article explains the different phases an offer can run through, and provides information on how to edit, decline, or accept an offer, depending on the candidate's response.
Offer Phases
An offer goes through different phases. Based on its status tag, you can always see which phase it is currently in:
| | |
| --- | --- |
| Phase | Notes |
| Created | The offer has been created internally in Personio, but has not yet been sent to the applicant. You can still modify or delete it. |
| Pending | You are waiting for the applicant to accept or decline the offer. It is possible to modify the offer and to send it again, if necessary. The offer cannot be deleted anymore. |
| Declined | The candidate has declined. You can create a new offer if needed. |
| Accepted | The candidate has accepted the offer and will become an employee. Personio automatically creates an employee profile. |
Manage an Offer
Once the offer has been created with or without a contract (and the message to the candidate, if applicable, has been sent), the decision overview is displayed. Here, you can see how long the offer has been pending. You can expand or collapse the details of the offer by clicking on Show / Hide offer details, and also view or download the created PDF documents.
Note Once the offer has been created, the New offer button becomes inactive and can no longer be clicked. You can edit existing offers at any time. Should the offer be declined, the button turns active again.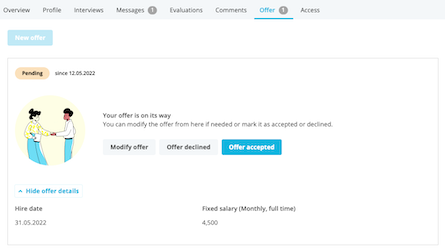 Modify an Offer
As long as the offer is in the phase Created, you can edit it by clicking on

Edit. If the offer staus is Pending, you can modify the offer by clicking on Modify offer. You will return to editing mode where you can make adjustments. The offer status changes back to Created.
Offer declined
If the candidate declines the offer, you can click Offer declined. The offer status changes to Declined, and you will be able to create a new offer if desired. The declined offer cannot be deleted and you can view the details for reference.
Offer accepted
If the candidate has accepted the offer, click on Offer accepted. The status changes to Accepted.


Delete an Offer
An offer can only be deleted while it is in the status Created. Once its status is Pending, Declined or Accepted, it can no longer be deleted. To delete a Created offer, go to the offer and click on

Delete. Then confirm that you want to delete the offer.