In this article, you will learn how to integrate aTurnos in Personio. You will get an overview of the requirements, together with instructions, for setting up this integration with the Personio employee data API.
What is aTurnos?
aTurnos is a software that improves workforce management. It offers a range of tools that increase productivity in human resources by helping to schedule, empower and analyze work teams.
With aTurnos you can manage the entire employee and human resources management cycle with a range of tools and functionalities that include:
Fast labor restrictions engine
Every day and yearly scheduling
Customer adapted algorithms
Employee preference detection
Request flow control
Auto-scheduling algorithms (AI)
Scheduling VS Time and Attendance
Attendance punches technologies
Time and attendance robotization
Functional APP
Flexible payroll concept generation
Benefits of Using aTurnos
Increased customer satisfaction
It can mean a 15% increase in turnover.
Staff optimization and job satisfaction
Adjusting staffing levels and offering better staff scheduling leads to a reduction in sick leave, better adjustment of staffing levels and overtime costs, leading to a 12% reduction in costs.
Increased motivation, self-esteem and work commitment.
Improved communication, stability and efficiency in the team.
Increased creativity and autonomy.
Reduced management time for managers
Up to a 20% reduction of middle management costs. The focus of managers is on the business and not on processes that do not add value.
More efficient decision-making processes.
Improved quality of final services.
Greater flexibility in the company.
How do I set up the Integration Between aTurnos and Personio?
Tip
You need to generate new API credentials for this integration in Personio via Settings > Integrations > API credentials. For more information, read our article on how to generate and manage API credentials.
Integration activation in aTurnos
Log into aTurnos and access to settings

Click on Modules

Navigate to the Actions section and click on add

Select the action Import Personio employees or Import Personio absences depending on what you want to import

Enter your Client ID and Secret, and select Everyday for an every day sync

Set the range of days (select 0 to import) and the range of action (select full month)

After clicking on add, select the blue button to execute the action. Now you have all employees or absences in your team.
Once all the steps are done, the aTurnos system performs the integration with Personio automatically every day at 4 a.m.
What Data is Transferred?
Employees and absences are imported, in addition to employee attributes, such as:
Department
Email address
Status
Position
Supervisor
Employment type
Weekly hours
Hire date
Contract ends
Termination date
Termination type
Termination reason
Probation period end
Data is transferred from Personio to aTurnos.
There is an option to filter employees by category and by custom data. If you wish to use this filter, please contact the aTurnos team. You can find contact details below under Who do I Contact at aTurnos?
What are the Costs?
aTurnos has a core module called Premium and several add-ons that you can choose to add more functionalities and tools.
For Personio customers, aTurnos has created 2 special packages with discounts of up to 35% and free consultancy of up to 4 hours. Free implementation is included for companies of up to 200 employees.
Package 1 includes: aTurnos Premium + Time & Attendance module
Package 2 includes: aTurnos Premium + Time & Attendance module + Operations module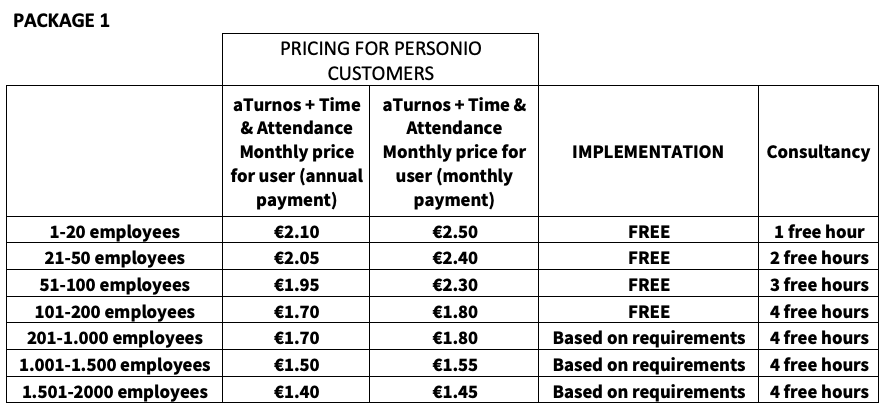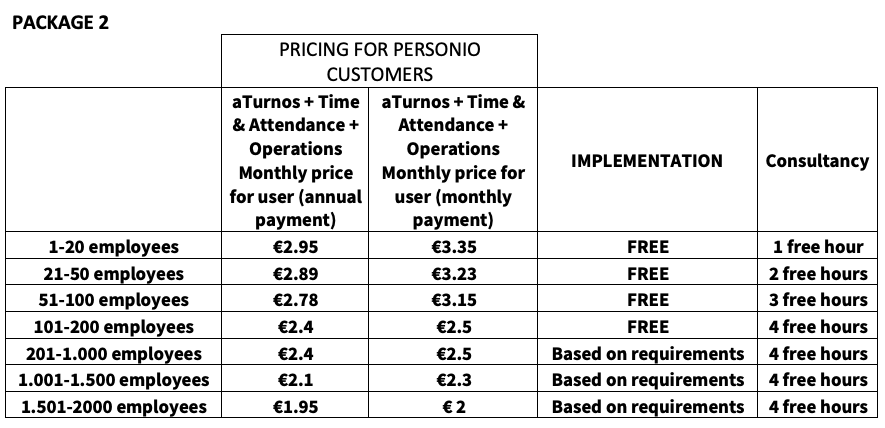 The Operations module can be replaced by any other module for the same price and with the same conditions.
If you are interested in more functionalities and modules, aTurnos can send offers upon request.
Who do I Contact at aTurnos?
If you have any questions about the aTurnos / Personio integration, contact the following:
Pre Sales Contact: comercial@aturnos.com cc: luigi.curci@aturnos.com
Post Implementation Contact: soporte@aturnos.com
Prior to the implementation, aTurnos will share with you the contact details of the team members who will work with you on the software implementation.