This article focuses on workflows. You can start to create and monitor all your workflows from the Workflow Hub.
This article explains what absence request management is in Personio and how you can automate it with integrations.
Why Set Up an Integration for Absence Request Management?
If your company uses tools such as Slack or MS Teams, you can integrate them with Personio, enabling your employees to request absences within these communication tools and see important updates about birthdays, anniversaries, and absences.
This makes it more convenient for employees to request absences and ensures they don't miss important updates.
How does it work?
1. Absence Request
Employees can easily request absences in Personio using their communication tool.
Open a channel or click on Personio in the integrated app (for example, MS Teams).

Type the request command.

Fill in the request information.

Submit your request.
2. Keeping track of your open requests
You can keep an eye on all pending absence requests directly from the Workflow Hub.
If an absence request is pending for less than 7 days, it will show as an approval on track in the Workflow Hub.
If an absence request is pending for longer than 7 days, it will show as an approval overdue in both the Workflow Hub and the Workflow Dashboard widget.
Click on See all approvals to access a more detailed view of all open approval requests.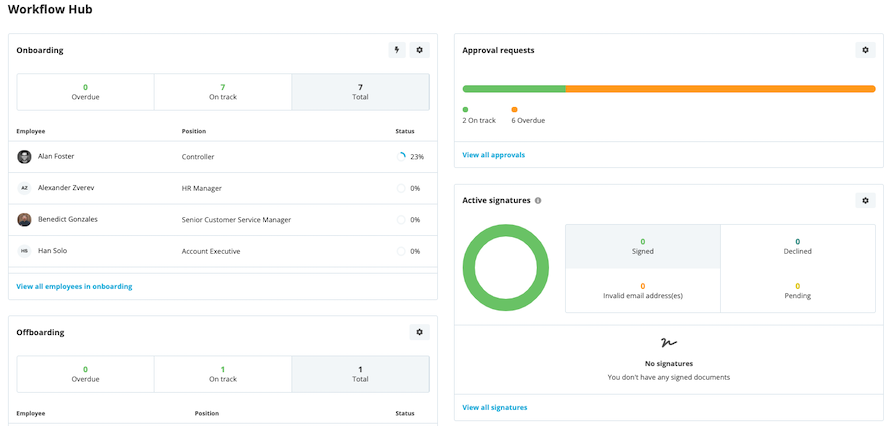 The Workflow Hub and the Workflow Dashboard widget are both visible to admins and to employees with the corresponding access rights.

However, the Active Signatures widget present in both is only visible to admins and with the Productivity Plus Add-On.
3. Status update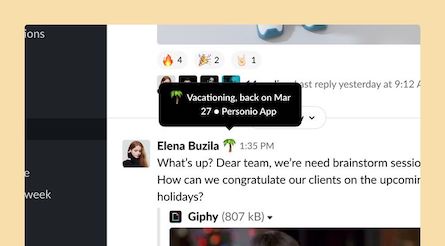 4. Channel updates
During the integration set up, you can decide which automatic updates Personio sends to which channels:
Absences including return date

Birthdays

Company anniversaries

New joiners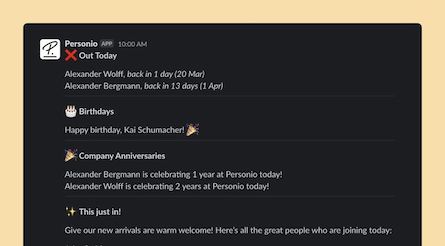 Which integrations are available?
Our integrations with Slack and MS Teams allow employees to request absences directly from these tools.
For more information, have a look at our Slack and MS Teams integration articles.