In this article, you will learn how to integrate Merge in Personio. You will get an overview of all the requirements, and instructions for setting up the integration with the Personio employee data API.
Activate from the Marketplace: We have improved the activation flow for this integration. You can now start the activation from the Marketplace. For more information, visit our article
Activate Integrations from the Marketplace
.
What is Merge?
Merge provides the tools to transform how B2B companies realize customer-facing integrations. With Merge's Unified API, developers integrate just once and give their customers access to over 40+ HR Information Systems (HRIS), Applicant Tracking Systems (ATS), and Accounting integrations. Merge takes charge of the entire lifecycle of integrations and adds new platforms every week.
How can I set up the Integration Between Merge and Personio?
Personio customers simply interact with Merge's Linking Flow Modal to benefit from integrations powered by Merge.
You need to generate new API credentials for this integration in Personio at Settings > API credentials. In most cases, when selecting an integration in the drop-down menu, the system automatically preselects the system attributes that need to be read or written by the integration. You can always add or remove attributes manually if they are needed, or you wish to do so. For more information on how to do this, have a look at our help center article on how to generate and manage API credentials.
Activate the integration in Merge
Afterwards, input your Client ID and Client Secret into the modal on Merge. If the Client ID and Client Secret are incorrect or unsuccessful for some reason, you will be prompted to try again. If successful, you can start using the Personio integration immediately.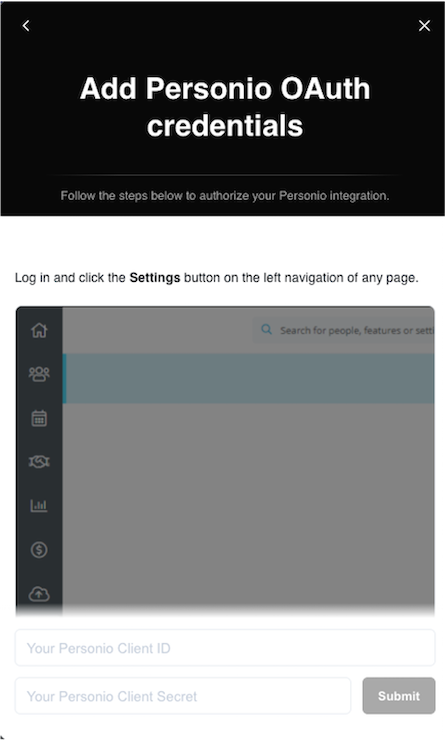 Data Transfer
What data will be transferred?
Merge currently supports fetching employee, employment, location, team, and time-off data from Personio and inputting it into another system.
For employees, Merge fetches:
Name
Personio-generated IDs
Profile pictures
Date of birth
Employment status
Gender
Hire date
Last name
Marital status
Personal email
Termination date
Work email
Work location
It is ultimately up to the Personio partner or the vendor building the integration to decide what data from Personio they want to pull, but this is the list of possible options.
Merge offers filtering for the following:
created_after and created_before (when the employee was created in Personio)
manager_id
team_id
work_location_id
modified_after and modified_before (in Personio)
It is up to the Personio partner to decide whether they want to use the filters that Merge provides and / or support additional filtering. For information (for prospective partners) on how to apply these filters within Merge, you can refer to Merge's docs.
What are the Costs?
There is no cost for using Merge for Personio customers. Personio customers benefit for free if their vendors integrate with Personio using Merge.
For prospective Personio partners who are looking to integrate with Personio and are considering using Merge to power their integrations, Merge offers two pricing plans - pay as you go and an enterprise scale plan, depending on the specific business needs. For more details on Merge's pricing, please click here.
Who do I Contact at Merge?
If you have any further questions regarding your Merge / Personio integration, feel free to contact Tara Pichumani from Merge at tara@merge.dev.
Topics of this article