In this article, you will learn how to integrate HRider in Personio. You will get an overview of all the requirements, and the instructions for installing the integration with the Personio employee data API.
What is HRider?
HRider is a specialized solution that helps HR professionals like you to easily manage their performance assessment and talent development processes.
Core functionalities
Performance Management & 360º Feedback.

Individual Action Plans

Talent Mapping (N-Box)

Satisfaction and Work Environment & Culture surveys

Real-time reporting
With HRider's advanced cloud technology, accessible to any type of organization, you will be allowed to take decisions based on data in real-time.
Modernize performance review, objectives and KPIs, take the pulse of the work environment or create talent maps of your organization in an agile way.
Fully configure your own professional skills and KPIs or any other indicator. Of course, all with your own look & feel to boost your corporate identity.
How can I set up the Integration Between HRider and Personio?
To start the activation in Personio, follow these steps:
Go to the Marketplace and search for the integration.
Click on the integration to open the drawer with further details.
Select Connect to start the activation process.
Click Generate new API credentials.
Copy the client ID and secret and click Go to website to finish the setup in the partner's service environment.
Now enter your Client ID and Client Secret in HRider.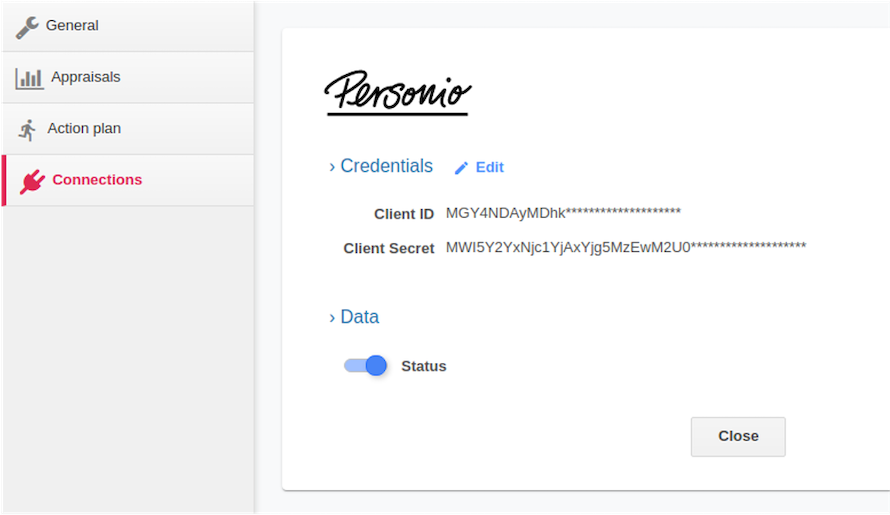 What Data will be Transferred?
The following employee data will be transferred from Personio to HRider:
Employee personal data
Employee position
Employee supervisor
Organizational structure
This includes the following attributes if they are enabled:
Status
Employee ID
Name
Last name
E-mail
Gender
Supervisor
Office
Department
Job position
Hiring date
Last modified
Birthday
NIF
Phone number
Address
Post code
City
Mobile phone
Personal phone
Corporate mobile
Photo
HRider only transfers employees with the status "Active" from Personio.
What are the Costs?
The integration with Personio is completely free. The cost in HRider is per number of employees you subscribe for your account. Access is complete to all modules / features.
Personio's clients who purchase a subscription to HRider will get 20% reduction (annual commitment).
Who do I Contact at HRider?
If you have any further questions regarding your HRider / Personio integration, feel free to contact HRider directly at help@hrider.net.