Using Personio Posting Bundles to Promote Positions
In this article, you will learn how to make the best use of Personio posting bundles. Find out more about Personio posting bundles in Personio Posting Bundles – Tailored to your Recruiting Strategy.
Book and activate Personio Posting Bundles
You can book Personio posting bundles via the contact form on our website. Once you have successfully booked your bundle, you will receive a confirmation email from us. Your Personio posting bundles will usually be activated by 6 pm on the working day following the confirmation. You can use your bundle from the moment it is activated in Personio.
To find the conditions of the posting bundles you have booked and what their status is, follow these steps:
Navigate to

Recruiting > Positions > View details of

the relevant position.

Go to the

Promotion

tab.

Under My posting bundles, you will find an overview of the bundles you have booked, and will see in their status if they have already been approved and activated.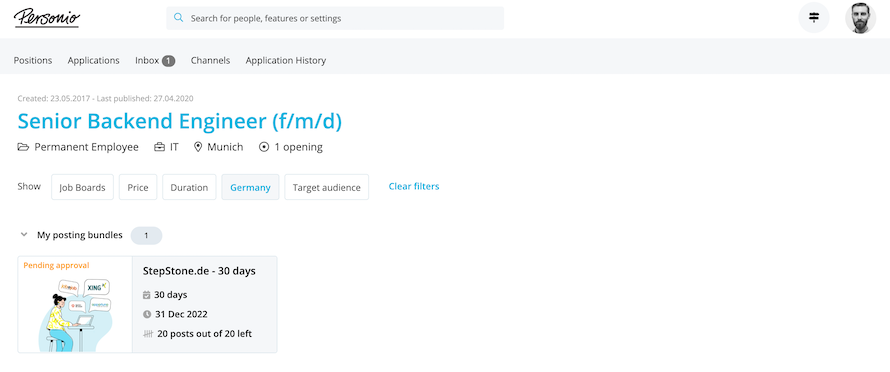 Each posting bundle is shown separately, together with all relevant information on:
Job portal and posting product
Type of job ad
Renewal date
Bundle subscribed to and number of unused postings
Renew Personio Posting Bundles
If the posting bundle subscription is not cancelled in writing one month before, the subscription term (3 or 12 months) is automatically extended. Your Personio posting bundles are replenished at the start of each subscription term, and you'll be invoiced for the subscription amount. Unused postings will automatically be transferred to the next subscription period.
Note
Unused postings can only be carried over to the next subscription period. Once a subscription has been cancelled, unused postings are no longer carried over.
For an overview of how you can adjust your Personio Posting Bundles, including how you can increase your bundles and much more, please see our FAQ article.
Promoting positions using the Personio Posting Bundles
Once you have added an open position in Personio and all prerequisites for posting positions have been met, you can promote the position on external job portals using Personio posting bundles to attract candidates. This involves the following steps:
Navigate to

Recruiting > Positions > View details of

the relevant position.

Go to the

Promotion

tab. Under My postings, you will see any postings that you have already booked.
Then click on Promote to get an overview of the available job portals.
Select your preferred Personio posting bundles from the options listed under My posting bundles and click Continue.
Review the preview of your posting and the content submitted to the job portal by Personio, and click Proceed to checkout.
Review the information shown. Here you can also see further information about how much of your bundle has already been exhausted and how much you save with the Personio posting bundles. Finalize the posting by clicking on Place order.
For more detailed information about promoting positions on external job portals, please refer to our article Multiposting Positions on External Job Boards.
Topics of this article