In this article, you will learn how to integrate MuchSkills into Personio. You will get an overview of all the requirements along with instructions for the installation of the integration with the Personio employee data API.
Activate from the Marketplace: We have improved the activation flow for this integration. You can now start the activation from the Marketplace. For more information, visit our article
Activate Integrations from the Marketplace
.
What is MuchSkills?
MuchSkills is a modern team skills matrix visualization tool and methodology that helps organizations discover available and missing competencies in their different teams and departments. This tool also makes it easy for anyone to search and identify domain experts and other professional skills in their teams.
This interactive skills visibility allows organizations to help employees identify and focus on their strengths, and increase engagement. The MuchSkills methodology includes training, coaching and research-based documentation to help managers, HR professionals and CEOs increase employee engagement and productivity.
In brief, MuchSkills supports you in the following topics:
Complete team skills overview mapping
Skills profile for individuals
Skills searchability
Employee skills planning and goal-setting
Add custom skills specific to your industry/domain
Create skills-based project teams
How can I set up the Integration of MuchSkills and Personio?
You need to generate new API credentials for this integration in Personio at Settings > API credentials. In most cases, when selecting an integration in the drop-down menu, the system automatically preselects the system attributes that need to be read or written by the integration. You can always add or remove attributes manually if they are needed, or you wish to do so. For more information on how to do this, have a look at our help center article on how to generate and manage API credentials.
Allow Read access for the following employee attributes:
First name
Last name
Email
Position
Supervisor
Employment type
Office
Department
Profile picture
Status
Then, go back to your MuchSkills Team settings page and navigate to Integrations (Team > Edit >
Integrations).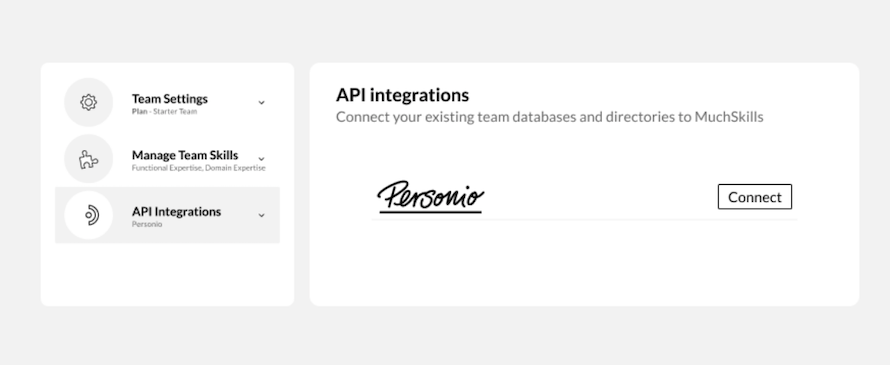 Paste the Client ID and the Client Secret you just created in Personio into the relevant fields.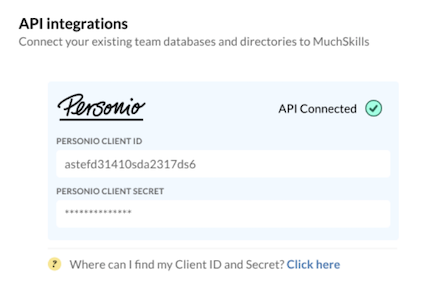 You will be able to see immediately if the API is connected and working correctly. If everything is synced properly, you will see various departments listed. You can choose to sync all departments, or just pick the ones you want to. Ideally, all departments should be synced.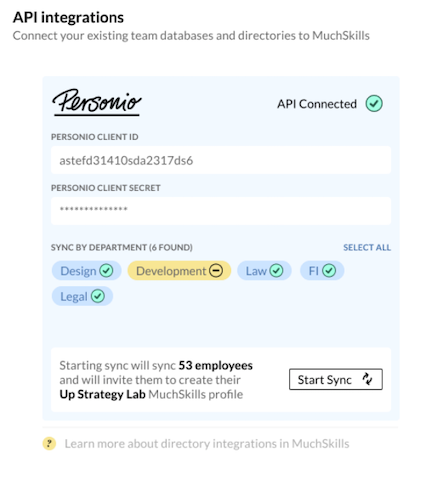 If there is an error, double-check that all necessary attributes are allowed on the Personio API page.
Once you have done that, you can press Start Sync.
The database will start to sync, and it can take anything from 1 to 15 minutes to sync all data.
What Data will be Transferred?
The following attributes will be transferred from Personio:
First name
Last name
Email
Position
Supervisor
Employment type
Office
Department
Profile picture
Status
No data will be transferred to Personio in this sync. 
When integrating your team data from Personio into MuchSkills, you can choose to sync employee data based on the departments they belong to. For example, if you would like to sync all departments except for the finance department, you can do that. Simply tap on the departments you want to sync.
What are the Costs?
The costs are:
€5 per user, per month, when subscribed annually, or
€7 per user, per month, when subscribed monthly.
Who do I Contact at MuchSkills?
Sales, support, and integration queries can be sent to support@muchskills.com. If you simply want to test out MuchSkills, you can do so by signing up for a test account here.
Please use the subject "Personio Integration" to help ensure a speedy response from MuchSkills.
Topics of this article