In this article, you will learn how you can integrate Culture Amp to Personio. You will get an overview about all the requirements, and the instructions for the installation of the integration with the Personio employee data API.
What is Culture Amp?
Culture Amp is the leading employee experience platform, helping more than 3,000 companies take action to improve the engagement, performance and development of their employees.
Engage: Surveys with powerful analytics and action planning
Perform: Development focused performance management
Amplify: Behaviour changing tools to empower your employees
How can I set up the integration of Culture Amp and Personio?
You can select the demographics you want to import into Culture Amp via the Access tab of Personio's API page. In Personio, these are called attributes. Note that any attributes you whitelist in Personio will be shared with all systems that have a Personio integration. To do this, you must grant access to the attributes required for the transfer in Personio.
Login to your Personio account as an Admin user.

Navigate to Settings > API.
Click on the Access sub-menu. Here you will be presented with the entire list of attributes that the API should read from. Please review these and add/remove as you see fit. Click on the Edit button

to make changes to the selection.

To set up the integration of Culture Amp and Personio you need the following information from your Personio account:
To generate the Client ID and Client Secret, navigate to Settings > API > Credentials. Select Generate new credentials.
Please note that if you use the Generate new credentials command, your existing credentials become invalid.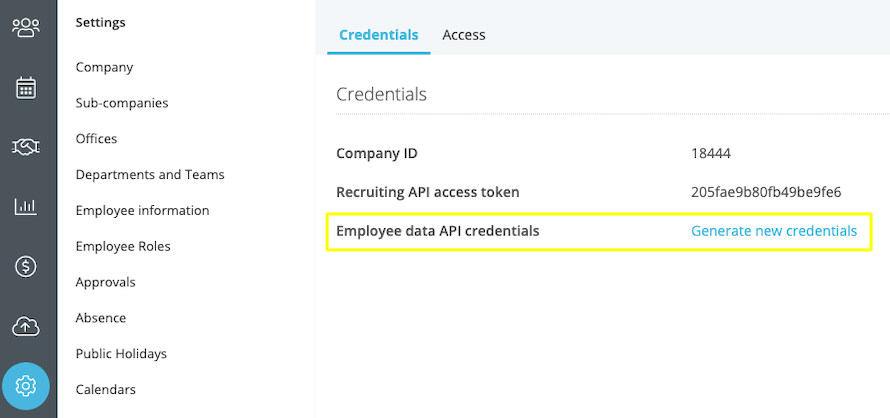 Enter these in Culture Amp by going to Account admin > Data integrations > Personio > Set up Personio integration.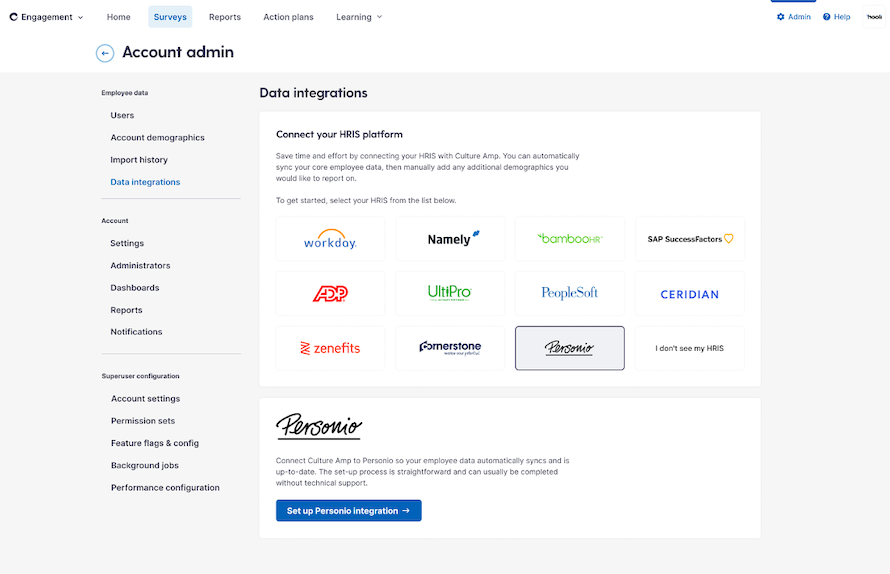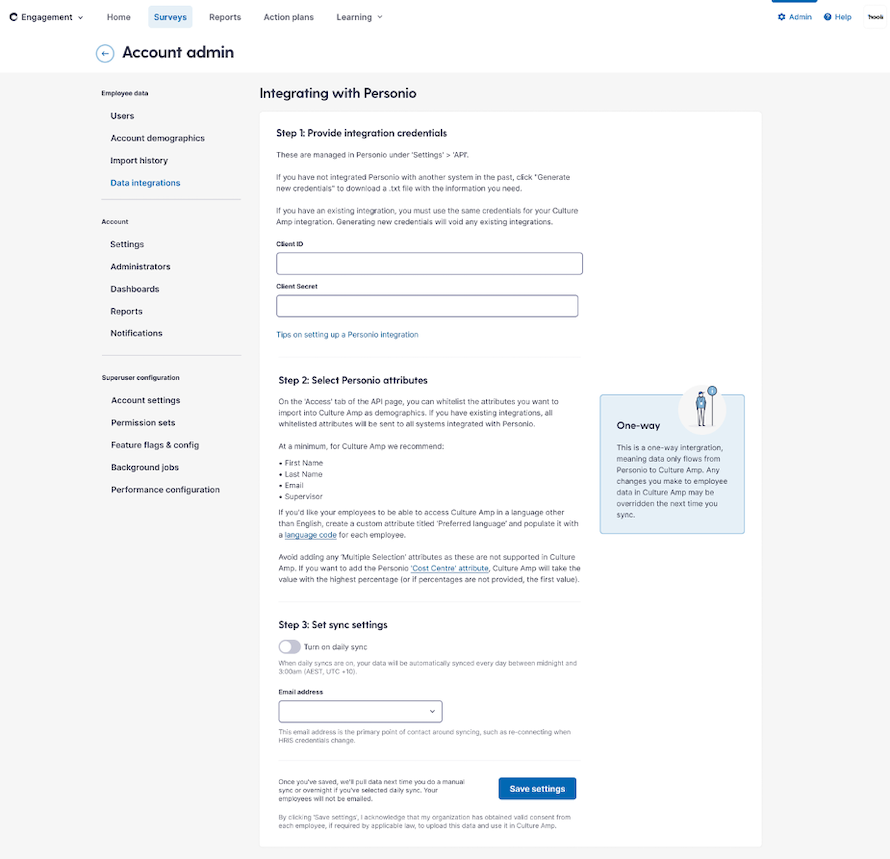 What data will be transferred?
All attributes whitelisted in Personio will be sent to Culture Amp. This is a one-way integration, meaning data only flows from Personio to Culture Amp. Any changes you make to employee data in Culture Amp will not be reflected in Personio.
There is currently no filter option in Culture Amp. All attributes whitelisted in Personio will be sent to Culture Amp each time a sync is initiated.
What are the costs?
Culture Amp is priced per employee and offers three tiers of service depending on your company's needs.
Who do I contact at Culture Amp?
If you have any further questions related to your Personio / Culture Amp integration, feel free to contact Culture Amp's support team directly at support@cultureamp.com.
Can't find what you're looking for?
We are happy to help you! Just write us a message with your questions and we will get back to you as soon as possible.
Submit a request
Topics of this article