In this article, you will learn how to integrate ZMI's software with Personio. In the following, you will get an overview of all the prerequisites.
Activate from the Marketplace: We have improved the activation flow for this Integration. You can now start the activation from the Marketplace. For more information, visit our article
Activate Integrations from the Marketplace
.
What is ZMI?
With ZMI, companies of all industries and sizes record working and order times digitally, regardless of location. Whether via stationary terminals in the plant, mobile terminals in the construction container or vehicle, online in the web browser, or with the smartphone or tablet: times, projects, and activities can be recorded in real time, making timesheets a thing of the past.
How can I set up the integration of ZMI and Personio?
You need to generate new API credentials for this integration in Personio at Settings > API credentials. In most cases, when selecting an integration in the drop-down menu, the system automatically preselects the system attributes that need to be read or written by the integration. You can always add or remove attributes manually if they are needed, or you wish to do so. For more information on how to do this, have a look at our help center article on how to generate and manage API credentials.
After copying your credentials, this information is stored in the Personio tab in the system settings of ZMI - Time.
In order to transfer the correct days off, a link between ZMI and Personio has to be created. This is done via the menu item Absent days in ZMI - Time. The button Personio Absent Days saves the days from Personio to ZMI. The Personio Absent Days drop-down menu is used to create a link between the absent days in ZMI and the absent days in Personio.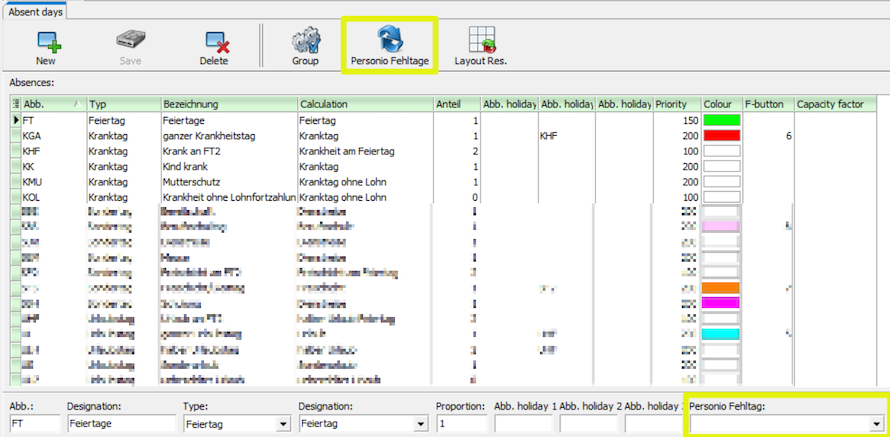 What data will be transferred?
During the HR master data import, employee master data from Personio can be transferred to ZMI.
The following attributes are transferred:
ID
First name
Last name
E-mail
Gender
Position
Department
Cost center
Date of employment
During the export of days absent, the days absent from work entered in ZMI can be transferred to Personio.
What are the costs?
The ZMI interface to Personio is a separate license depending on the number of active employees. The ZMI sales department (vertrieb@zmi.de) will be happy to provide you with a corresponding offer.
Who do I contact at ZMI?
If you have any questions regarding the interface in operation, please contact ZMI Support at e-mail support@zmi.de or phone: +49 9704 60392-150. If you are still in the implementation phase of ZMI, your personal project manager is available to answer your questions.
Topics of this article