In this article, you will learn how you can integrate askDANTE into Personio. You will get an overview of all the requirements as well as instructions for setting up the integration via the Personio employee data API.
What is askDANTE?
askDANTE is an SaaS solution for time tracking and shift planning.
The benefits of this solution include:
Simple, intuitive use
Connection of hardware (terminal)
Extensive functions for time recording and ensuring the correct calculation of working hour balances
Combined shift planning with numerous functions, from planning of temporary staff to rolling shift systems
How Can I Set Up the Integration of askDANTE and Personio?
To allow askDANTE to extract employee data from Personio and map it to existing attributes in askDANTE, you will need to grant access to the necessary attributes for the transfer in Personio.
Log in to your Personio account as an Admin user.

Navigate to Settings > API.
Click on the Access

sub-menu. You will be shown the full list of attributes which the API should read from. Please review these and add or remove attributes as required. Click on the

Edit button.

To set up the integration of askDANTE and Personio you need the following information from your Personio account:
To generate the Client ID and Client Secret, navigate to Settings > API > Credentials. Click on Generate new credentials.
Please note that if you use the Generate new credentials command, your existing credentials become invalid.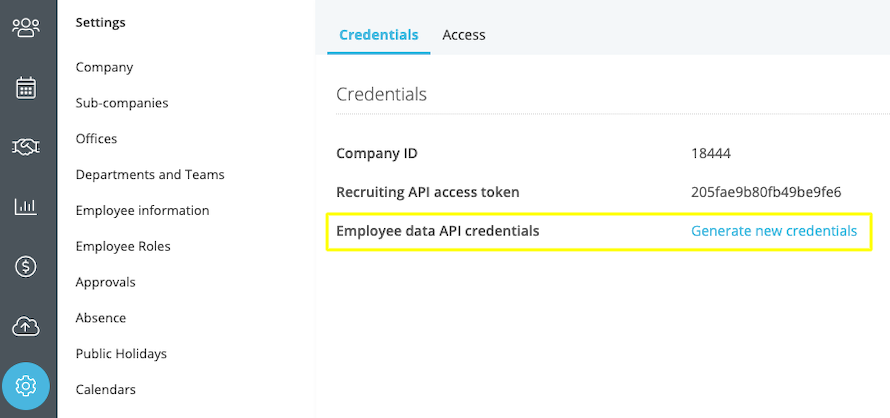 The interface can be activated in askDANTE. Go to Menu > Settings > Interfaces > Personio to find an extensive range of options. As users have different requirements and preferences, the interface can be configured in different ways. In the first steps, you need to enter the Personio credentials.
There are many potential sources of errors when setting up and implementing interfaces. If they are set up incorrectly or carelessly, there is a risk of data loss because askDANTE writes time data back to Personio. askDANTE therefore offers the setup as a cost-effective service to customize the data exchange setup to customers' needs.
What data will be transferred?
From Personio to askDANTE, employee master data is transferred.
From askDANTE to Personio, attendance times (starting/ending/ break) as well as selected and set up custom fields (e.g. askDANTE working time profile, askDANTE stand overtime, askDANTE stand remaining vacation) is transferred.
The following attributes are transferred:
For the simple synchronization of master data:
For synchronization of working time profiles:
For exporting key figures:

Status
First name
Last name
Email
Gender
Hire date
Contract end date
End of employment
Personnel number *
askDANTE export * (optional)

Office
Public holidays
Absence entitlement
Working hours
Transponder number * (if stamping is to be done at terminals)

askDANTE balance *
askDANTE remaining vacation *
askDANTE working time profile *
All fields marked with (*) are not part of the standard Personio configuration and need to be first set up as Personio attributes. Different field names can then be matched in the Personio interface in askDANTE.
The interface ignores all employees who have entered "No" in the "askDANTE export" custom field.
How Much Does It Cost?
The integration is available with all askDANTE tariffs and packages. An indication of the price can be found in the price calculator at www.askdante.com.
A simplified overview of the available prices is provided below:
"Basic" integration of time tracking infrastructure is available with the TA plan.
For a more comprehensive integration with use of the shift plan etc., the TA+ plan is required.
However, there are also joint customers who use other plans, such as askDANTE's Private Server.
askDANTE does not usually give special discounts to Personio customers. This can be check on a case-by-case basis.
Who Do I Contact at askDANTE?
If you have further questions regarding your integration of Personio and askDANTE, please contact the askDANTE service team directly at service@askdante.com. Your request will then be forwarded to a competent contact person.
Can't find what you're looking for?
We are happy to help you! Just write us a message with your questions and we will get back to you as soon as possible.
Submit a request
Topics of this article