Prerequisites for Promoting Positions on External Job Boards
This article explains the steps you need to complete in order to promote a position that has been created in Personio for external job boards using the Promote function. You do not need to leave Personio to process the booking or payment, which saves time and reduces administrative work.
You can find further information and detailed instructions on how to promote positions in this article.
1. Enter Location Details
Under Settings > Offices, provide full details about your offices, including street, zip code, region, city, country, currency and public holidays. These are required fields for external job boards.
2. Enter an Email Address
External job boards also require an email address where you can be contacted.
Go to Settings > Recruiting > General > Company recruiting email address and enter the careers email address of your company or leave your Personio recruiting address.
A company careers email and SMTP settings entered under Settings > Recruiting > General > Recruiting email settings will allow you to send emails from Personio via your server, i.e. from your company email address. You can find further information on this topic here.
3. Categorize Job Description Fields
Assign the job description fields to one of the four predefined categories: Job description, Qualifications, Further information or Contact information. Go to Settings > Recruiting > Job descriptions and select the desired category directly as you create the job description field. Move existing attributes to another category via Drag & Drop.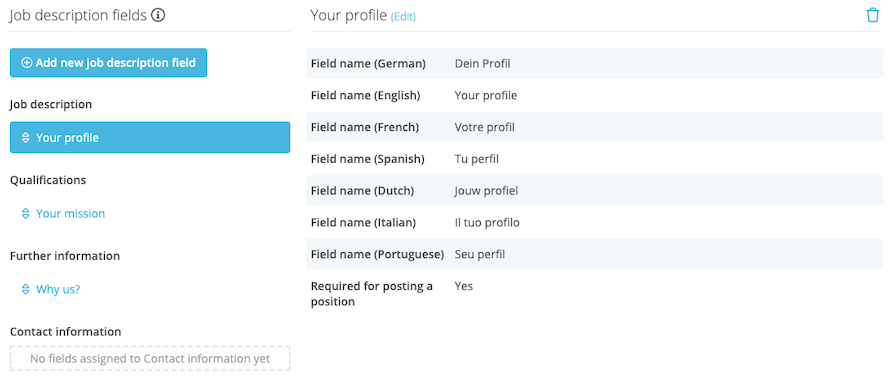 As more and more job boards request these categories for the promotion of positions, we recommend that the job description fields are allocated to one of the four categories. The categories are used by job boards to ensure that postings are structured in the best possible way. If you don't allocate the attributes, errors may occur in how ads are displayed.
4. Add a Job Description
Also, provide a job description. Go to Recruiting > Position > View details > Description and enter the specific details.
Create postings in multiple languages if needed. You can promote positions on external job boards directly via Personio in seven different languages.

Also, make sure that a company description is available in the desired language in the About us section under Settings > Recruiting > Career page > Descriptions & translations.
5. Complete the Compulsory Meta-Information
The following meta-information must be provided so that your posting can be promoted on external job boards: Office, Name of position, Industry sector, Occupation, Employment type and Experience. The respective fields are marked with asterisks (*) in the detailed view of your positions. Go to Details, click on the position actions button with three dots and select Edit position metadata to update this information.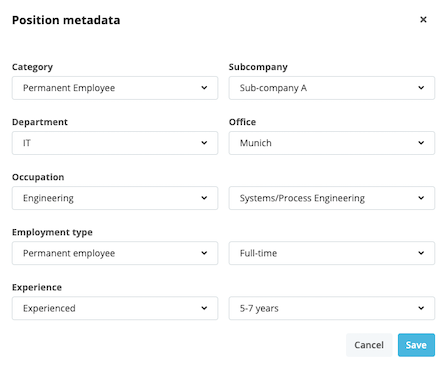 6. Entering URLs for Your Own Career Page
If you are using your own company career page, you are required to fill out the URL for published positions and URL to your application form fields under Recruiting > any position > Details > Promotion > career page links.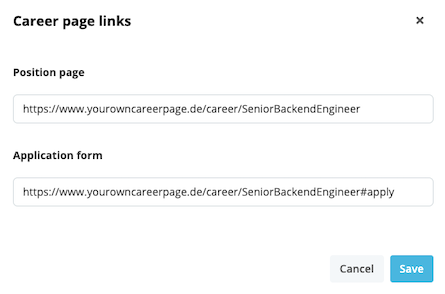 Enter the URL for the published position or application form on your company career page here. Entering these URLs enables communication between Personio, your company's careers page and the relevant external job boards.
This step is important if you are using your company career page and Personio's XML feed and recruiting API. If you are using the Personio career page, Personio will automatically use the URLs for the Personio career page for the postings.
7. Entering Payment Information
Enter your credit card details in your account under Settings > Plan and Billing or set up a Personio direct debit plan so that any associated charges can be conveniently settled via Personio.
8. Optional: Store Master Contracts
If you already have individual master contracts in place with any job boards, these can be stored directly in Personio. Then Personio will not calculate any further charges for the respective job board. The billing for the postings occurs between you and the portal. See this article for further information on storing master contracts.
9. Promote Positions
To enable the promotion of positions via the Promote function, post them first by clicking on the respective position on Publish. The posting then becomes available both on the Personio career page and via the XML feed (if enabled).
As soon as you have completed all the necessary steps, you can use your account to book a posting from the Promotion tab. For instructions and further information on how to proceed, please read this article.
Can't find what you're looking for?
We are happy to help you! Just write us a message with your questions and we will get back to you as soon as possible.
Submit a request
Topics of this article