Mandatory steps for multiposting on job boards
In this article, we will point out the required steps you must complete when promoting a position on external job boards via Personio's multiposting feature.
Note
All these steps are required by job boards. If these requirements are not fulfilled, your position might not be promoted or will be taken down.
Before publishing a position
You need to make sure these requirements are met to create your position in Personio.
Location details
You must fill in your office's address in its entirety, as this allows external job boards to display your position in the correct location.
Under Settings > Organization > Offices, check that the following fields are set up in your office address:
▶︎ Street
▶︎ Zip code
▶︎ Region
▶︎ City
▶︎ Country
Email address
Some external job boards also require an email address as an alternative form of contact.
Go to Settings > Recruiting > General > Recruiting email settings and enter your company email address or leave your Personio recruiting address.
A company email and SMTP settings will allow you to send emails from Personio via your server. You can find further information in our article Send Emails from the Company STMP Server.
Job description fields
More and more job boards request the job description fields to be allocated to a specific category. This ensures that the position is structured in the best possible way. If no category is allocated, errors may occur in how the job posting is displayed.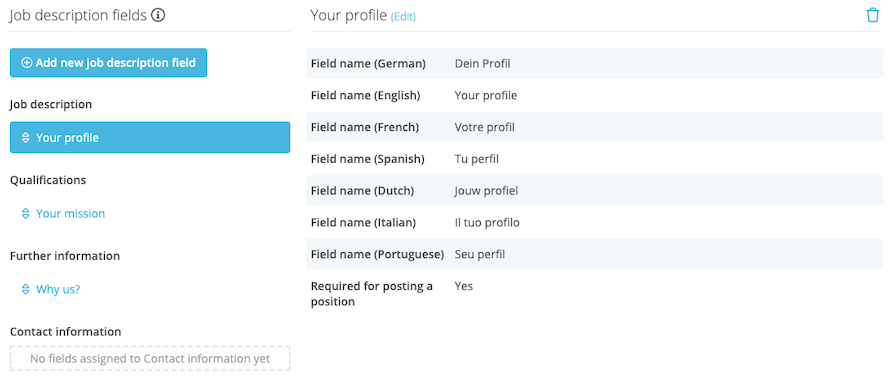 Go to Settings > Recruiting > Job Descriptions and make sure you assigned your job description fields to one of the four predefined categories:
▶︎ Job description
▶︎ Qualifications
▶︎ Further information
▶︎ Contact information
You can also move existing attributes to another category via drag and drop.
While publishing your position
The following steps are required when you create a position in Personio.
Compulsory meta-information
When creating a new position, you are asked to fill in meta-information. The following fields must be provided to post positions on external job boards:
▶︎ Name of the Position
▶︎ Office
▶︎ Occupation
▶︎ Employment type
▶︎ Experience
To update these fields, go into the details of your position and click on Position actions
in the top-right corner and select Edit position metadata.
Add a job description
To post and promote your position, it is also important to provide a detailed job description. To include one, go to Recruiting > Positions > View details > Description.

You can promote positions on external job boards via Personio in seven different languages. In your job description, click on Add translation and fill out the required fields in each required language.
The company description can also be translated into the desired languages. To do so, go to Settings > Recruiting > Career page and edit the sections About us and Descriptions & translations.
Enter URLs for your own career page
To add links to your own company career page, enter your position page and application form URLs under Recruiting > Positions > View details > Promotion > Career page links.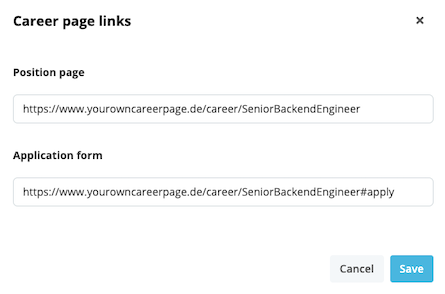 By adding these URLs, you enable communication between Personio, your company career page and the relevant external job boards.
Tip
This step is important if you are using your company career page and Personio's XML feed and recruiting API. If you are using the Personio career page, Personio will automatically use the URLs from the Personio career page.
Publish your position
You will need to publish your position to promote it via the multiposting feature. Go to the respective position and click Publish. It will then be live on both Personio career page and XML feed (if it is enabled).
Before promoting a position
If you wish to promote your positions on external job boards, you will need to ensure that the following steps have been set up in your account beforehand.
Provide payment information
Promoting your job will only be possible once your credit card details are entered in your account under Settings > Plan and Billing > Billing Information. You can also set up a Personio direct debit plan so that any associated charges can be conveniently settled via Personio.
Store frame contracts (optional)
If you already have a contract in place with a job board, it can be stored directly in Personio. Personio will not calculate any further charges for the respective job board. The billing for the postings occurs between you and the job board. You can find further information in our article Storing Framework Contracts with External Job Boards.
Tip
Once your position has been published, you can go to the Promotion tab within your position details and promote it on the preferred job boards. You can find all the instructions in our article Multiposting Positions on External Job Boards.
Topics of this article