Authorizing DATEV-Datenservices
Note that this article is only relevant for you if your company is located in Germany 🇩🇪
This article explains which steps you and your payroll accountant need to perform to authorize the DATEV Lohnimportdatenservice and the DATEV Lohnauswertungsdatenservice. Both interfaces are grouped under DATEV-Datenservices.
Note: To use the DATEV Integration with Lohn und Gehalt successfully, you will need version 11.65 of Lohn and Gehalt or higher. For more information on the available program versions, see the article Aktuelle Version von Lohn und Gehalt compact / classic / comfort (Current version of Lohn und Gehalt compact / classic / comfort) in the DATEV Hilfe-Center.
Authorization for Automatic Transmission in Personio
Please start by verifying that your payroll accountant has activated the Lohnimportdatenservice and Lohnauswertungsdatenservice for you as a customer, and that they have provided you with a DATEV-Autorisierungsmedium with the necessary rights. Without prior activation of these services within DATEV by your payroll accountant, it is not possible to transmit documents directly to the DATEV data center (Lohnimportdatenservice) or receive it from there (Lohnauswertungsdatenservice).
Tip: For information on the steps required in DATEV that you can share with your payroll accountant, see our article Best Practice for Tax Firms: Setup and Accounting with the DATEV Integration.
Once the DATEV-Datenservices have been activated for you, you need to authorize Personio to import and export documents on your behalf via the interface. export documents on your behalf via the interface. You can launch this authorization process in Personio for both services at the same time, or individually. To do so, perform the following steps for DATEV LODAS as well as Lohn und Gehalt: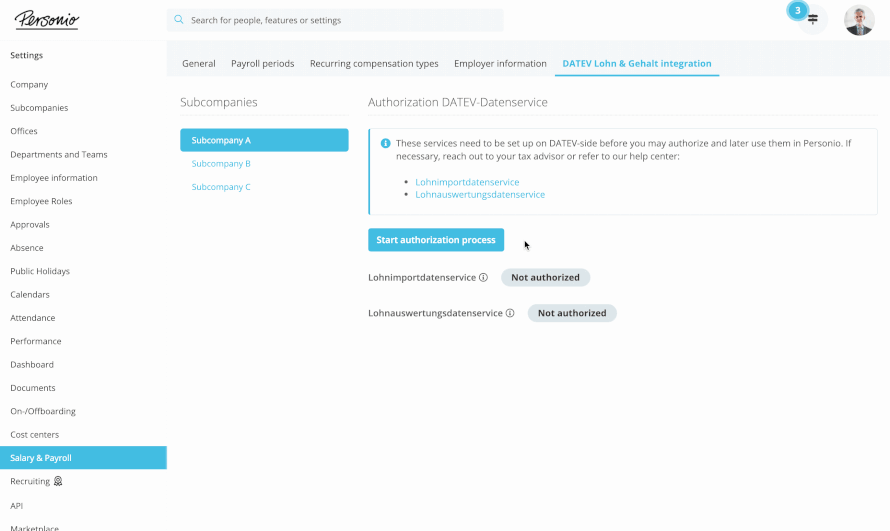 Go to Settings > Payroll > Salary & Payroll > DATEV LODAS / Lohn & Gehalt Integration.
Under Authorization DATEV-Datenservice, click the button Start authorization process for each subcompany you wish to authorize.  
Select the interfaces you wish to authorize in the next window, read the information provided and click on Proceed to complete this step.
A new tab opens with the DATEV login page where you can complete the authorization. To continue, refer to the next point Authorization in DATEV.
Note: This step and the setup by your payroll accountant need to be done separately for each subcompany. In general, each subcompany in Personio should correspond to a tenant in DATEV. Entering the same combination of Advisor ID and Tenant ID for several subcompanies is not recommended and should only be considered under special circumstances.
Authorization in DATEV
After starting the authorization process in Personio, the DATEV login page opens in a new tab. To log in, you will need to be able to authenticate yourself with DATEV, such as with a DATEV SmartLogin, SmartCard or mIDentity. Then follow these steps:
Log in with your access data and two-factor authentication.
Confirm the authorization to enable Personio to transmit data to and retrieve data from the DATEV data center.

A confirmation page will be shown once you have approved the required authorization.
Checking the Authorization Status
To see whether and by whom the DATEV-Datenservices have been authorized, go to Settings > Payroll > Salary & Payroll > DATEV LODAS / Lohn & Gehalt integration and there to the Authorization DATEV-Datenservice section. The following information is displayed:
Name and email address of the person whose authorization medium was used.

The date on which the authorization was carried out.

Which Datenservices have been authorized (Lohnimportdatenservice and Lohnauswertungsdatenservice).
Note: An authorization only needs to be carried out once for each interface. The link for launching the authorization process therefore only appears if the authorization has not yet been provided.
Revoking Authorization
You can remove the link between your Personio account and your payroll accountant's account by revoking the authorization. This involves the following steps:
Go to Settings > Payroll > Salary & Payroll and open the DATEV LODAS / Lohn & Gehalt integration tab.
In the DATEV-Datenservice authorization section, click the button Revoke authorization.
Click on Revoke authorization and confirm.
Note: The revocation action automatically applies for both DATEV-Datenservices and the link is removed immediately. If you would like to restart the authorization, you can carry out the relevant process above again at any time.
Topics of this article