How Do I Create an External Payroll Accountant in Personio?
Communication with your accountant or the payroll department can be simplified by creating a separate employee profile in Personio for your external payroll specialist, as they can then independently retrieve relevant and up-to-date information for payroll from Personio.
Creating a New Employee Profile
First, create the required employee profile. Make sure to give the fictitious employee being created for the accountant the employment type External so that they are clearly distinguished from internal employees by the system.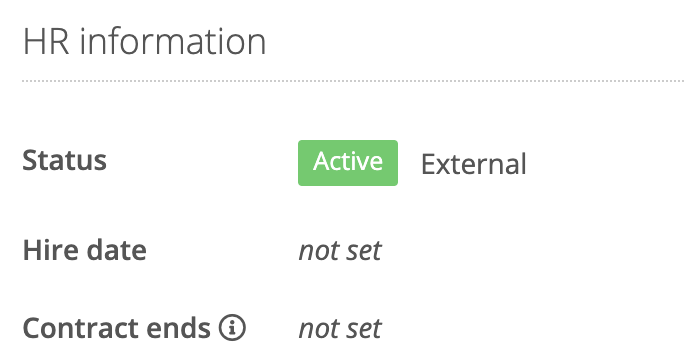 You can find detailed information on creating employee profiles here.
Please note that, as an external employee, the payroll accountant will be included in your billing plan in the usual way and thus must be taken into account in terms of the maximum headcount allowed for your current plan size. Likewise, external employees are also included in the organizational chart.
Configuring Employee Roles
Next, it is essential to define which access permissions the external payroll accountant should receive within your Personio account. To do this, the All employees system role must be adapted accordingly and two new Employee roles will need to be created.

Carry out the following steps to achieve this:
1. Adjust the All employees system role
Remove all the rights associated with the All employees system role, because this role acts as a base role and is thus automatically assigned by default to every active employee, internal and external.
2. Create a new role for internal employees
Create a new employee role called, for example, All internal employees. Going forward, this role should exist alongside the All employees system role and include all internal employees. Since the All internal employees role replaces the system role, grant this role the access rights which internal employees should receive in your account. Remember to always assign newly created employees to this role since this will no longer be done automatically, as it was with the system role. You can find out how to configure employee roles here.
3. Create a new role for the external payroll accountant
Create another role for the external payroll accountant. This role receives Viewing rights for the Payroll section, allowing the owner of the role to access information and download already generated exports. The administration of preliminary payroll and its monthly approval will continue to be carried out by a responsible internal employee. If you have more than one sub-company, grant the access rights for each sub-company.

Furthermore, so that everything runs smoothly, the external payroll accountant's role should also have viewing rights for the document categories Work contracts and Absence certificates, as the documents saved there contain important information on the employment relationship and on health insurance reporting.

Optionally, the external payroll accountant can also be granted viewing rights for the individual Sections of personal data containing attributes that are included in the preparatory payroll.
Once the Import documents section of this employee role has been activated, the external payroll accountant will be able to import payslips and other relevant documents for all employees by using the bulk upload function. However, access to the imported files is determined according to the access rights defined for the documents section.

If your accountant uses DATEV LODAS payroll software, you can create an export in Personio that can then be imported directly into DATEV LODAS.
Can't find what you're looking for?
We are happy to help you! Just write us a message with your questions and we will get back to you as soon as possible.
Submit a request