In this article, you will learn how to integrate Circula software with Personio. You will find an overview of all the prerequisites below, as well as instructions on how to set up the integration via the Personio employee data API.
What is Circula?
Circula offers an app-based solution for automated tracking of travel expenses in companies. With this all-in-one solution for processing receipts, e-bills and flat rates, expenses are digitized in compliance with GoBD – the prerequisite for paperless processes.
How Can I Set Up the Integration of Circula and Personio?
This integration can only be set up by the partner. Follow these steps in Personio:
Go to the Marketplace and search for the integration.

Click on the integration to open the drawer with further details.

Select Connect.
Click Copy email address to clipboard and contact the partner who will complete the setup process for you.
Tip
You need to generate new API credentials for this integration in Personio via Settings > Integrations > API credentials. For more information, read our article on how to generate and manage API credentials.
Which Data Is Transferred?
With the integration, the attributes first name, last name, email address, employment relationship and status are transferred to your Circula account by default. IBAN and Vendor number can also be transferred on request. As part of the integration, Circula automatically creates employee accounts and sends invitation emails to all active employees, once data has been successfully imported.
After the import you are able to view the activated and invited employees in the User Management in your Circula account.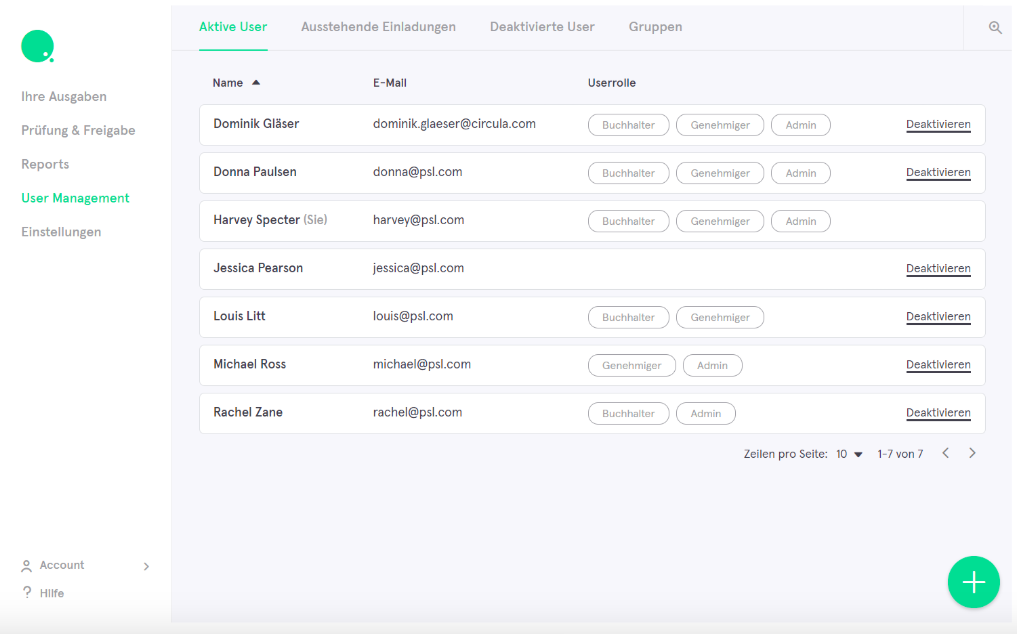 If an employee's status in Personio changes to inactive, they are automatically disabled in Circula.
How Much Does It Cost?
Circula offers two different packages, depending on the scope of services.
Standard – €7/user/month
Enterprise – price on request
Who Do I Contact at Circula?
Circula can be reached by email to support@circula.com. Click here for a more detailed overview of Circula's features.